The living room is the most livable space in your home as the name suggests you spend most of your time with your family and friends here, this is the space where you welcome your guests they get to see the first impression of your home here by which they also get to understand your personality as well.
This is a space that everyone likes to keep pretty and practical even if they go simpler on other parts of the home.
Furniture is the most important and useful thing to beautify any space or use it comfortably and with so many different options available in the market a homeowner always gets confused about his choices and what will suit their space.
So in this article, we will get to learn about the step-by-step physical as well as cognitive methods one should follow while buying furniture for their space.
Traditional or contemporary
Traditional furniture takes up a lot of space but they can be one of a kind that can stand out as an accent piece of furniture on their own.  These have motifs, carved backs wood intricate designs which are very neat and detailed. 
Traditional furniture is timeless classics, if planned smartly they can be combined with several modern looks of the space.
Traditional furniture is more space-consuming, comforting but highly durable, so you can invest in them if you have a good area of space, space which has an area to accommodate more than 4-5 standard size furniture pieces together.
If you are not looking for a heavy and bulky look but a clean, minimalistic modern look, you can opt for contemporary or modern furniture.
The key to identifying a modern piece of modern is:-
Long legs
  Sleek and straight instead of curved edges or back.
Geometric shapes.
Clean and smooth surfaces which are easy to maintain as well like leather, cotton/jute, etc.
Neutral color scheme like grey, soft browns instead of darker colors, though darker colored accents like cushions and throws can be used over these.
Any furniture piece that's in trend comes under contemporary furniture like Lounge chair or chaise with a small round table, love seats, accent chairs/couch, etc.
Space-saving modern furniture –
If you have limited space in your living room you need to opt for furniture pieces that serve more than one purpose and are flexible in use.
 Like a foldable table beside your sofa or a couch, cum daybed, center table, and a coffee table combined, L-shaped sofa, and so on. 
 A multipurpose unit that you can place on the accent wall in the living room which can serve you as per the need like:-
A storage unit for cutlery or as a bar unit.
A unit through which a ledge can be pulled out to use as a workstation when required.
This unit can be of a full height to keep extra storage from the house or to keep extra living room stuff like rugs/carpets, sofa covers, cushions, throws, and other décor pieces.
Though these kinds of units are available in the market today either they are heavily expensive or they do not serve your purpose so it is always better to get these customized from your local carpenter as per your space and design needs.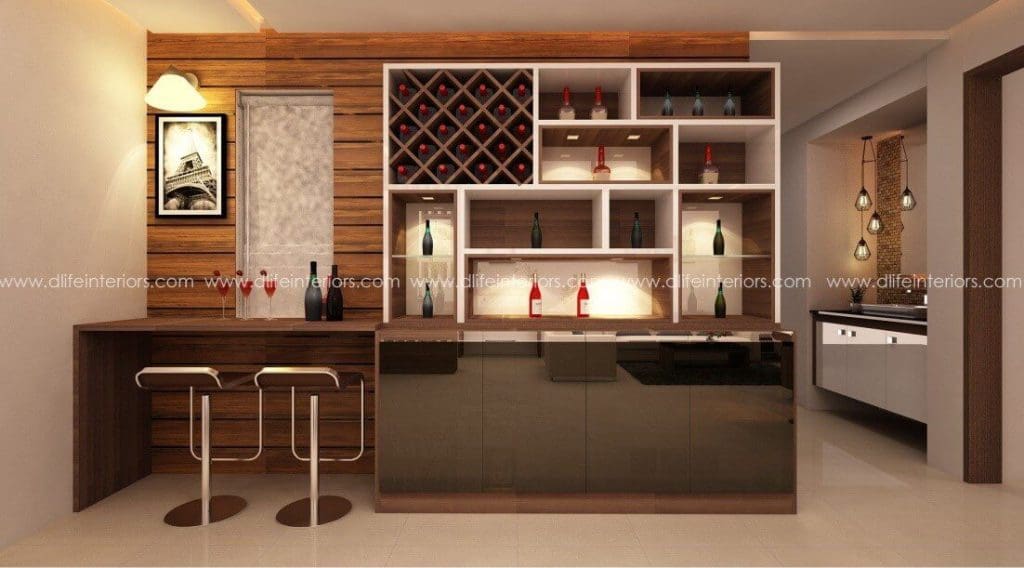 You need to decide the main purpose of your living space.
If you are imagining yourself watching T.V there then you will have to arrange the sofa set complementing the T.V unit, or you want to watch T.V while having food then the T.V unit will go opposite to the dining.
Many people even prefer not to have a T.V at all in the living room but in their bedroom to save themselves from extra clutter.
If you are not planning to have a T.V in the living room you can set up your sitting arrangement of sofa, chaise, lounge chair, and a center table facing each other creating a cozy sitting space for small gatherings.
Consider the members of the family for e.g. if it's just you and your partner living in the space then you can have a cozy sofa with two recliners and a coffee table.
If you are going to host a lot of guests then a good amount of seating will be required so plan accordingly.
Consider everyone's need be it a child or a pet and plan accordingly.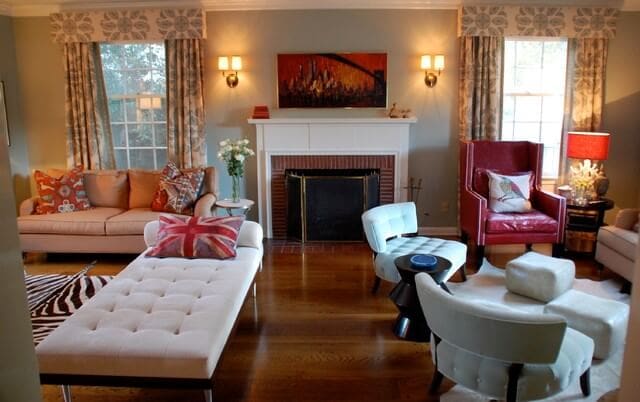 You need to decide which part of your living room will be a focal point.
This can be a wall that is the longest and this can be your accent wall you can enhance this further with materials like wallpapers, wall panels, a different color, and so on.
Further, you can enhance this wall by placing furniture like a dining or a full sofa set all of this together to be your focal point in your living room.
A beautiful and useful multipurpose unit can also be planned on this wall with accent décor pieces.
4.Invest in a good sofa set
 Sofa/couch or a loveseat these are the main elements that take up the largest portion of your living room budget so you need to invest in a good set so that it lasts you for years.
Choose a sofa sectional sofa, combined with a love seat a couch, or even accent lounge chairs.
Choose a center table that is easy to move instead of being very bulky.
For more comfort, you can add a recliner instead of a lounge chair or a recliner separately near the window if you have enough space. 
Keep the upholstery of these pieces in a neutral color and top them with colorful accessories like cushions or throws.
Neutral color upholstery will last longer and complement every art piece or the changes around them and will happen over the years.
To complement the neutral upholstery of the furniture pieces you can add vibrant art pieces, wallpapers, wall panels, etc. 
Make sure you create an accent seating with any of the above options.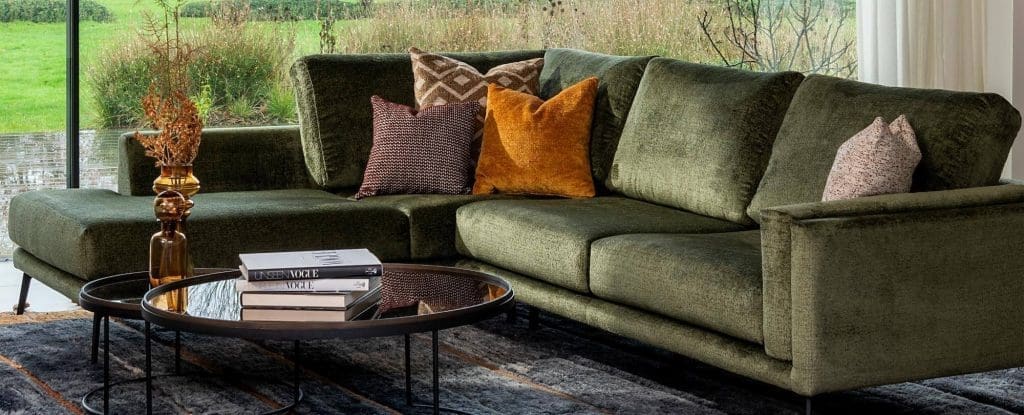 Leather –
Looks luxurious, modern, and timeless also available in a variety of colors, and is also easy to maintain.
Prints –
Experiment with colorful or black and white checkered or striped prints for furniture pieces like lounge chairs or accent chairs. 
Experiment with cushions and throws that create a contrast for the sofa or couch.
Choose fabrics that are easy to maintain over a period of time and that look timeless.
Add vibrant color to any of the accent furniture this creates a retro vibe in the modern or minimal space.
6.Sizes Of Various Furniture
Last but not least it is always better to know some standard sizes of furniture before buying them and then compare them with your space whether the standard sizes will be able to accommodate in your space or not.
If you think your space might not be able to accommodate standard pieces of furniture then you might need to go for customization as per the space.
Sofa –
These are available in 5 feet length to 9 feet in the market though the standard and most demanded sizes are 6 and 7 feet in length.
The width of the sofa should be minimum of 30 inches and a maximum of 36 inches for the laid-back comfortable sitting.
Lounge chairs
Lounge chairs range from 32 inches to 38 inches in length and 28 to 36 inches in width.
Coffee tables or center tables vary from 30 inches to 42 inches in width and their length ranges from 36 inches to 72 inches.