Be it your favourite movie telecast, a late-night world cup final, a casual dinner with friends and family or the early morning newspaper – sofas are an integral part of our daily habits and functions. The shape, length, height and depth of a sofa depend largely on its functionality.
The appearance and the surroundings depend on the kind of vibes you wish to associate with it. Here are a few tips and ideas from our end on how to go for the right sofa and adjacent decor to fill your haven with vibrancy and style.
One of the most important aspects of designing your living space interiors, the layout of the set takes into account several factors. Firstly, it depends on the type of space you are designing. If it is a casual drawing room for family and friends, a conversational form of seating is a must
The layout doesn't necessarily need to follow symmetry. In fact, going for non-uniform asymmetrical seating is a great idea for a living room – complete with single, double and triple seat sofas, a few cushioned stools and chairs, and one or more tables (as per space constraints). We definitely do not mean you should fill up your space with furniture, but, the more the merrier.
2. Selection of the Cushion
Sofas are incomplete without cushions, aren't they? The comfort of soft backrests and the gorgeousness of the colourful squares are what fulfil the fulsome seating altogether.
The wonder level could be pushed up several notches higher if you know how to correctly layer different types of cushions for your sofas.
Start from the outside always. Use about 22-24 inches square cushions for the outermost part of the sofa. Begin with layering smaller sizes in front. Do not go for more than one set of patterned cushion cover.
To add more vibrancy to the layers, go for mix-and-match. Try different textures, patterns that go with each other and solid tones that complement each other. An odd number of cushions on the sofa scores high on visual appeal.
3. go with Neutral Shades
You might not be a lover of showy colours and statement contrast. The idea? Go for some neutral shades for the decor, including the colour of your sofa. You might apply a uniform tone for all the elements, or you might stick to a particular colour scheme – browns and blacks, beiges and browns, whites and greys and so on.
All your furnishings, lights, flooring, wall cladding, floor rugs and even windows and doors should preferably follow a similar colour scheme in that case. The uniformity lends a spell-binding effect to the space, and makes it look a hundred times more clutter-free and disorderly.
4. try Contrasting colours
If you are someone who prefers sleek and sophisticated interior, without much pomp and colour, this is a must read for you. You can create bold contrasting interiors if you wish. The idea is to have monotony in the colour of the walls and the floor, such as white, or grey, or even brown.
Add to that a striking contrast in the form of a brightly, or a dark coloured sofa, and you are good to go. The sofa will look no less than a piece of art.
Go for matching cushions – keep contrast out here. You want the cushions to camouflage with the sofa, so that they, as an entity, really stand out and define a chic interior for your living space.
5. Choosing the Right Materials
A lot also depends on the material you are employing for the sofa and around it. One constant love of ours is the magic of velvet.
Velvet is something which is not just super-pleasant to touch and feel, but has high visual appeal. Its use for your sofa would add a whole new sophistication and class to your home interior, and guests are sure to be awe-inspired.
Try opting for materials that add softness – both of touch and sight – to your interiors. Fluff is a great way to create a feel-good atmosphere for the seating. Raspberry and hemp linen is also a go-to option for a more English look.
6. Add some Effects with Rugs
Rugs below your sofas are a huge factor in adding the requisite amount of erudition to a home decor. Also, they are great if you wish to pull in all the furniture of the room together. Soft, light coloured rugs that spell comfort for your feet feel like bliss.
The colour of the rugs is another element to consider – and it should preferably be in contrast to that of the sofa to make both of them stand out. Maintaining the rug is not hectic either – daily vacuuming leaves it dust and dirt free. The material? Well, fur is a personal favourite!
You do not have to be very traditional each time you purchase a sofa. Sofas are not meant only for drawing rooms, after all. A lover's seat, as they call it, is perfect for those movie nights with your better half.
Sofas also do not have to be rectangular – go for round sofas, if you please, in the study room. Use plenty of cushions for both comfort and elegance. Round sofas means more space and, without doubt, a unique look.
The more unique a design, the more eye-catching it is. How about we recommend using a sofa for more than just seating – puzzled?  Have a look.
This sofa employs the excessive space behind it as a storage space for some decor! A viable idea for living room decor, we must say. With every new design, new prospects of utility and function. Why just for decoration, the sofa could be designed as a storage unit, like most of our beds are! You could go for skirting to conceal the heel scuffs – or maybe give them a miss!
The sofa design could choose to play with the armrest, and you could decide what form would be suitable for your interiors. The armrest could be ornate or plain. It might be broad enough to be used with a little platform for tea cups and little trays, or it might be curved to be used as a headrest when lying down.
You could choose to cover the armrest of the sofa with a separate fabric, for some play with contrast and texture.
The height of the armrest could be variable too. Go for high armrests – even as high as the backrest itself – for an informal zone where you have decided to plunge into the fluff of your seat to curl up for some late-night movies and popcorn. Go for lower armrests in a formal sitting room, where you are expecting guests and some quality conversation.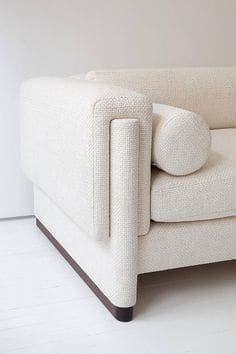 What's more, you could even choose one without an armrest – something close to a divan – in fact a hybrid of the two. There's no armrest one side, and even the backrest doesn't run up to the entire periphery.
This adds a very unconventional and chic look to your space, we must say. The armrest could be stiff, but we suggest going for softer ones, going by comfort levels. You could choose to have a flatter armrest for some random guest to join in the conversation when there's no more seat on the sofa!