Outdoor living spaces are nearly as significant in many parts of the country as indoors, but not all backyards live up to their full potential. Achieving a truly welcoming and relaxing outdoor living area takes careful preparation.
This needs more than simply purchasing sufficient all-weather furniture for the patio. It depends on how the residents want to utilize their space – it can be for relaxation or recreation; for a big family get-together or a cozy night in with one's partner; or to have a big party or a small gathering – outdoor spaces can do it all! It is the utmost need of the hour in 2020 that we reconnect with Mother Nature since we have spent a good chunk of the year indoors.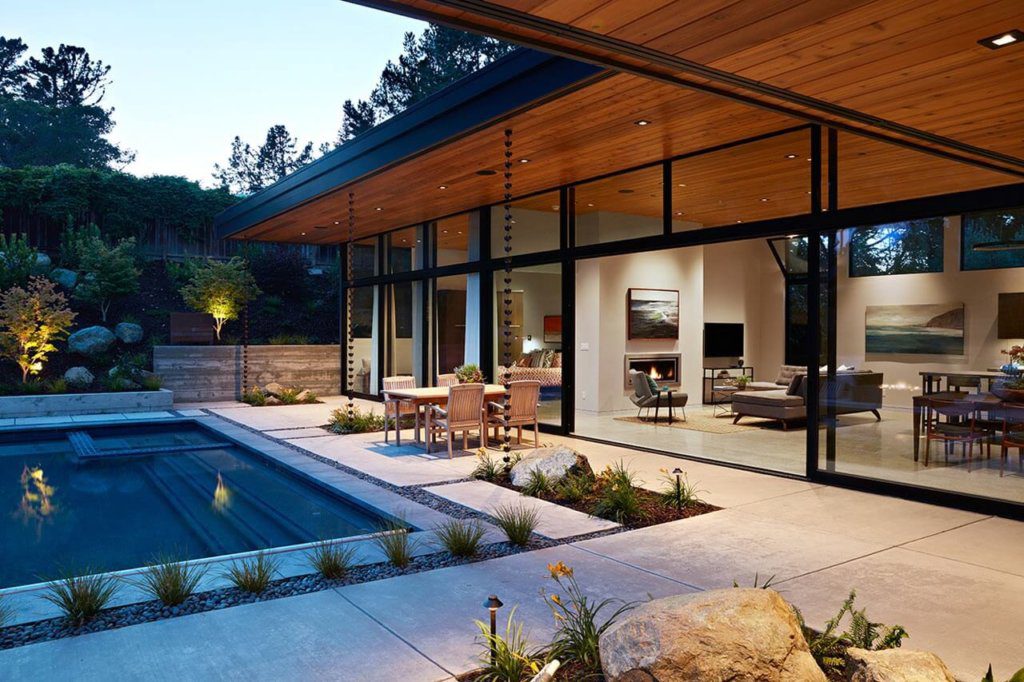 Many architects now realize and understand the need for a dedicated outdoor living space in residences where one can reconnect with themselves, family or nature. Apart from being visually stunning, it can also act as a space that enables one to embrace a more active lifestyle and take up new hobbies like gardening, circuit workouts, setting up barbeques/grilling, etc.,
A pavilion, pergola, or arbor will add the functional space you are looking for. This is the perfect way to add a chic or rustic feel to your yard. In these functional systems, many homeowners use plants to add ambiance to the design and provide natural shade. 
In India, people usually follow the norm of using poured concrete or brick or stone paver products. However, these are all old-school ideas as they not only look basic, but also don't make your outdoor space unique.
Using a minimal set of tiles not only gives a decent look to your outdoor, but they also make it seem luxurious. You can use all kinds of floor tiles for your patios, such as quarry tiles, slate, limestone, interlocking plastic tiles.
However, you can't randomly choose any kind of tile, just because they look good. You need to take some considerations before selecting an appropriate tile for you outdoor space, such as its slipperiness, weather conditions, and light exposure.
Moisture is often inherent on a patio, so the tile texture must be ant-skid to prevent the user from slipping. Also, the amount of light exposure on your patio should also be an important factor. For example, bright and sunny spaces call for darker tiles, whereas, shady areas should have tiles with a lighter color.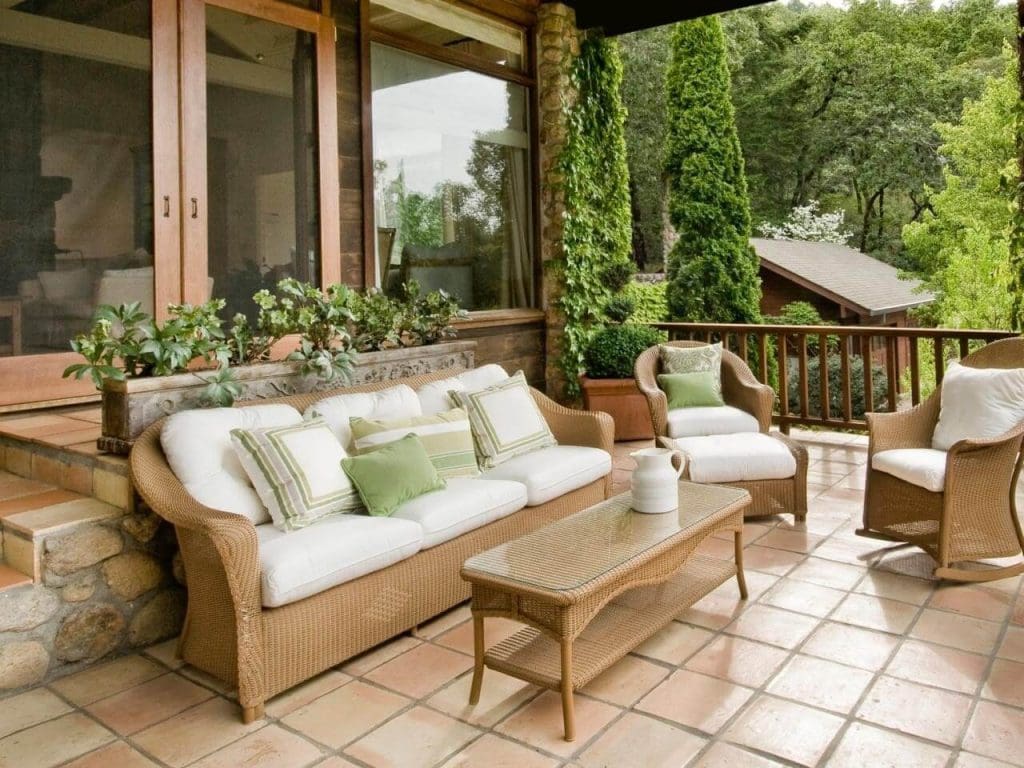 Walkway Path for Your Garden
A short walkway path is a beautiful landscape element. People always avoid the hassle of imbedding materials on bare ground, but if done right, it would be totally worth the trouble. There are common walkways such as stepping stones, where random sizes of stone make a complete path, or a brick path that comes in many patterns such as basket-weave, running bond, and so on.
However, a wooden walkway would be good choice for you if you are looking for an earthy element for your garden. Wooden walkway gives a more rustic look to this short garden walk. Also, the spaces between boards allow vining plants to creep underfoot.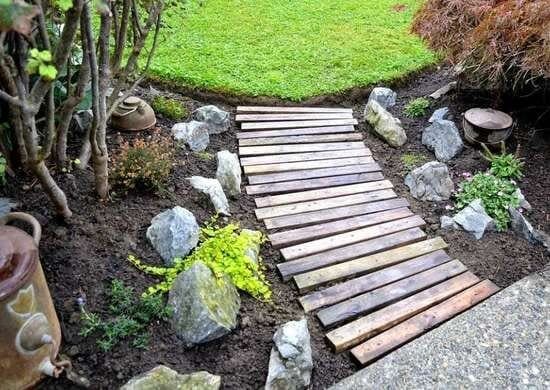 People always love to use plants to boost the beauty of their homes. Not only are they cost-effective, but they also freshen the air and are much better than any fake decorative elements. In an interior courtyard, fig ivy softens a brick wall and a beautiful tree adds a sense of permanence to a residence. Climbing plants are always the first choice as they can be trained over walls, pergolas, and even fences, making your garden even more attractive. Moreover, they provide extra privacy and they give the outdoor spaces a fresh vibe.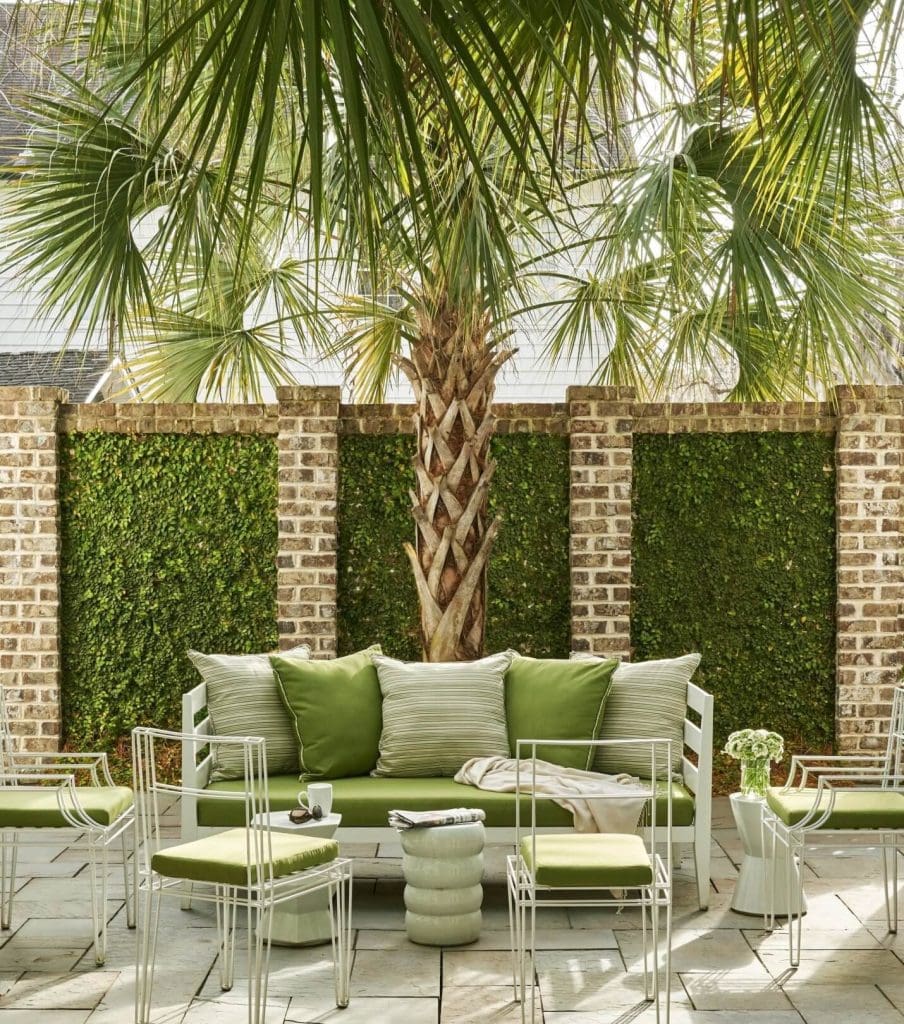 You can't go wrong with neutral colors. Whether it is the exterior look of your building, your interior, or even your outdoor space, these colors are suitable everywhere. The neutral and natural colors of the outdoors can have a powerful effect on your patio, garden, or deck. For example, you can use deep, crisp greens to create a cooling effect, as they are visually soothing. Or you may combine baby blue, cream color, light grey, and other pastel colors are they create a tranquil environment.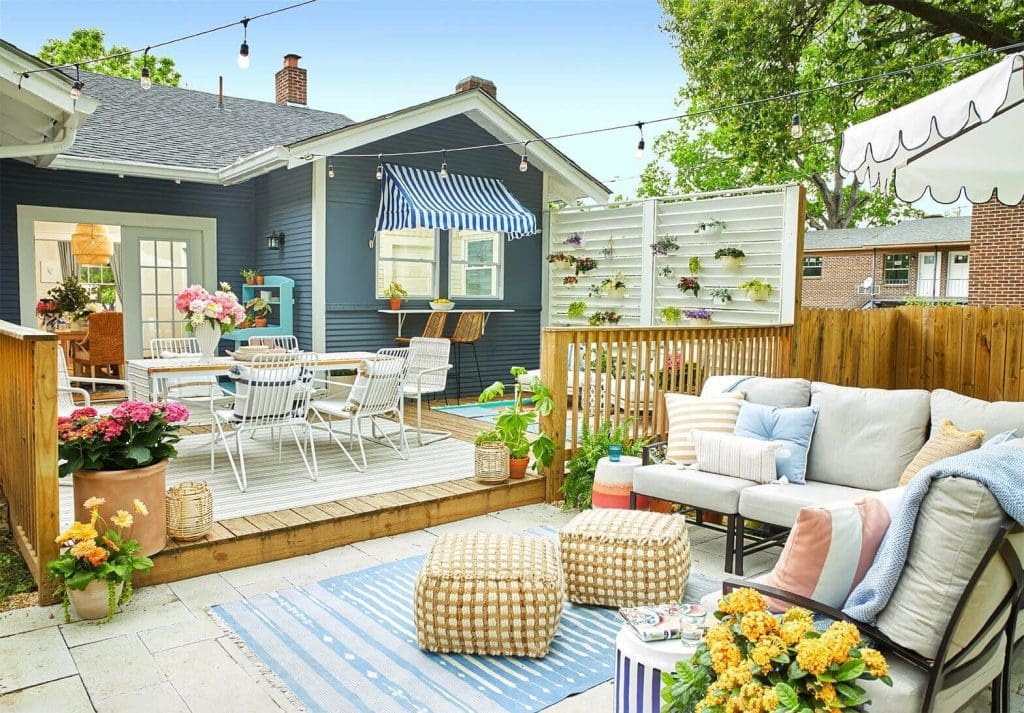 Your outdoor area is not only open to the elements without walls or curtains to close; it's also exposed to the neighbors! You will need to install a fence or tall landscaping between you and the neighbors if privacy or noise level is an issue for your space. For continuity of design, one technique is to add a precast concrete fence or screening wall that complements your patio with a decorative stone or brick pattern.
Examine options for paved or buried pathways in addition to planting beds and trees. Keep in mind that they do not really have to lead to a particular spot, but they can simply point the way through the garden. Install a dry river bed, a gurgling fountain or waterfall, a small rose garden, statuary or a sundial, a whimsical tea pavilion or gazebo, a swing in the garden, a potting shed, or a playhouse for children.