India is a country where every family dreams of staying in the house they own. But with the current increase in the land costs, construction material prices and labour charges, it is becoming difficult for middle class families to fulfil their dream of living in their own homes. So we thought of putting forward some tips that can be helpful for such families to build the house of their dreams.
The cost of construction of a house can be mainly divided into 5 categories.
Land Cost: Cost of owning a land parcel for House construction
Design Costs: This includes architectural, structural and MEP design of the building
Laisoning Costs: Includes fees for government approvals like government land survey, plan approval etc.,w
Material Procurement Costs: Includes purchase of materials like cement, steel, sand, aggregate, bricks, blocks, tiles and other finishing materials
Labour Costs: This includes the manpower costs for construction of RCC structure, brick work, plastering, other finishing works and external development (Like compound wall, hardscaping and landscaping)
Now where you can reduce the cost of construction purely depends on the your lifestyle choices. You can create a barely minimalist building or an exotic bunglow to live in. Here are my few tips for reducing the cost of construction.
Saving in Land Cost:

Choose the right plot for construction: The level of the plot is most important during construction. If the level of the plot is much lower than the road level on the front, then the quantity of filling material required will be more thus increasing the total cost of construction. So choose a land parcel which is neither too high nor too low compared to the level of the road.

Check development regulations: Survey area which have potential for development in near future and is available currently available at low cost. Check FSI of the area, more FSI means less total cost of owning a home. If you have less FSI, then you need to buy more land to build same area of construction

For example: If you are planning to buy a 1000 sqft plot area and are looking at 2 localities. You local municipality or DC (Development Control) gives FSI for each area based on multiple factors. So in a plot with 2 FSI, you can construct a 2000 sqft building while in a plot with 1.5 FSI you can only build 1500 sqft.
Also, Remember FSI regulations change with time, so you need to choose the right plot as per your current and future requirements.
Saving in Architectural and Design Costs:

If you are going for a structure of more than 2 or more floors, I would strictly advice you not to look for a cheaper design option in this, like a old contractor knowing everything about designing and detailing
A professional architect and structural designer will help you save upon the overall costs by optimizing design of the building and not over/under designing it.
A good designer value engineers your construction by which you can not only save costs on materials but also save future recurring and maintenance costs (a well-lighted and-ventilated design, green material and low maintenance fixture and fittings)
Have detailed designs done to avoid less confusion/misinterpretation at site, thereby avoiding rework cost and time overrun.
Have a floor plan/layout which is square/rectangular shaped (having lower perimeter). Square/rectangular shaped floor plans usually consume lesser materials (20-40%) as compared to a H shaped and L shaped layouts as they consume more materials per unit built up area.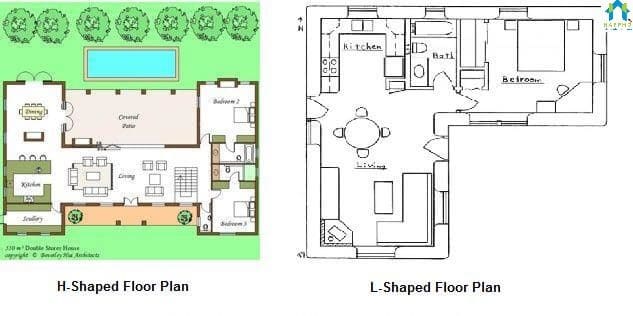 Saving in Construction Material Procurement:
Cement

Go for local/regional branded cement. Most of the local branded cements like Chettinad cement, Penna cement, Maha cement etc., are of good quality and are offered at better prices.
Optimise cement consumption by using the right cement grade. OPC cement is usually slightly costlier than PPC cement. OPC cement is usually recommend for RCC structural work (like foundations, columns, roof and beams) and PPC cement is recommended for non-structural works (Like Plastering, Tiling etc.,). This will not only save you costs but also enhance the quality of construction by reducing cracks (Due to less heat of hydration).
For optimising the cement consumption in structural concrete, you can mix fly ash judiciously (15 to 25% as part replacement to cement) with OPC 53 cement. This will not only decrease the costs but will also be durable (since degree of permeability will be low)


Bricks and Blocks:

Buy locally available bricks. Compare the cost of first class red clay brick and fly-ash brick in your locality. Go for a brick which costs you less. Both flyash bricks and red clay bricks are equally good in strength.
Incase you are going for a structure of more than 3 floors, then use AAC blocks instead of bricks. Although AAC blocks (concrete blocks) are costlier than bricks, they are light weight. This will decrease the steel consumption per unit built up,as dead load reduced to one-third. Also as AAC blocks have low thermal conductivity, they can help you save electricity costs for cooling your rooms.

Plastering:

Go for Neeru (lime) Finish for internal plastering.

Doors and Windows:

Avoid Wooden door frames. Instead go for RCC door frames which can save upto 30% of the cost for Door framing.
Use PVC doors for Bathrooms and other wet areas like dry balcony etc.,
Use Laminated flush door or blockboard for door opening other than the main door. This will decrease the cost of door work by 25%.

Flooring:

Use Cement mosaic tiles to reduce cost of flooring works. Select size which result in fewer wastages
Go for locally available granite for Kitchen platform and stair case steps. Use cut/waste piece of tiles in steps riser

Grill and Railings:

Use Painted MS section for Staircase railing and grills

Electrical Material:

You can opt for local make switches and sockets but always go for Branded wires for House wiring.

Light Fitting:

Go for Light fittings that are not only economical to your pockets initially but also save up on the electricity charges and maintenance costs in the future.

Avoid False Ceiling:

False ceiling although will act as good insulation but is quite expensive. Go for a simple POP finish to the roof.

Paints:

Use Semi-acrylic paint for internal and external walls which can save upon the cost

Plumbing CP Fixtures & Sanitary:

The cost of sanitary and CP fixtures varies depending upon the type and quality of products used in the building and its cost reduction is left to the individual choice and liking. We recommend you to choose economical local/regional brands. Plumbing and Sanitary fixture can be easily replaced anytime without any dismantling in future. So replacing them later with the fixtures of your choice will not cost you much.
Saving on Labour Costs:

Hire experienced contractor:

A resource full team will help you save time and ensure quality at affordable cost. An inexperienced labour contractor may quote low initially but will turnout to be costly when you will be spending on rectifications and maintenance.

Avoid Concealed work:

Don't go for concealed wiring. Concealing the electrical wires although is aesthetically appealing will increase the labour costs and the same is easily maintainable and replaceable.

Choose simple elevations:

Many are obsessed with the front elevation of the building. Yes, a great front elevation gives a rich look for the building but will burn holes through your pockets. Don't use unnecessary structural elements just for beautification of the elevation
 Also Read : Types of Contracts used in House Construction in India
Additional Tips for reducing cost of construction:
Avoid Change orders:

Avoid any last minute changes in design or material selection. These change orders usually have a high impact on the cost of construction and can sometimes deter the quality of the structure.

Hire an experienced Turnkey Contractor:

An experienced turnkey contractor may cost you a bit more initially but can prove more value during the execution of the work. They will keep the change orders to minimum since they manage everything from design to construction. Also, they ensure that the quality of construction is up to the mark which will reduce your future maintenance costs considerably. They also provide warranty up to 5 years on construction defects (Refer Happho's Home packages)

Ensure Proper Cash flow:

A proper cash flow avoids (leading bank to provide loan for home constructions) multiple mobilizations of the contractors. Usually contractors charge for re-mobilizations if the delays are because of the improper cash flows. (refer info-graphic).If required design for higher floor build in stages for example build till ground floor start living in it arrange for next stage cash then build upper floors.