Have a party to plan out for the night? Have you thought of revamping your dining space yet? Party planning tends to be easier said than done, especially when you are hosting a dinner party. The difficulty level soars up in case of apartments or smaller houses when a good number of guests are coming in for the night.
Yes, your entire home needs a facelift, not-to-mention the dining area, which is going to be the highlight of the night. Not just appearance-wise, importance has to be paid to the capacity of the space. Could you do all this without having to encroach on your neighbour's property? Yes, and we shall show you how.
A terrace party, especially one on an apartment's high rooftop with the entire cityscape for view, is an idea worth buying. An open-to-air dining, decorated with scented candles, beautiful lighting, cosy chairs and snug sofas drawn upstairs, light music and plenty of food! Your guests wouldn't want more than this, trust us.
The arrangement of the furniture is important – a little opened up seating for fun-filled activities for the night and for serving the guests with snacks would do fine. The lighting is important too, bright shimmery light strings are a good idea for pepping things up.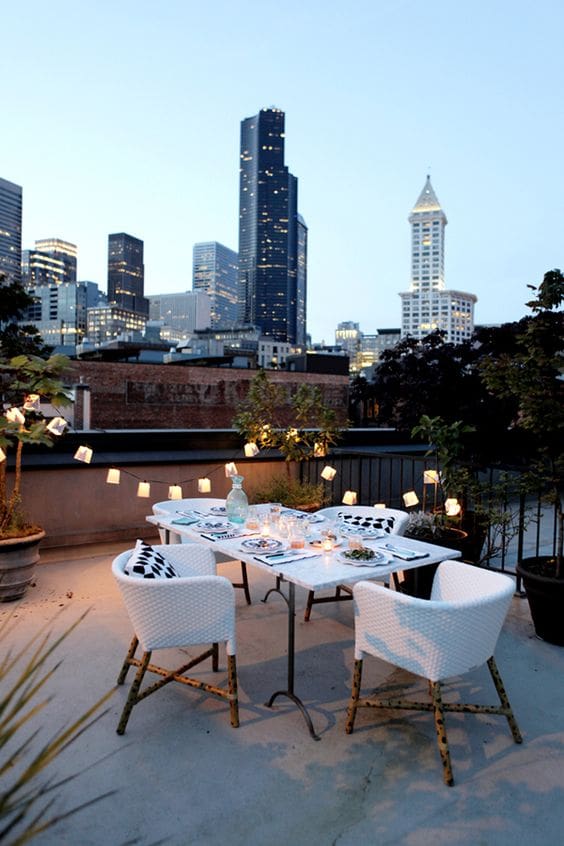 This one is for those who are lucky to have a backyard. There could be no better arrangement for a dine-out at home than a prepped up garden party. Draw out those chairs from your home and cover them in satin.
A theme for the night would do well. You can put to good use the trees in your garden; adorn them with lights and decor and use them to create mini-shelters for seating.
A barbeque could be laid out. A pool in the garden only adds a feather to your cap. You can have a lively dinner night with friends, fun and food. Lighting around the pool, the trees and walkways are a must. Use dimmer lights around the pool, brighter ones for the dining and moderate ones for the walkways.
The food could be prepared outdoors too, or within an outhouse, to save you the trouble of carrying those delicacies all the way up from the kitchen.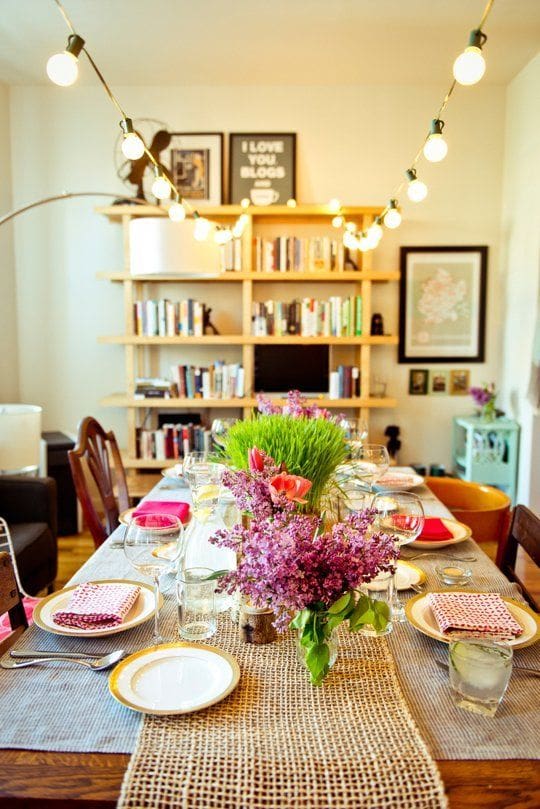 What if you neither have a functional garden space nor the boon of a terrace for yourself? Does that mean no partying? No, certainly not.
You actually have a lot of concealed space in the form of your living room, study, veranda or even your bedroom! All you need to do is shift the furniture out the room, create ample space for dining as well as circulation and then shimmer it all up. Sounds too much? We'll elaborate on this for you.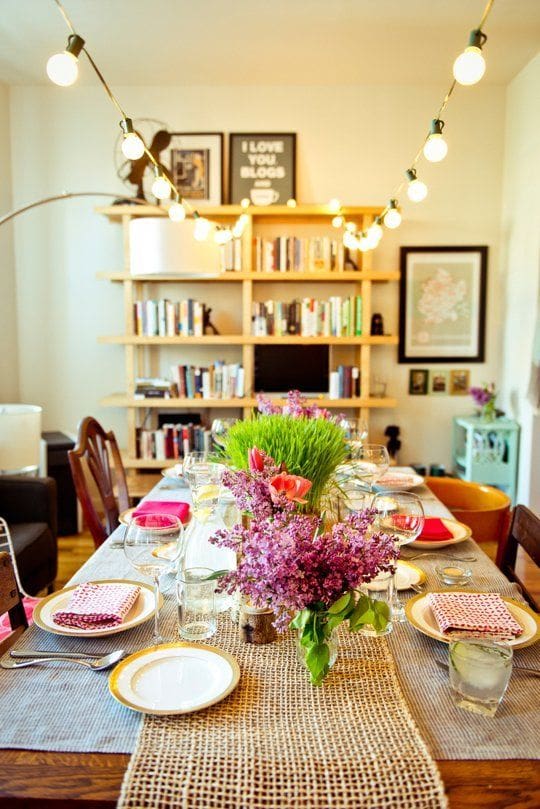 Seating for a dinner party is of utmost importance; and it depends a lot on the kind of party you are throwing, and for whom. If it's one for your boss, consider formal seating with monochrome themes, complete with matching chairs and tables.
If it is one for your colleagues and friends you should try out cosier environments including colourful furniture, couches and sofas and more than one table.
If you wish to lend a casual clubhouse feel to your party, a conversational seating arrangement with a cosy circle of wing or leather club chairs, sofa and an ottoman with a round table in the centre would provide your guests the leisure of curling up for late night chit chats and snacks.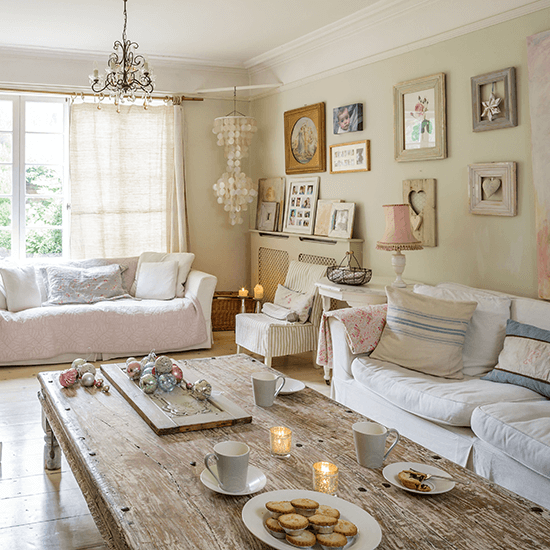 You could also go for certain themes: in that case, try to cover your furniture with embellishments that go with the theme and you could also use matching wallpapers for the night. How about creating a focal wall using either wallpaper or paints? 
You could even choose wall hangings, plates, breadboards – actually, spill out your creativity in any way on your wall – to make it a centre of attraction for the night. Yet another option to go for is the use of a bold piece of art for your walls – abstract, geometric, colourful – anything that arrests the attention.
Something even more unconventional would be dressing up your walls with mirrors – an illusion of increased space accompanied with offbeat decor is a great combination, isn't it?
Tables are another important feature of your dinner party. You might use long rectangular tables for dinner for a larger group, as passing on food and beverages becomes easier, as well as sharing.
Round tables are more suited for smaller groups, of three or four, for snacks and beverages only. Yes, the tables definitely need to be attractive, but it's not like you need to spend all your savings on them.
What you could do is dress up not-so-nice looking tables with beautiful fabric – readymade cloth, blankets, and drop cloths – anything. This would not just save you money, but would also add that dash of colour and pop to your ambience.
7. Rearrangement of Furniture
It's always a good idea to go for some collapsible furniture when laying out your home space. Gate-leg tables, folding chairs, easy-to-move stools are cool options for the night because your guests wouldn't want to stay put in the same position all throughout.
Consider rearrangement of furniture – maybe swap your dining area with the bigger spaces of your house. You could also remove some furniture for the night and the other rooms could act as a store for the same.
Any kind of party livens up with good lighting, right? A few go-to suggestions very quickly – try avoiding overhead lights. Use warm lamps, golden candlelight, tea lights and string lights. These ideas work beautifully for outdoors as well as indoors.
Softer cosier lights are what you should stick to, not just because of the mellow aura they create, but also so that you could conceal your dusty shelves and stained fabrics under the cover of a not-so-brightly lit up area. It's a simple fact – good mood lighting face lifts your interiors like no other.