In contemporary design, rounded components are becoming more and more popular since they give homes a soft, welcoming feel.
The vocabulary of interior design is currently seeing a noticeable movement away from straight lines, sharp- edged designs toward the softer end of the spectrum, which is dominated by rounded components and curving contours.
The water element is associated with the north-east direction in Vastu Shastra. Keeping water elements in this area helps to draw prosperity and wealth. Water is associated with knowledge, hunches, and fluidity. If you wish to strengthen your social relationships or welcome more money and financial flow, adding extra water can also be helpful.
Qualities: Downward, flowing, shifting
Shape: Wavy, curvy, undulating, shapeless
Colors: Black, Blue, Pastel
Here, in this article, we'll show you how to build a north-east room with a modern wave pattern to add smartness, smoothness, and elegance while also boosting the water element of Vastu in your house.
Given the spatial constraints of this room layout, curved walls can be a great way to soften the space and lengthen the eyeline.
In contrast, massive, sweeping curves in larger spaces create snug, cocooning, warm moments.
When designing a space where curved furniture is difficult to use, the designer can CONTRAST CURVES WITH EDGED LINES.
Curves can be used in both traditional and contemporary designs; however, combining certain edge lines with more contemporary, curved features is a fantastic idea.
In a space, more formal lines contrasted with gentle curves frequently look good.
Incorporating Curves in Design
In this design, lines come first, and then we arrange each piece of furniture such that it satisfies all specifications.
"This design can be based on two parameters: the first is more element-based and includes arches, vaults, curved walls, rounded edges, etc, and the second is more planning-based, where the character of spaces is explored by curves and free-flowing shapes,"
Using an element-based language, we may enjoy the designs and spaces in this situation, which stand out from more conventional design approaches.
Let's go on to the design portion of such a lovely concept. The appeal of employing curving lines in furniture, walls, or even bars is the way they beckon you in.
The right design of the house's elements can bind the spaces together and leave a lasting impression.
Bring in the curved pieces through the wall panelling.
The backdrop was our main emphasis, and we created two curves that connected the entire room with a single, erratic pattern at different heights.
Creating an atmosphere of fluidity and abstract form in the space.
Curves have an allure. The design is made more lively by the varied heights of the curves, which is giving it rhythm and movement.
This style of furniture is having its moment in the beach because the more people are at home, the more they realize the ultimate luxury of shapes is comfort.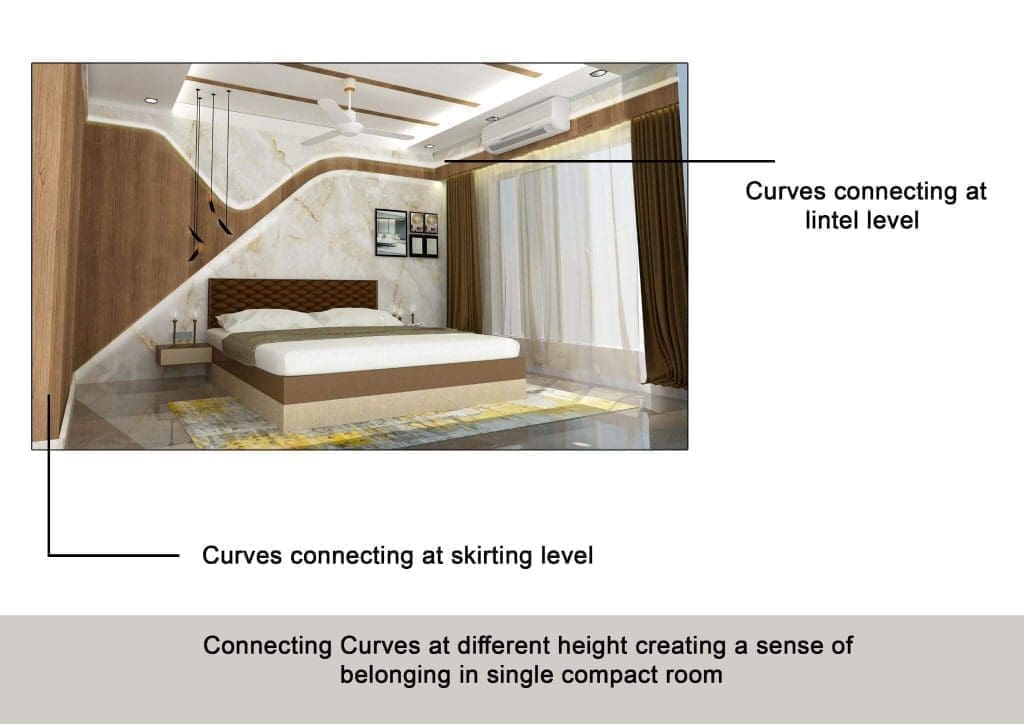 The bow arch is one of the most well-liked styles of doorway arches. Usually found at the entrances to homes and businesses, this doorway arch. The bottom of the bow arch is straight, while the top is curved. The historic appeal of an arched doorway is still present while allowing for a more contemporary appearance.
An arched door's appearance can also be influenced by the doorway's width. More light will enter the area through a larger entryway, giving it a brighter, more alive appearance.
3.Add Curves to a focal point
In this little space, we've included curved wall pieces. In such concepts, focus points can also be made with the colour scheme rather than with additional elements. Here, using a darker to medium-toned palette, we emphasise a panelling shadow area. Without having to change the room's overall design, curved borders palate are a great way to add interest and establish a focal point.
If curved furniture feels out of place (like our design), experimenting with accessories and other components that have a curved edge or pattern can be enjoyable. You can experiment with adding flashes of colour or pattern to the scalloped edging on carpets and pillows to give your area some softer lines. A half-arched dressing mirror and an edge-curved chair in your reading nook can boost the ante.
It can be very difficult to match and line patterned fabric along all the edges of curving furniture, which is why, unless you're absolutely determined on a very specific pattern, It is recommend choosing a plain cloth and having fun with the texture instead.
5.Colour Palate and lighting:
When employing curved furniture, it's crucial to get the colour proportions and lighting just perfect. As with other items, you should opt for some pastel hues or timber tones rather than some darker tones like pink, crimson, or blue. All of us use lighting to style objects. In such conceptions, it is crucial to emphasise the border rather than the entire bulk because the shape itself is a hero. Your living room, dining room, bedroom, or even foyer will all benefit from the correct pieces' timeless design for years to come.
3.Ceiling and Flooring Design
A straightforward ceiling and a play of lines will be added to raise and balance the appearance. In this situation, choosing a plain single ceiling with offsets is also advised. Choosing white or softer hues can help to bring all the dimensional elements together harmoniously. It is advised to use white tiles or wooden vinyl tiles in the incredible room design. Although a single curved line can cover a space more completely than a straight one can, the project's maximalist feel comes from the material play paired with the curves.
The main goal of this curved flat was to generate a flow of furnishings and materials between these many sections that compliment one another in a basic way and give the space life
BY- RAKSHIKA BORANA