No two buildings ever built are exactly alike, so when it comes to designing or re-designing your homes, there is no linear, clear- cut, single path to follow. Only a handful of people realize the complications that involve during the building process and by then they are already in a big pool of complexities, lost in a maze of design choices, zoning laws, building codes, contractors, material finishes, expenses and so on.
This is when the savior, the architect comes into the picture. An architect is an expert who is explicitly trained, licensed and authorized to work on the master planning and the scheme of design for your homes.
The facets of an architect's responsibilities are varied and captivating because these are the professionals who make your dreams come true. Their role is not just building up the walls and putting on a rooftop, they design the environment, the look and feel, and they convert monotonous, dull spaces into dynamic spaces, thereby enabling a happy living.
So, whether you are building your house for the first time or getting it re-modeled or re-designed, it is imperative that you hire the right person for the job and have the process finish as smoothly as possible.
Listed below are few reasons why it is essential to hire an architect. It is also an attempt to bust the myths associated with the question.
Importance of Hiring an Architect for your House Construction
1. A definite Understanding of Client's needs
Architects are well-versed with understanding the homeowner's lifestyle, habits, likes/dislikes, moods and put in efforts to draw up plans in accordance to the clients' desires and functional requirements.
2. Create Pocket Friendly budgets
One of the very vital reasons why hiring architects is more easy on the pockets is because they make extremely detailed drawings of the design which significantly reduces the errors, and thereby prevents a miscalculation. Changes made on the drawings before approval are way less costly as compared to the changes on site after the construction starts.
Also, Architects choose finishes and materials in a way that they look classy and elegant, but you don't have to shed any extra money for that. It's their trait to make simple things look elegant. Additionally, a well designed home also has a higher re-sale value.
Architects are major OCDs when it comes to dimensions and specific color palates. As compared to the contractors on site who only believe in finishing off the work for the heck of it, architects will never compromise on the quality and will ensure better accuracy.
4. High Quality Creative Designs
Architects are taught to 'Think out of the box'. So even with the most dynamic ideas in mind, they can still deliver a very practical and a budget-friendly design. They as professionals have a better understanding of  a superior functional floor plan and will never compromise with the creativity. Also, architects in every possible way, try to design a house in which the inhabitants feel comfortable and at home.
5. Suggest Best Materials and Finishes
Architects' definite knowledge of a wide range of supplies enables them to recommend the most congruous materials for your project, based on clients' budget, proportions, requirements, desires, likes/dislikes and functionality of the space.
Their sense of the third dimension is a little higher than an average human and hence they may also show you images of their software developed design for better visualisation of the theme and understanding of the color palate.
6. Energy Efficient Strategies
A licensed professional is qualified enough to make the best use of the natural lighting and heat from the sun to design an energy efficient home. A lot of detailing and knowledge of the topic is required to design a structure that is responsive to its environment and follows the correct building orientation.
Also, the location, size and orientation of the openings in the structure play an important role in saving electricity. An architect is also well-versed with passive ways of making the structure energy efficient.
7. Negotiations with the Contractor and Project Coordiantion
Building or re-designing of the house is a complex process and to ensure a hassle free experience, it is imperative that all the additional services like engineering and plumbing and the civil work all well coordinated.
It is the job of your architect to keep the drawings, ideas, mood boards and material palate informed to all the people involved to avoid conflicts and have a consistency in the process.
Without the presence of an architect, it becomes the job of the owner to derive permissions and permits for breaking walls and re-designing, as minor as getting in a gas-line into the house or shifting the plumbing port.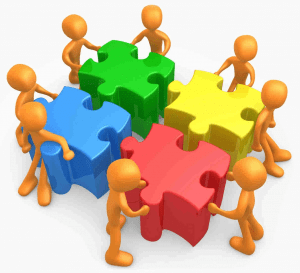 All the additional services if passed through a single window i.e. an architect, ensures a quick and stress free experience for the clients
To sum it up, architects don't only make drawings. They are well versed with Energy analysis, interiors designing, Site selection, Flooring selection, cost analysis, Color palates, restoration, skilled craftsmanship, administration and most importantly management.
Regardless of size and complexities, every project is unique and needs a thoughtful design.In fact, an undersized project is likely to have more intricacies which are not found in larger more expensive projects.
The challenge of a small project can have inverse proportional effects and will definitely need the expertise of an experienced architect. Hence it is a myth that architects don't prefer smaller projects. That is where their creativity flourishes.
Every architect will bring an exclusive combination of creativity, experience, science and discovery to the project. Sure, they're trained in the basics and they all know what the golden ratio is, but what sets them all apart is their individual ideas and how they implement them.