Steel has the highest strength-to-weight ratio of any construction material. Moreover, with new construction methods, steel buildings remain a popular choice for office and multifamily developers. Use of girder slab, staggered truss, and castellated beam construction enables lower floor-to-floor heights than typically expected in structural steel buildings.
Looking for long spans of column-free space? Steel delivers. Steel can accomplish extremely long spans in structures and very open-bay footprints without intermediate columns. It's a very flexible material in terms of different ways to address design requirements.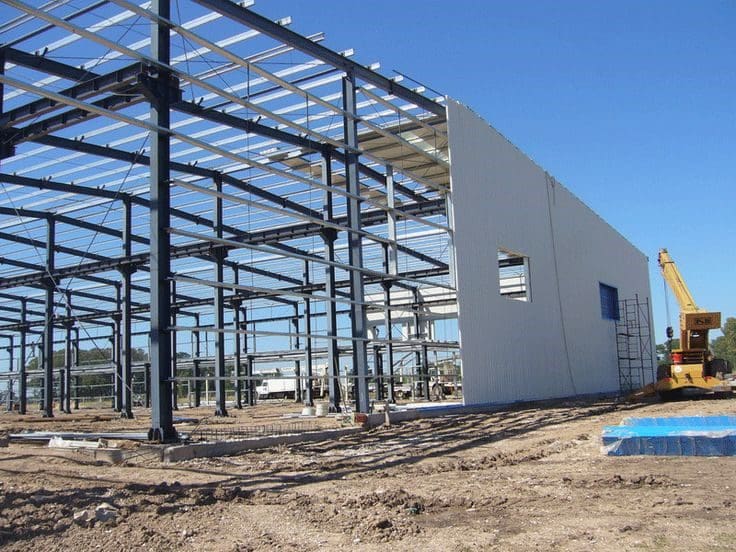 Concrete buildings are taking shape – many different shapes – everywhere. Remember, concrete seeks the form. You can shape anything out of concrete. In addition to the unique aesthetics achieved with concrete construction, these buildings offer some very real space advantages.
Public and private developers should also realize that using cast-in-place reinforced concrete to frame a high-rise office building would yield more rentable space because of lower floor-to-floor heights. RCC is a revolutionary material for the construction of most simple to complex structures.
With significant improvements in the quality of cement and steel, RCC will continue to find new applications and wide spread use in the 21st century.
To decide which kind of structure will be suitable for your Now let's see Pros and Cons of both RCC and Steel structures:-
Advantages and Disadvantages of Steel Structures
Advantages of Steel Structures
They are super-quick to build at the site, as a lot of work can be pre-fabbed at the factory.
Ease in expansion of the structure.
Ease in repair & rehabilitation or retrofitting.
Faster erection of the structure.
They are flexible, which makes them very good at resisting dynamic (changing) forces such as wind or earthquake forces. It can bend without cracking, which acts as a warning in seismic zones.
A wide range of ready-made structural sections is available, such as I, C and angle sections.
They can be made to take any kind of shape and clad with any type of
A wide range of joining methods is available, such as bolting, welding, and riveting.
Steel can be recycled. (New steel made from scrapped steel uses about one-third of the energy necessary for steel from virgin materials)
Disadvantages of Steel Structures
Analysis approach and assumptions should be quite clear and definitive prior to structural system formation.
Time required to design connection is more as compared to RC structures connection.
Cost (especially in India) is high for structural steel compared to RC.
Skilled laborers are required.
Steel can soften and melt with exposure to extremely high temperatures. However, with the addition of passive fire protection, such as spray-on fireproofing, buildings built of structural steel can sustain greater temperatures and therefore, provide additional safety.
They are prone to corrosion in humid or marine environments. Therefore, they need consistent maintenance.
Advantages and Disadvantages of RCC Structures
Advantages of RCC Structures
It can endure very high temperatures from fire for a long time without loss of structural integrity.
Buildings constructed with cast-in-place reinforced concrete can resist winds of more than 200 miles per hour and perform well even under the impact of flying debris.
Concrete requires no additional fireproofing treatments to meet stringent fire codes and performs well during both natural and manmade disasters.
Concrete is a material that is often locally sourced and thus typically requires minimal energy to transport to building sites.
No excessive maintenance is required in comparison to steel structures. And not much money is invested on labours.
Disadvantages of RCC Structures
Due to the more dead weight of RCC, it is less used in high-rise buildings, as more load will be there on the foundation.
At end of life, concrete can be crushed and recycled but the recycled material cannot be used for new building concrete. Therefore, the scrap value of concrete is almost nil.
Cement concrete can take up a good amount of compression but is not good enough for tension whereas steel can take up both compression and tension.
In seismic zones, it is less preferred due to its brittleness and no flexibility leading to direct damage of the structure without warning.
The old adage "time is money" was never more true than when talking about construction schedules. In any construction, 'Economy' and 'Time' are very crucial factors. So as per the building needs, the method of construction is decided, whether to have RCC or Steel structure. Let's have a look to their various applications:-
Application of Steel Structures
Steel construction is most often used in:
High-rise buildings because of its strength, low weight, and speed of construction.
Industrial/Warehouse buildings because of its ability to create large span spaces at low cost.
Residential buildings in a technique called light gauge steel construction.
Temporary Structures as these are quick to set up and remove.
Advantages of RCC Structures
Reinforced concrete is ideally suited for the construction of floor and roof slabs, columns and beams in residential and commercial structures.
The present trend is to adopt reinforced concrete for bridges of small, medium and long spans resulting in aesthetically superior and economical structures in comparison with steel bridges.
Reinforced concrete is ideally suited for water retaining structures like ground and overhead tanks and hydraulic structures like gravity and arch dams. The material is widely used for the construction of large domes for water tanks and sports stadiums and conference halls.
A typical use of reinforced concrete in earth retaining structures includes abutments for bridges and retaining walls for earthen embankments.
Reinforced concrete grid floors comprising beams and slabs are widely used for covering large areas like conference halls where column free space is an essential requirement.
For aircraft hangers, RCC shells comprising of thin circular slabs and deep edge beams provide an economical solution.
Reinforced concrete folded plate construction has been used for industrial structures where large column free space is required under the roof.
In coastal areas where corrosion is imminent for the construction of marine structures like wharfs, quay walls, watchtowers and lighthouses. For warehouses in coastal areas, RCC trusses are preferred to steel trusses.
RCC poles have almost replaced steel poles for power transmissions. Tall towers for TV transmission are invariably constructed using RCC.
In atomic structures, RCC is preferred to steel for pressure vessel construction due to the superior radiation absorption characteristics of high strength and high-density concrete.
Reinforced concrete piles, both precast and cast-in-situ have been in used for foundations of structures of different types of bridges and buildings. RCC is also used in the construction of pavements for highways and airport runways.