Perhaps in some wild imagination on a fine afternoon, you must have envisage how different your house might look if instead of the bright whites and beiges and yellows and greens, your walls, floors and ceilings talked of darker tones; black, greys, purples, browns and dark blues?
It is indeed true that deviating from the trusted creams and whites is a risky affair. But there's no harm in being a little unique and outlandish!
What is terrazzo Flooring?
Terrazzo, a composite material, is used not just as a flooring material but also for walls. It comprises stone chips, such as those of marble, quartz, granite or even glass, poured along with a binder and/or a polymeric.
By binder, we are referring to cement, while a polymeric is a substance for additional binding. The ratio of the chips to the cement is 3:1. The chips are preferably colourful for a better and more aesthetically favoured appearance.
Terrazzo flooring may be laid in different thicknesses. Let us explain to you the process of installing a 40 mm thick Terrazzo Flooring. Firstly, a sub-base and a concrete base are prepared for the laying of the Terrazzo Flooring.
The 40 mm thick layer of flooring which we are going to provide shall consist of two parts. The first would be a 6 mm thick layer of Terrazzo topping, and the second would be a 34 mm thick layer of cement concrete in the ratio 1:2:4.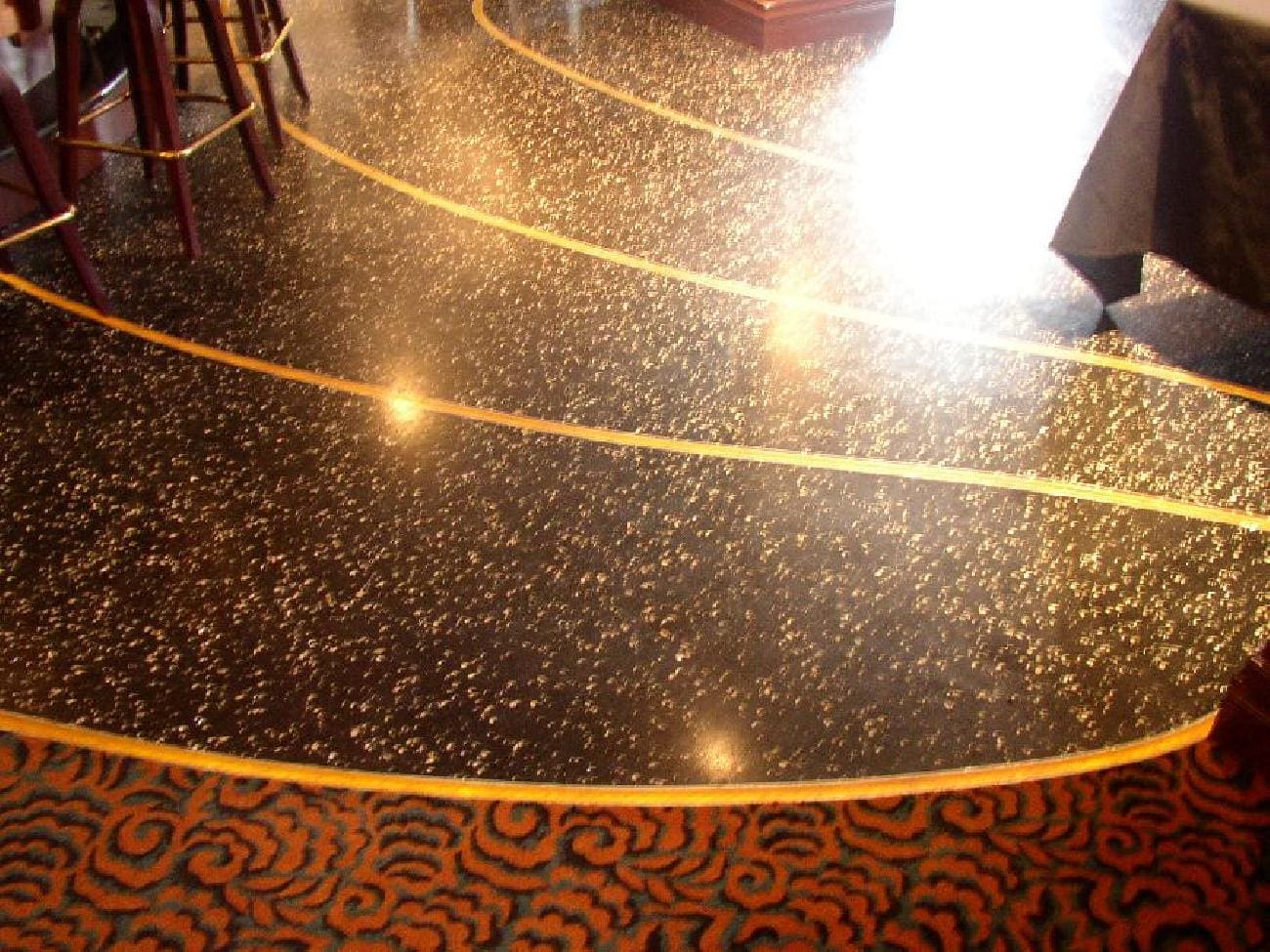 As a first step, the entire floor is divided into separate sections with the help of metal or glass strips about 1.5 mm in thickness. These 'panels' are restricted to about 2 square meters in area. After cleaning up the base concrete and wetting it with water, a coat of meat cement slurry is applied for good bonding.
Now the concrete under layer of 34 mm thickness is laid and given a rough surface finish. Over this layer, he topping of terrazzo is laid further.
Appearance of at least 60% of the stone chips of the terrazzo mixture must be ensured. More stone chips may be added if deemed necessary.
This is followed by the process of tamping and rolling, then is left to dry out for about 18 hours. It is then to be cured for a couple of days.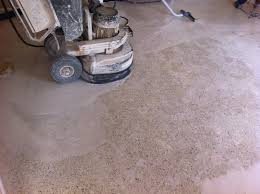 This is followed by grinding the surface with a machine using carborundum stones. Scrubbing with water follows and other layers of gap filling with grout or laying another layer of grout is done. The surface is cured again, followed by a second and then a third round of grinding.
The finished surface is finally treated with some oxalic acid solution; the floor is polished till it sparkles.
Types of Terrazzo flooring
There are different types of Terrazzo Flooring based on the variety in the material used or on the type of bonding used for them. Some of them are:
Epoxy resin terrazzo can be used over concrete as well as wooden bases, suggesting a wide array of application. They are low maintenance, beautifully coloured and cost-effective. However, it is unable to withstand harsh weather conditions and hence needs to be restricted to indoor use.
Cementitious terrazzo is long lasting and durable; non slippery and attractive. The water content of the mixture needs to be low, to avoid any cracking of cement. Cement terrazzo is considered one of the best flooring options under terrazzo if you are looking for strength and beauty combined into one, and are perfect for a superb finish.
Rustic terrazzo provides a rough surface for slip resistance. This becomes an added advanatage for rustic terrazzo because apart from providing beautiful patterns and colours, it also provides a textured surface. It is, hence, suitable for both indoor and outdoor purposes. Whether you are looking forward to landscaping your garden or decorating the lawn of a commercial establishment – rustic terrazzo is one of the best alternatives for the desired facelift.
Monolithic Terrazzo is often used for large spans such as in schools and offices. It is of supreme quality and is highly durable. Besides, it maintenance is easy, thus maintaining good hygiene. It is a very cost effective option for flooring which also comes with the merits of being resistant to wear and non-slippery.
Polyacrylate terrazzo is very suitable for outdoor works  because the mixture for the terrazzo is resistant to harsh conditions and is 'breathable'. Glass chips, though with restrictions on their size, can be used in this kind of flooring.
Advantages of Terrazzo Flooring:
Terrazzo flooring is very durable and dense. Hence it is quite suitable for those spaces of your home, where you expect more usage and frequency.
Terrazzo flooring is very long lasting.
It is very easy to maintain and can be kept clean without the help of abrasive cleaners.
The source of materials for terrazzo flooring is completely natural; hence it does not disturb environmental balance in any way. In fact, it is even recyclable.
Disadvantages of Terrazzo Flooring
The surface of the terrazzo floor can get very slippery, and hence is unsafe for children and the elderly. 
Due to the absence of any cushioning, it becomes very difficult to stand on the terrazzo floor barefoot for long.
Terrazzo flooring is also heavy on the pocket.
The installation is to be made only by experienced professionals, unlike some other forms of flooring, which even you could assemble together.