1 B.H.K is a small house with one bedroom, hall and kitchen respectively. Mostly people in metro cities are with small family of one or two are opting for 1B.H.K these days as they are a lot more budget friendly as well as easy to maintain due to the less space. But for some it's just an economical option as they cannot afford a large house. So, people option is very confused in regards to how to maintain, and make their 1B.H.K liveable as they have to set all their furniture, useful stuffs and a lot more things together in a small space and most of the time it starts looking cluttered and unorganised.
So below we will see some smart tips and tricks to maintain a 1.bh. k and also how to decorate it with minimum stuff to make the space look beautiful and interesting.
Tips and Tricks to Decorate or Maintain Your 1 Bedroom House (1 BHK):
1. Choosing the Right Color Pallate
We all know for a natural and light-coloured pallet goes along with a small space, as it makes it look bigger and better. If you will use dark colours in a 1bhk it will do nothing but make the space look smaller, which obviously we are not aiming for.
Use earthy tone s like crème, light brown if you like dark colours but nothing more. You can use off white in the living room to make it look bigger, in the bedroom you can paint some walls with any light colour and the wall behind the bed can be finished with any patterned wallpaper, this will give that experimented effort look as well as without harming the room. Make use of large doors and windows so that your home look little large due to the natural lightening.
2. Picking the Right furniture
This is the most important factor in a 1bhk as furniture occupies most of our space due to storage, and decoration, we need to optimize it to the core, to make the space look larger and clean. Let us see some of the ways: –
Use a small set of couch and sofa in the living room, you can use a small couch to sit with two pouffes at the side with a centre table and on the opposite, you can place a couch which can be converted into a single bed when needed. When it is a couch position you can keep it like that and when you need to make it a bed you can place it to the back wall. This will also eliminate your need of that extra seating when guests come over.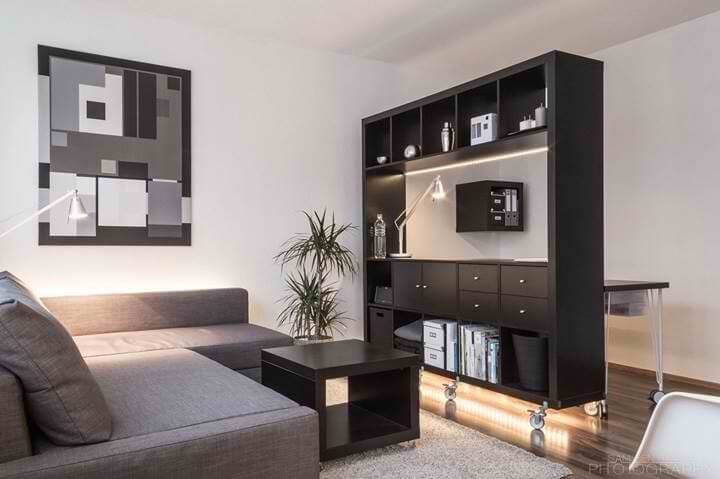 Use a lot of MULTIPURPOSE STORAGE OPTIONS like using full height shelves in kitchen , for more storage similarly use tall units in the living room as well to put all your pieces of decoration , fancy showcase items or some closed shelves for storage in between .You can also make a low height storage with TV unit over which you can place all your digital and TV setups and inside of it can be another storage . Use beds with bed box, full height cupboards, pouffes and couches with storage box inside, tables with storage options inside just whatever you use in general make it a smart storage option and also use a lot of vertical height of your home. REMEMBER you can always customize your furniture according to our requirements on a budget from a local carpenter. So do not worry about what's available in the market.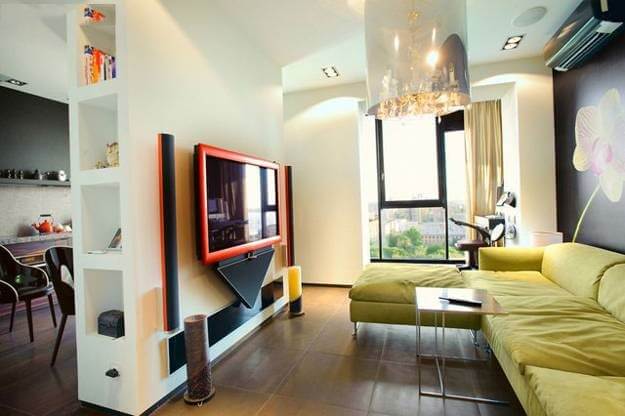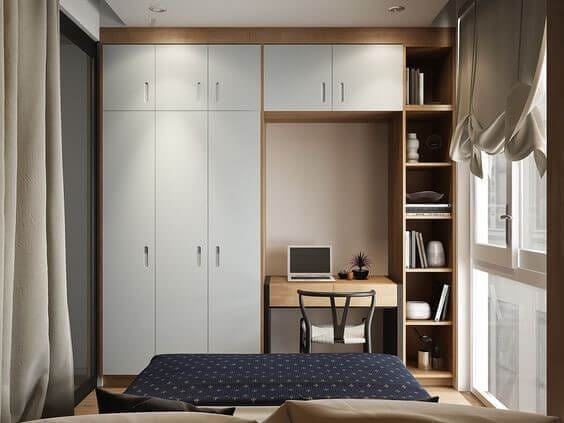 Lastly use a lot of compact sized and seating of different shape and size to maintain the interest within the space. Stools and pouffes and other movable furniture can be your friend as they can be shifted anytime anywhere easily.
3. Create a Lot of Open Space
When you have a small space use a lot of open space , which is wall free try to eliminate unnecessary in between walls because they just make your space look small and cluttered , have a goo open kitchen with an attached open dining space, open living room just maintain the walls for extremely private areas like bedroom.
If you wish to maintain and keep some privacy in between then PARTITIONS can be your best friend like glass partition for a seam less look to a wooden partition which can also be a book shelf you can even have a plant wall partition in which you can keep some beautiful small interior plants which will not only give you than little privacy but also a fresh and clean vibe in the home .
4. Optimization of Niches
Niches are aa hidden space that we generally ignore, they can be used in a lot of ways to for storage. If you already do not have niches at your 1bhk then you can also build one in some cases. A niche in a living room can be used for placing TV related or show case related items, you can even build a closed shelf for them in case you do not want to let it open. A niche near the dining table can be used to put a lot of cutlery and fancy items. A niche in the bedroom can also be used to put some picture frames or cushions etc. If you install few cove or strip lights in these niches, they will look beautiful when lit in the nigh time.
5. Creating Uncluttered Decoration
Every home needs its own kind of decoration, but small spaces need to be carefully optimized as a lot of decorative items will only make the space look cluttered. So, you can use vases, lamps, flowers etc for decoration but try to place them on furniture itself then the floor area so that that part of the floor can be saved. Use large sized picture frames or sceneries son the wall so that it will give a feeling of a larger space.
So, these were some of the key tips that you want to keep in mind while building your 1bhk. Optimization of the space is what you need to do and just because you have a smaller space doesn't mean you need to compromise on your decorative or any kind of requirement it can be equally beautiful as any large space. Always remember we can utilise the vertical height of the home and the niches smartly, always for that extra storage. You do not need to panic about the small space you just need to find smart solutions to it.