When it comes to buying a house one would always prefer a house that looks appealing and energising, which has a lot of greenery around it, not the one which spurns and looks dull with junk lying all around and paints peeling off, hence it is very essential to make sure that the elevation is perfectly decked out.
This would not only make your house look beautiful but also increase the value of your property resulting in better saleability.
Nowadays, even on a low budget one can improve the elevation of the house but everything must be well planned and implemented carefully or else it can even turn out to be a faux pas.
So here are a few tips that would help in enhancing the elevation of any house within a minimal amount of money-
Design Stage Tips to Improve Elevation of a Building
Tip#1: Add Some extensions
Extensions such as extended entrance ways, overhanging balconies or window bays can put in a lot of charisma to your space. These extensions would help you play along with the boring cubical elevation and turn it into an attractive frontage.
These extensions can either be large elements such as a garage (which can be added either on the front or side of the house) or small elements such as extended roof, porch, balconies etc
Tip#2. Juggle around with the roof
In some style of houses such as bungalows and villas, roof plays a very important role. Instead of having flat roofs one can have different styles of roof such as tapered, gabbled, slant etc. these roofs will have a huge impact on the appearance of the house.
If your house has already been constructed than you can opt for pergolas. As these pergolas are temporary structures and come in different shapes and sizes, you can easily cherry pick them according to your taste.
Tip#3. Put in Some Architectural Elements
During the construction you can plan out on adding up some construction art such as arches, pillars and columns to enhance the look of your frontage. There are various kinds of arches and columns which can be chosen according to the style of your house.
During Construction Tips to Improve Elevation of a Building
Tip#1: Brighten things Up
Once you have started with the construction procedure, decide your colour palate to enhance the beauty of your house. You can take help from your natural surroundings. You can choose contrasting colours of darker shades or single colours of lighter shade.
If you are renovating your old house then it is necessary to make sure that the colours that you choose should complement the colours of the existing materials such as flooring, furniture etc.
If you have any sort of detailed elements in your house such as cornices, then you can highlight them either by painting with darker shades of colour or by using artificial lighting fixtures to spice up your elevation.
Another option that will you can opt for the enhancement of your elevation is cladding. Cladding could be costly but it is one of the most durable options that one can opt for. There are various materials available for cladding in the market such as tiles, natural stone, aluminium composite panels, glass, steel frame etc.
Glass with Aluminium Composite Panel
Tip#3: Update your Doors and Windows
Whether it means to replace your old doors and windows or refurbishing and painting them, updating your doors and windows is always an easier way to smack up your elevation.
There are numerous designs of door and windows available in the market for every sort of taste ranging from traditional to modern style, you can pick any of them matching to the style of your house within a minimal amount of money.
If you don't want to replace your doors and windows than you can try revamping the old one by painting.
Tip#4: Spurce Up by Adding Some Greenery
It doesn't matter if you have a huge bungalow or a small villa you can always have some green space in your house this green space would not only enhance your elevation but also provide various health benefits for the residents.
There are various options such as:
Window boxes: These boxes can be kept either on the sill or hung on the lintel of the window. There are various DIY's available on internet to design these boxes at home without spending any penny.
Landscape beds: These beds are helpful for larger balconies and houses with huge lawns. You can have plant beds with different kinds of species of plants, planned and arranged in a certain manner. These beds can also be combined with some hard scape such as pavement and sitting spaces. You can be as much creative as you want when designing such spaces.
Hedges: Hedges help in the demarcation of any element. One can have a hedge belt in their balcony or in the lawn to demarcate its boundary. You can easily grow these hedges into various shapes embellish your frontage.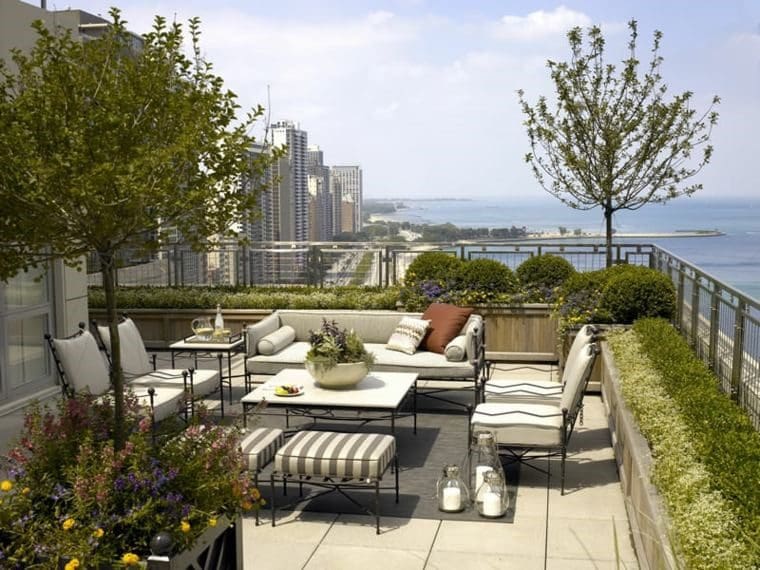 Tip#5: Focus your lighting