Selecting the best suitable choice of seating option is a huge task for a designer. Consider decorating or designing a living room area or a waiting/ leisure space, the amount of investment for a sofa that one has to make through the process is quite high. Selection cost criteria are dependent on the choice of variety, type of sofa, the material of the upholstery, framework material. Basic choices for finishes that are available are leather finish, fabric finish, and rexine finish.
Many factors can assess the viability of the product through product factors and product performance factors. Users can sort the confusing choice of availability through the following considerations: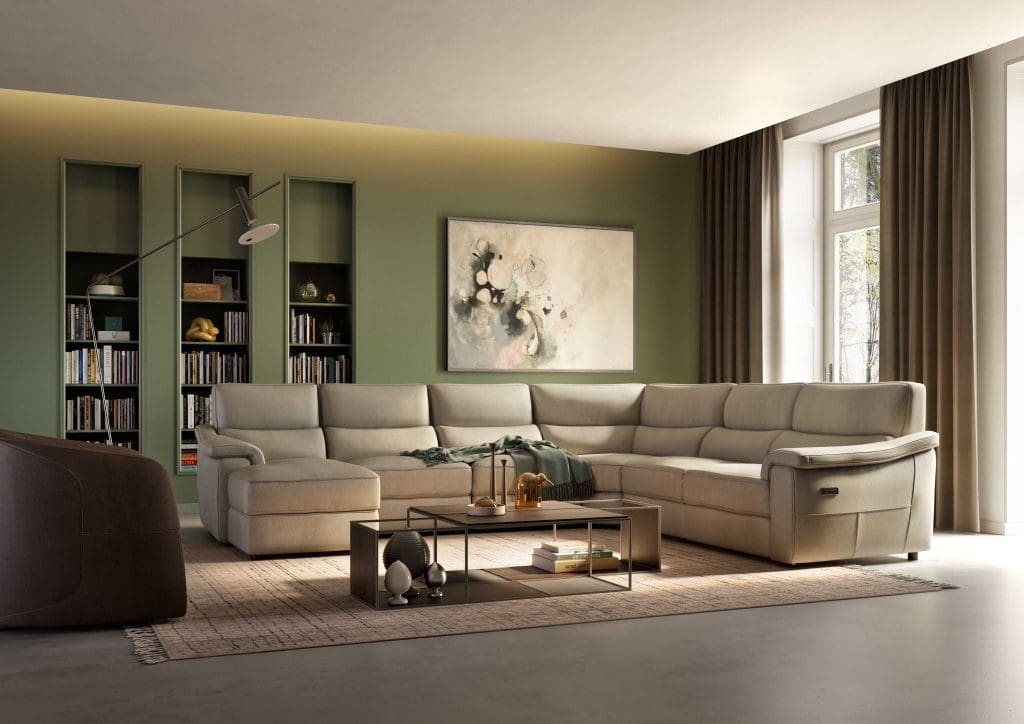 The comfort of a furnishing accessory is determined through various factors like type of textile and the framework with upholstery.
The comfort can be achieved in fabric finishes, and are comparatively more skin-friendly in comparison to leather and rexine counterparts.
Leather and rexine absorb heat faster than fabric, thus it feels warmer after a longer usage. However, leather furniture stays in shape after constant usage.
Visual Context or Appearance
A certain visual context has to be taken into ideation while designing, thus the context of design justifies the choice. As in, the leather sofas give elegant, sleek, and classic visuals whereas the fabrics are different in their approach.
Leather is available in limited tones and fabric sofas are available in variant hue choices, and it adds a contemporary look. Rexine can offer a variety of finishes and hue, thus it can be a mix of both former options.
The choice remains contextual in this case.
The life span of any material depends upon the quality and durability. Higher quality of finish yields lower wear and tear, and lasts longer. Many options like stain-resistant, premium solutions are available for selection varying according to affordability.
Fabrics and Rexine are prone to stains and wearing issues whereas leather seems to be an option with stain resistance.
A variety of tones are available in all of the options. Colors can fade out quickly on exposure of extensive use and frequent washing in fabric options; whereas leather and rexine color schemes are more lasting with a bit of lustrous finish.
Cost is determined by the quality of the finish: good quality fabrics with framework are quite expensive. A comparison of pricing can be assessed on initial pricing and latter maintenance stages concerning cleaning, comfort, and durability.
Premium options can be considered when durability is a factor and maintenances are frequent.
Dust, pet shed off and mites are factors to consider for catering a user's choice. Suitable spaces with furnishing must be chosen and Choices that attract dust, mites and are prone to sustaining pet dander must be avoided in case of allergic users.
Designers consider designing spaces according to the subjected furnishing. Spaces like homes and leisure areas can afford comfortability as a major concern whereas spaces like Offices and formal areas need furnishing to compliment the scheme of design ahead of comfort due to shorter usage tenure.
Experimentation is subject to user experience and functional aspects by complimenting the décor style as well.
Instances of choice are perceptual as Fabric finishes are smooth, comfy, and easy to live. Leather finishes are sleek and elegant with ease of maintenance. Rexine ideas are cheaper and variant in the scheme of choices in terms of finish of color but are vulnerable to wear out when exposed to long term usage.
 Material awareness is subject to all the above-stated factors, an individual must be aware of the material before purchasing. The variety of grades, types, and shades or tanning should be considered for a wise and complementing interior style while choosing a Sofa.