Every one of us dreams of having a luxurious home interior, with modern furniture and all other facilities. But not every one of us can spend a lot of bucks for getting it done, modern luxurious furniture's and home décor items today are extremely expensive. But this doesn't mean we need to compromise for our dream house. We always have some smart hacks that we can follow to make our simple or not so luxurious house look expensive without spending a lot of making some changes in the existing interior.
Yes, you read that right. To make your home look expensive you need to rework on every surface of the home from the ceiling, wall and to the floor. Here will see how can we implement some small but smart hacks to make our house look expensive and luxurious: –
1. Enhance your Ceiling Design
Making a fancy ceiling is a must have when you are looking for an expensive home décor. You can paint the ceiling with a darker tone than the walls and ceiling or a lighter colour than those. The idea is to make the ceiling contrast with the other surfaces of the room, you can also install a beautiful chandelier or a ceiling lamp. You can also create a beautiful heavy traditional design on the ceiling and even cover the ceiling with a wallpaper and when the light will be on the ceiling would instantly glow up. All of this will instantly pop up your ceiling and will draw every one's attention towards it.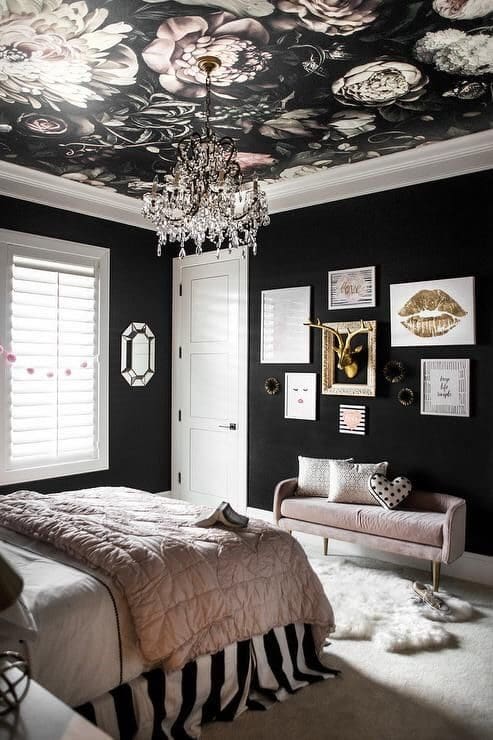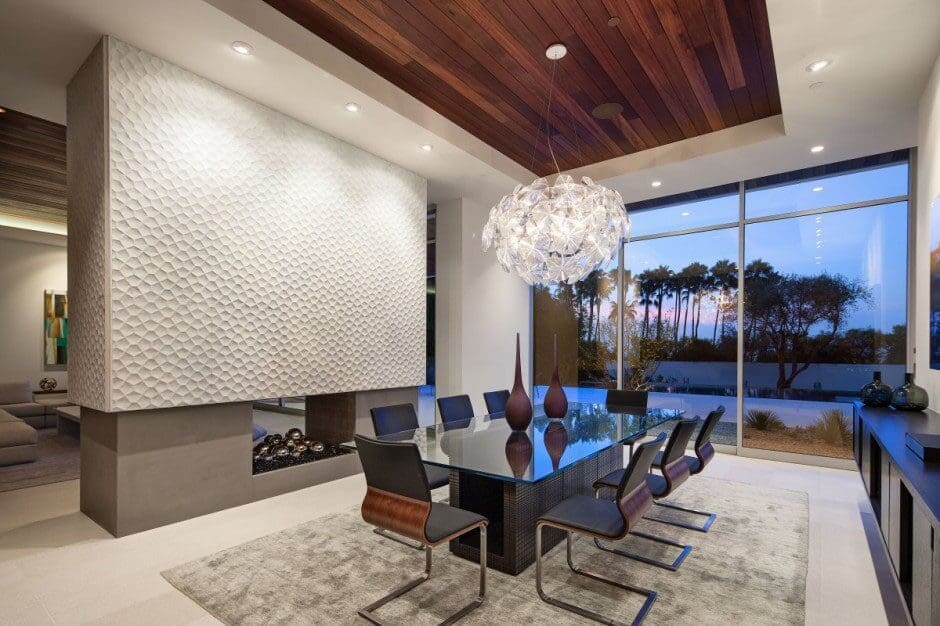 You must be having some normal walls and overhead lighting in the room for basic functions , but if you notice any luxurious room it always have some experiment with the lighting .The very first option is to install beautiful chandelier and lighting fixtures, pendant lighting , on the ceiling or you can even find a way to install them on the walls or some beautiful table lamps and floor lamps. One modern way of layering the light is fall ceiling with this you can install beautiful colours of cove lightning which will when lit can make the space look different.
3. Adding Mid Century Furniture
Mid-century furniture is a combination of modern and traditional style furniture which when kept in any room instantly give that luxurious vibe. Specially an ANCCENT CHAIR is very important in a living room, this will instantly pop up the whole area. Accent chair instantly adds a contrast, texture and drama to the space. It breaks the monogamy of the space in an easy way. Keep these accent chairs in a darker or bold colour like olive yellow to dark green and use velvet or corduroy fabrics for these for that special luxurious feel.
4. Placing Vases and Flowers
Greenery or anything related to nature always adds this positive vibe in the house. Flowers not add a texture but also a powerful scent that elevate our perception of space. Smelling floral scent throughout the day enhance our mood as well. These gives the space that delicacy, beauty and a fresh vibe. Some famous interior flowers are orchids, eucalyptus and gardenia. Also, with these flowers you can use some beautiful vases like a coloured, transparent or translucent glass vase to a bold metallic or textured vase. Some bold silver or golden metal vases always looks luxurious. You can sometimes even put these vases empty or a corner table or a big vase directly on the floor. Include these in dining area to even bathrooms.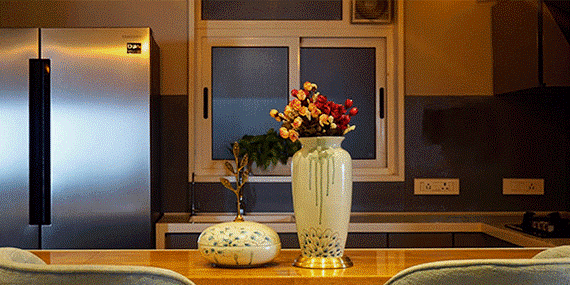 You might think how those little fixtures would give the luxurious feel to your space so always remember this quote. '' DETAILS ARE NOT THE DETAILS; THEY MAKE THE DESIGN.'' Details have the capability of changing the perception and elevating the whole experience of the space. Include bold pieces of hardware with a mix of modernity and light colour on the walls so that they stand out. Include these in your kitchen or bathroom, cabinets and so on. There are a lot of finishes in the market like rose gold, matte, gold, silver etc. Choose one according to your home style and you will be amazed by the effect it would give to the space. The best part is you can change it anytime you want.
6. Strategically Placed Mirrors
A mirror is an element for showing your own reflection. It can stand out in any room and if strategically places it can enhance the decorative vibe of the room, it can bring light in and give the illusion of a more spacious space. The best place for installing mirror is opposite to the window so that it reflects a lot of light in the room , and instead of just rectangular or circle mirrors add different shapes of mirror for a stand out look , you can install frame less mirror but framed mirror with metal or wood looks more luxurious . Add a mirror to your entry way of the home and it can bring a lot of positivity to the space.
Use this smart and simple hacks to bring back that luxurious essence of your home that you might be missing lately and you would have thought for getting that look you will have to do a house renovation or it will be an extremely expensive affair.
Hopefully after doing these little and budget friendly changes at your home you'll be able to achieve that dream look.