We know that India has a vast culture, due to its connection to different religions, diversity in them and different opinions. Indian folk style is I think a gift to India, as it is so simple and raw yet so beautiful. There was a time when people started criticizing it while making modern and luxurious homes, but now our young age groups are again preserving that culture liking it so much that they want to incorporate them in their home interiors or even exteriors. If you are someone who is settled abroad but want to stay connected to your culture from India, the best way to do it fill in the space you live.
So, there are a lot of different ways through which e can incorporate rural vibes into our home let us see what they are and how they should be done: –
Tips to Create Folk or Rural Style Interior Design
Walls take most of our space in the house, we hang paintings, décor it with different things to make it beautiful so when you want that rural feel here's what you can do about it: –
Artforms like MITHILA, WARLI, or anything inspired from folk or rural life which is your favourite or like chakras, tyres, pottery etc. You can just get the design painted on your wall through texture paint colours and you can call one local artist to do the job. This will just change the whole look of your space. If its modern it will give a rural touch to it. Here are some examples: –
Wallpapers are a new way to at that décor and design vibe into the house without much efforts. So, you can decide one favourite design of yours from the internet and get it customized from the wallpaper merchant. It can be installed in living rooms, dining space, bedrooms or wherever you feel you need to fill that vibe.
1.3 Traditional Style Niches
If you ever notice in the village homes there is always the use of niches that is a dug into the wall where you can keep your extra stuff, or decorative items, family pictures and what not. So, if you can make a niche in your wall, make it in the from of an ogee arch, or get inspired from Rajasthani forts, or any arch or traditional form. This will not only give you that vibe but also some extra storage. You can make them anywhere from the back wall in the bedroom. or in the living room beside the TV unit the choice is yours.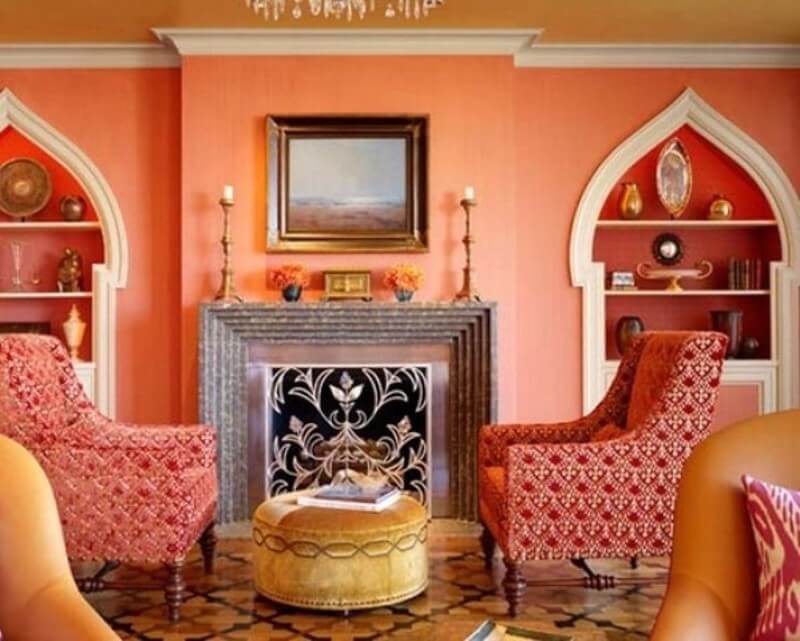 Furniture is the next big thing to experiment with in any house. As most of our house are equipped with furniture these days due to small spaces why not make it artistic, a simple cabinet can be turned into a folk style cabinet (see the picture below).
Also, if you want rural style you must have a sofa set or couch where wood is naked in the form of arms of the sofa or legs. If its completely covered with fabric it won't give that rural feel, as in rural India wood is used in its most raw form. So, exposing wood or using different sitting or decorative pieces with wood in raw or unfinished form would look great.
In the stairs also instead of using tiles or marble use natural stone or locally sourced stone or terracotta flooring this will look old school and natural also these are highly durable. For the handrail you can use wood or again stone finish on them, and for the walls near the handrail again you can design some abstracts of rural forms, or hang some paintings depicting rural life. So, every time someone will move through this space it will remind them of the folk culture and how beautiful and memorable it is.
4. Use of Traditional Fabrics
We know India is rich in their fabric and textile production. Fabrics like jute and khadi and even a lot of cotton is made in India.
In rural India a lot of time it is manufactured as well due to the labour and presence of artistic mind s and hands. So, you can choose fabrics of any place you like from Rajasthani folk style, Maharashtra's WARLI style, chikankari of UP to even Punjab's PULKHARI and many more as you like.
Use these fabrics in and around your house, like on the curtains, sofa and couch covers, dining table or cloths in kitchen to even bedsheets in the bedroom. You can also frame any artwork of fabrics, frame it and hang on the wall. All of these will add those extra colours, culture and will always preserve your favourite art forms.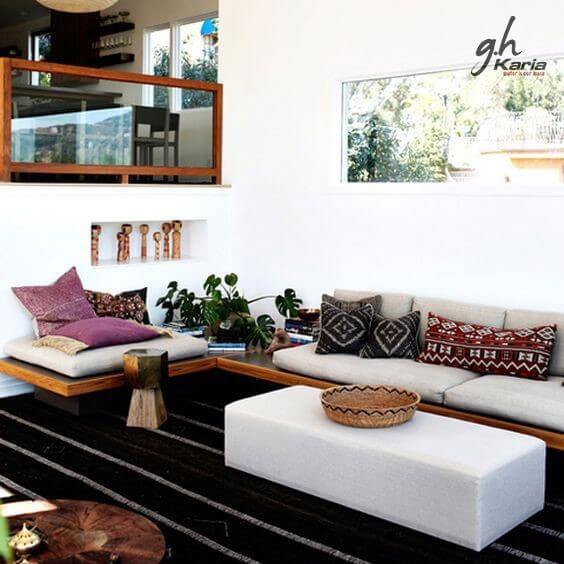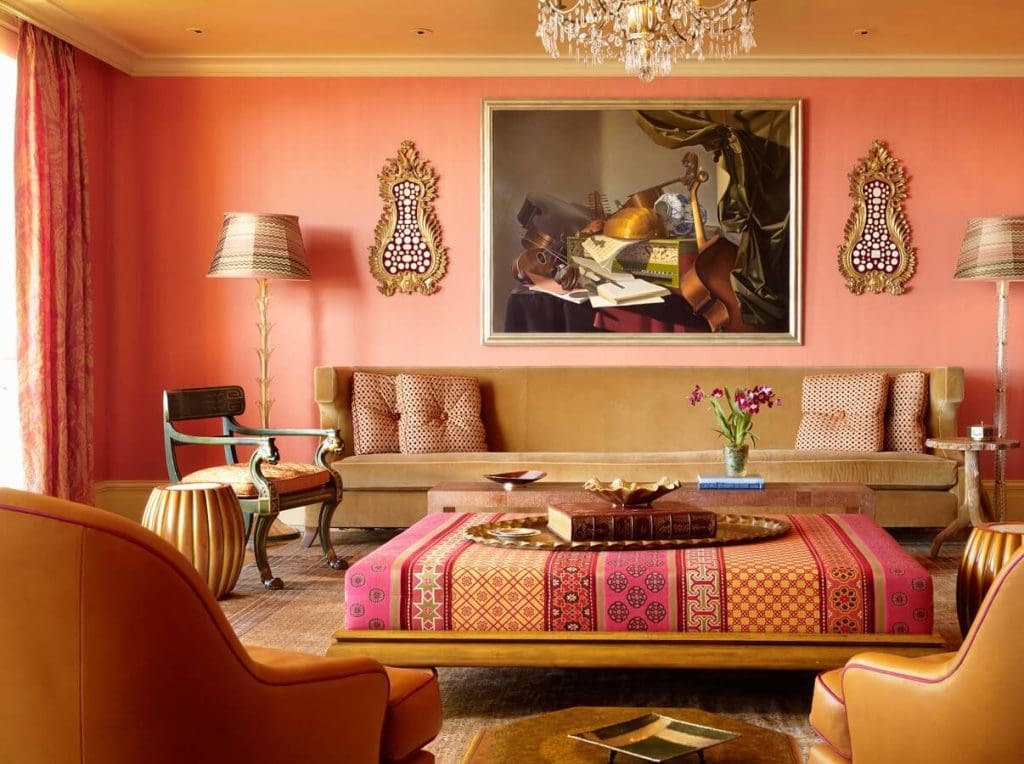 You can decorate your house in various forms of folk style like hanging down paintings of rural life, rural arts or anything then you resemble from rural life or love about it. Apart from this you can use a lot of natural materials in the house, replace everything modern in rural form like: –
Use jute rugs, jute table sheets, jute bags and, mostly a lot of jute.
You can use bamboo seating's in the living room or bedroom, these are great options for kids as well plus they are light weight and portable.

U

se earthy tones and colours on the walls and furniture you can even make a normal wall but give a finish of MUD.
You can decorate your balcony as well like keeping a jute swing, or even designing forms on balcony walls, keeping bamboo and wooden seating.
Lastly use a lot of plants around the house, use plants that give you a lot feeling of your rural home, like any flower smell that you miss but they should still small and manageable you can go to your gardener or any local nursery shop for plants advice. Put them in living room, bedroom and the best are to keep them in balcony.
Making a home in rural style is not just beautiful but at the same time you are contributing towards preserving the place you belong to and that culture. There can be no better way than sticking to your roots. These tips will come in handy when you want your interior THE RURAL INDIA style. Ven doing some of the above written steps might give you your village's feel.