Granite is an igneous rock which is available in form of slabs or sheets like surfaces in varied colors.
The texture or the natural patterns on it give it an authentic as well as rich look when used in the interiors.
It is widely used in interiors because of its durability and is also easy to clean the surface of the granite.
Being a stone and holding the natural patterns over it granite serves as a very raw and natural – like material to be used at a variety of places in the interiors.
The granite can be shaped according to the client requirements but the shaping and cutting work is generally carried in factory itself.
Granite is mainly plain or textured if classified on design basis. So accordingly the use also varies along with the theme and use on site.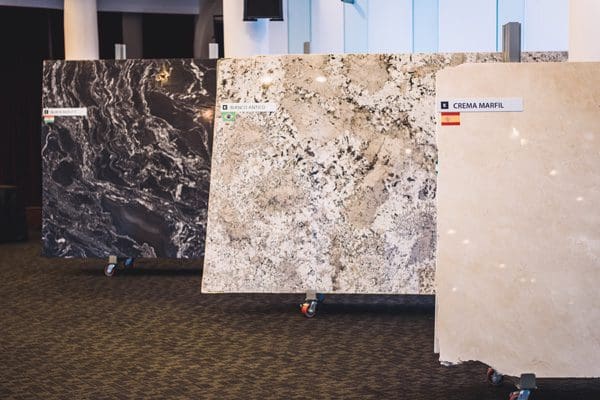 Top 7 Design Aspects of Granite
Kitchen Ota (Platforms)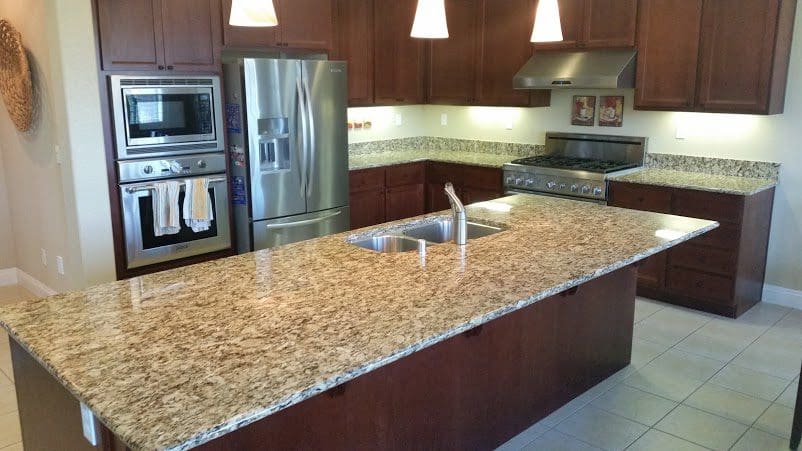 SOURCE: https://sacsurfacepro.com/wp-content/uploads/2016/03/New-Granite-Countertops.jpg
Granites are mainly used as platforms in kitchen so that a uniform surface is achieved for the entire mass as a whole.
It also helps to avoid the leakage beneath the platform as it is waterproof and also joint-less as an entire slab is available in desired sizes.
Granite being solid and firm enough to withstand heavy loads and pressure fits as a perfect match for the kitchen platform making it resistant from the heavy utensils as well as preventing the surface from scratches.
The natural look of the granite make the space look aesthetically rich as well as functional enough to serve the purpose.
Counter Tops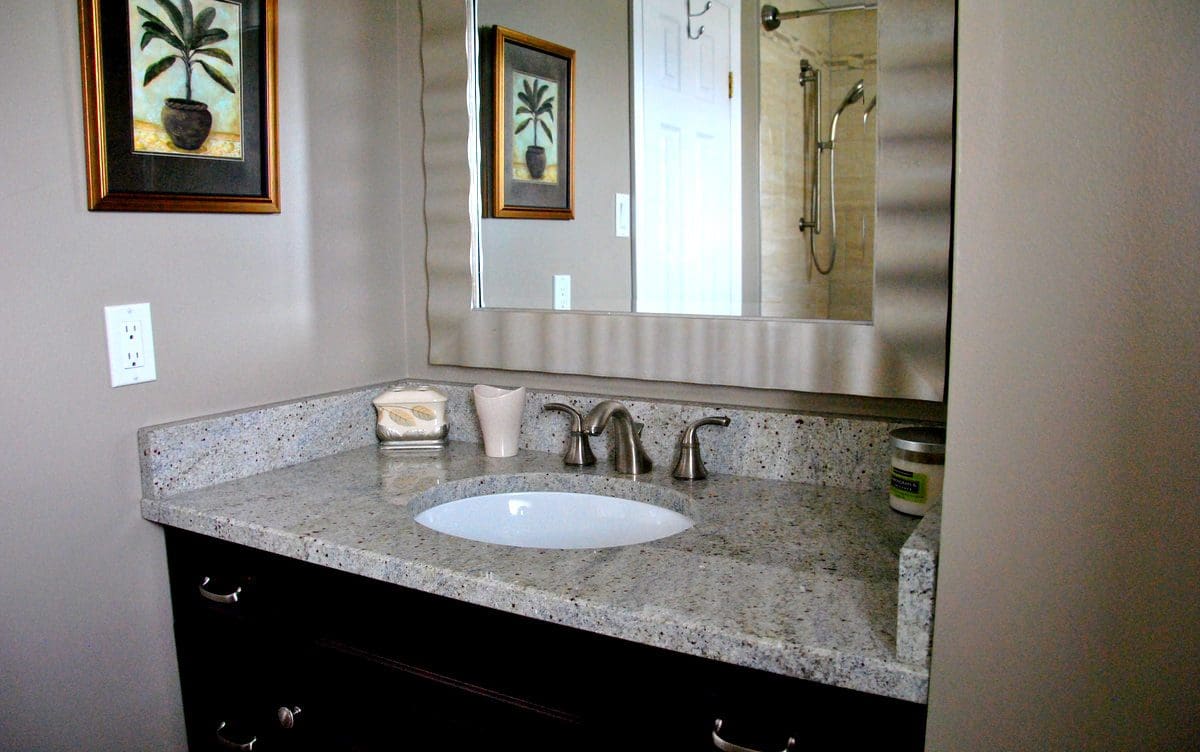 SOURCE: https://www.marbre-import.fr/wp-content/uploads/2015/09/ka10.jpg
Granite is also mainly used for counter top washbasins as it is easy to factory cut the granite slab and provide a leakage proof space below the wash basin.
The edges are polished and cut according to the desired form required by the client and thus giving a finished look to the entire granite slab.
The natural pebble like texture of the granite will give a waterscape feel and ambience around the basin area. 
Partitions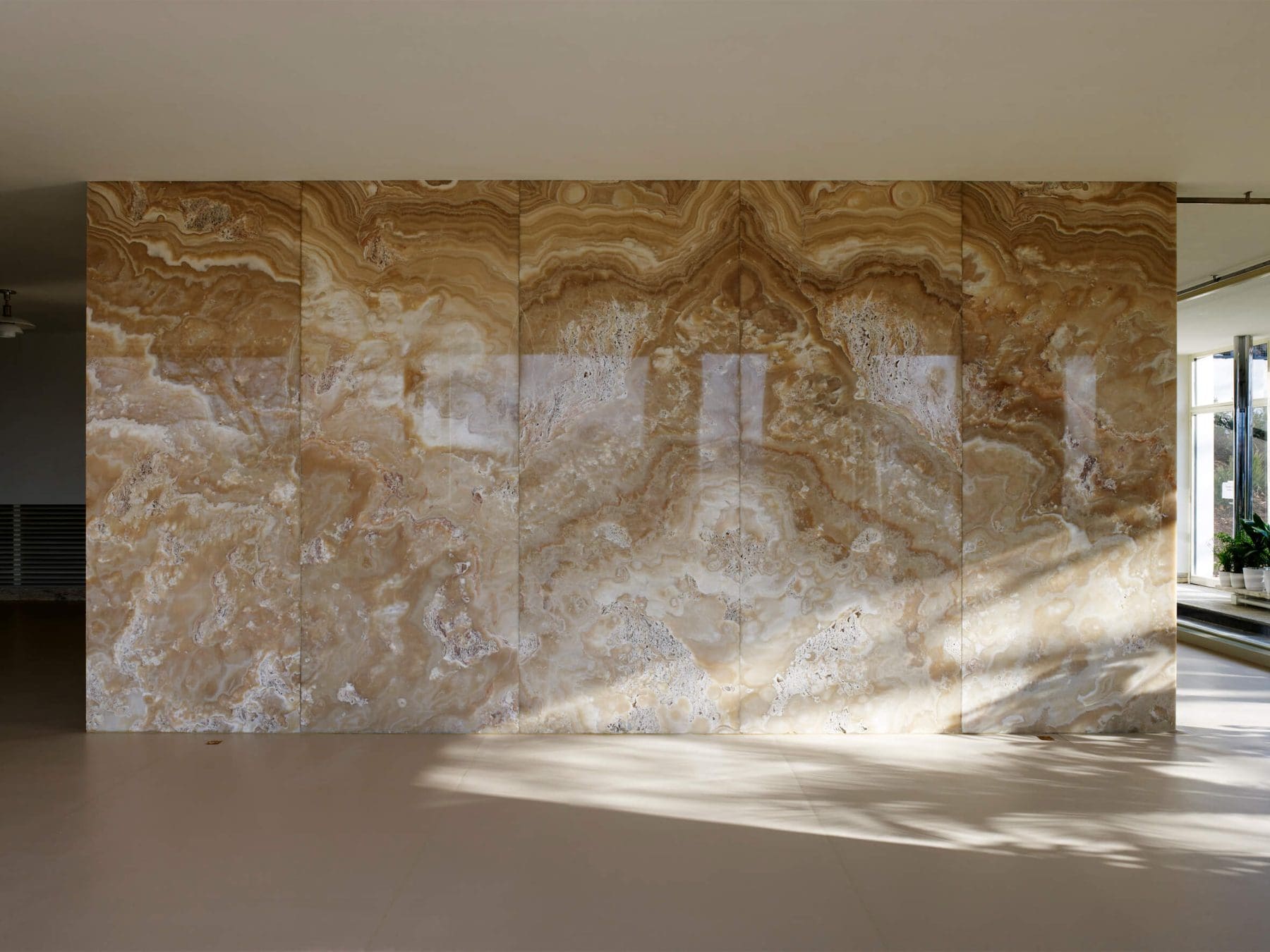 SOURCE: https://hague.czechcentres.cz/public/galleries/46/45420/007__vt_copyright_david_zidlicky_onyxova-stena.jpg?06ad431249ab5903f1fd0bbe48ee8533
Granites are available in large slabs that serve as a perfect fit between the floor plates serving as a partition between spaces.
The patterns, colors and textures available in granites need not be painted or treated with any wallpaper or texture externally to create a good ambience.
The natural form itself is the finished product and the solid thickness gives it the strength to withstand minor forces and pressure.
These partitions are generally used to divide activity spaces like multipurpose halls, conferences, business centers, etc.
Granite partitions are also used for separating the urinal spaces.
Flooring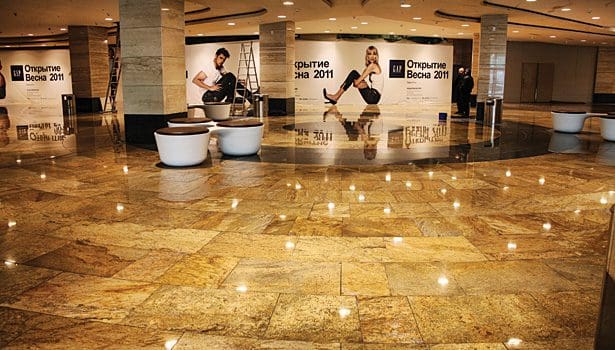 SOURCE: https://www.stoneworld.com/ext/resources/Issues/Auguust-2013/SW0813_slideshow_Afi03.jpg
Granite can also be used as flooring as granite tiles are available in the market with a variety of colors and textures.
These flooring provide a highly reflective and glossy surface perfect to suit the ambience in a shopping mall or any commercial complex.
This reflective and glossy property of the granite creates a sense of vastness throughout the space.
Staircase Finish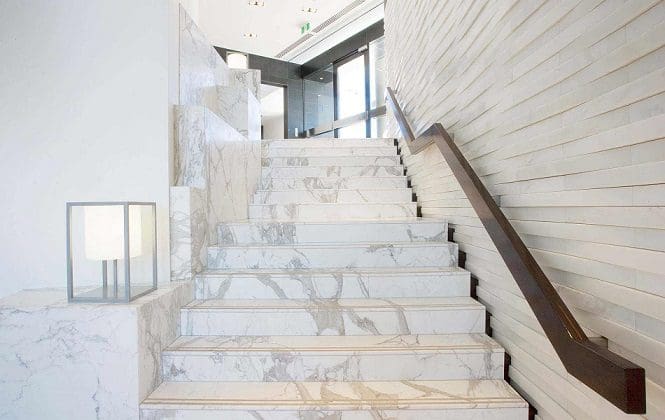 SOURCE: https://marbleflooringmalaysia.com/wp-content/uploads/marble-staircase-3.jpg
The staircase finishes are also mainly of granite with grooves or rubber stripes for grip.
The treads and riser being of granite gives the reflective ambience similar to the flooring and are more durable than any other material.
Seating Finish
SOURCE: https://s-media-cache-ak0.pinimg.com/736x/d8/c9/ab/d8c9abd5f7c0595fab91bf5f31294fd0.jpg
The seating as a landscape element or as an interior element is generally preferred to be made out of granite to reduce maintenance and increase its durability.
Being available in a variety of colors it serves well to blend with the interior theme or the landscape around.
Granite seating look reflective along with polished curved edges. 
Cladding for Building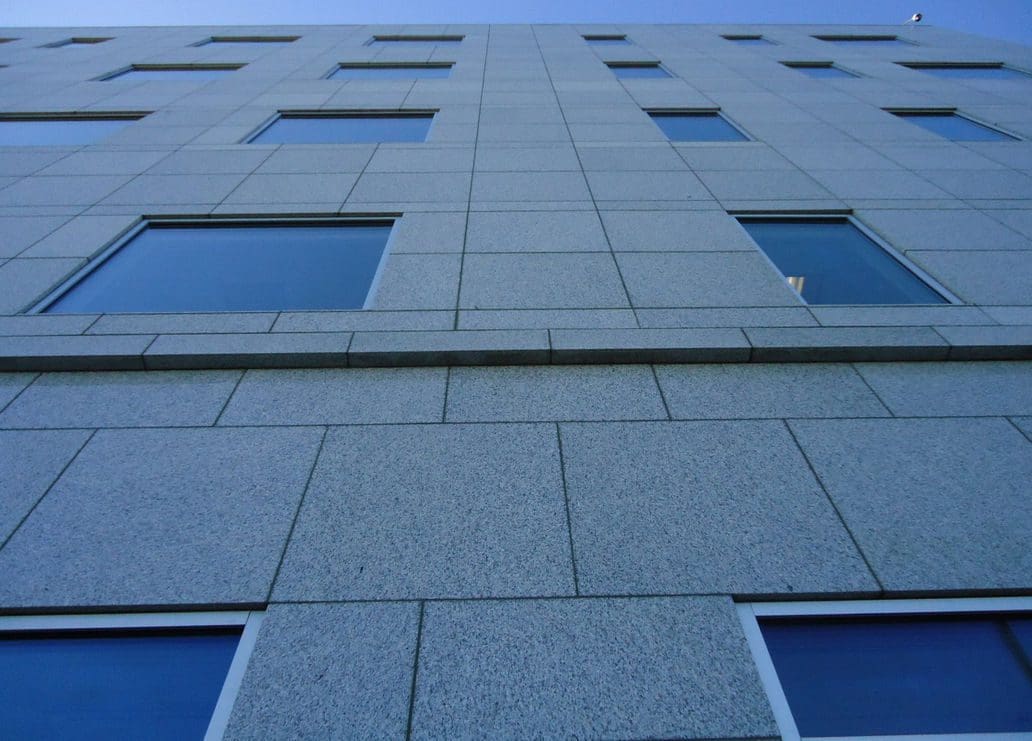 SOURCE: https://img.archiexpo.com/images_ae/photo-g/49648-8985807.jpg
Granite being durable against various environmental conditions is also used as an elevation cladding for bungalows, apartments, etc.
Generally matte finish texture is used on exterior surface cladding to avoid the high reflection of heat.
Sometimes granite tiles are also cladded on interior walls in spaces like halls, theatres, etc.
Granite is perfect for all homes because it achieves the perfect balance between function and style. Along with providing a polished and sophisticated look and ambience for the space. There are many stones available in the market but from design point of view granite serves well in all aspects and also is readily available in most of the areas.
Using stone as a material itself creates an interesting aura for a particular space due to the natural raw look and feel but granite serves a surplus as it is available in a whole lot of variety along with a large scope of designing the edges alongside. Smoky, pebbledash, foamy, etc. are some of the leading natural-like textures available to serve the purpose above. Thus, due to a lot many merits and the balance that it maintains with design and function granite is used on a very large scale especially in India.
– By KUSHAL MEHTA