One of the first things we subconsciously notice when entering someone's house for the first time is the ceiling – yes – incredible but true. The ceiling of a space sets the mood of the room for the users. Be it through the use of grand chandeliers or simple LEDs, the use of beautiful false ceilings or striking paint, a good ceiling design can really accentuate the magic of your interiors like no other. This increases manifold when the ceiling design compliments the furniture or some accent wall.
Tray Ceilings are a special kind of False Ceiling where the central portion of the many concentric ones is a little higher than those at the perimeters. Also termed as the recessed or inverted ceiling, Tray ceilings are the perfect means to get rid of the blandness of your home interiors and shape them into a vivid creation.
Where to have a Tray Ceiling
Well, almost anywhere! Tray Ceilings are ideal for creating an arresting feature in the bedroom, while they are also equally appropriate for designing a focal point in the living room. They are an amazing choice for hanging those pendant lights in the kitchen from, and are also desirable in the bath for a luxurious chandelier hanging right above your Jacuzzi.
Variations of tray Ceilings
Tray ceilings are one of the most common choices for people who wish to revamp and modernize their home interiors. This does not, however, mean that they are monotonous and there's nothing new about them from door-to-door. Tray ceilings vary greatly when it comes to colour, effects and inlays. They may glow or might be misted. They may be subtly painted, or ornately hued. They might even vary with the kind of lighting used. You might use shorter trays if you want your room to bear an antique look with some decorative mouldings for company. You might choose to play with a tray ceiling in a room which has a higher ceiling than usual, so that you do not need to cover that up by other means.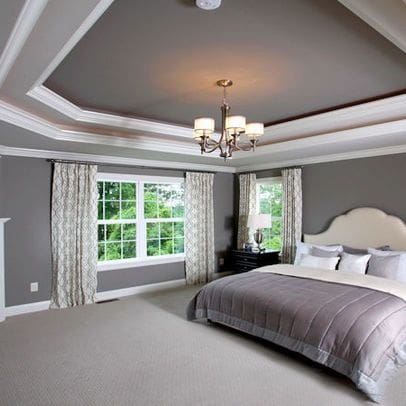 You shouldn't go very bright and bold with a tray ceiling, because it's not the only thing about your room that you want people to see. More often it might be a distraction for people for having to crane their necks due to something so catchy up there. Go for neutral shades glorified with perimeter lighting for a very subtle and pleasurable look. Try maintaining a balanced colour scheme between the wall paints or wallpaper and the tray ceiling. You might want to go for something totally contrasting, like maybe a black tray ceiling for lighter coloured room walls. In that case, do go for a heavy and attractive chandelier, not just to create a brilliant contrast and grand appeal, but also to cut off the dark your black ceiling might impose on the interiors.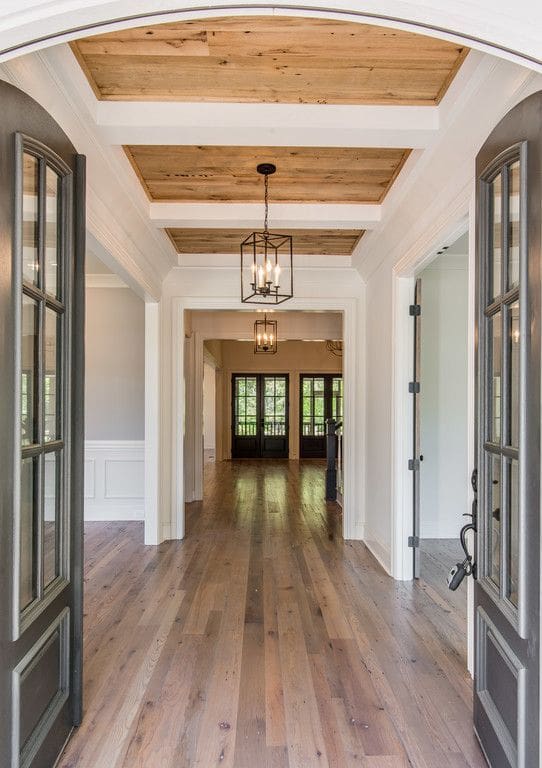 Wood is something that can add a lot more elegance to any part of your house, when wisely used. Try adding wooden panels to the tray ceiling for a ravishing makeover. Pair this up with a lot of wood around in the form of shelves and planks where you can have lots of books, coffee mugs and your favourite art. Touch the room up with the softness of silk fabrics and fur rugs and you are good to go.
You can also have a metal tray ceiling instead, for a more industrial style decor to your home. Corrugated metal sheets, in neutral shades and a rugged corroded finish, are the perfect match to a space which has a lofty vertical space and matching industrial style decor for company. Pair this ceiling up with some kind of exposed masonry interiors and minimalistic furniture and leave guests in awe of your haven!
Exposed Beams for Decoration
If you wish to create a warm ambience in you interiors, especially in the kitchen, go for exposed wooden beams along with the tray ceiling. The whole appearance becomes all the more welcoming and rustic, and is ideal for hosting a warm little party for your favourite friends.
If the room you are thinking of revamping is for a kiddo, better adorn it with the wallpapers of his favourite cartoon character. Even better, stud it with neon stars and moon stickers for landing your kid into the heaven of dreams as you lull him to sleep with a favourite bedtime story!
– By Sourav Suman