Waterproofing is the process of application of impervious material which acts as barrier over surfaces. By waterproofing, the structure remains unaffected by water in specified conditions. Moreover, making the structure waterproof or water-resistant by preventing water penetration and resisting the ingress of water up to specified depths.
Waterproofing is mandatory in wet environments, damp conditions and underwater construction. This formation of impervious barrier over surfaces of structural members safeguards from unanticipated damages.
Waterproofing costs just marginal fraction of overall construction costs, however, if ignored can be accountable for massive damage to structure. For a residential building, locations such as basement, kitchen, toilet, balcony areas, water tank, etc, are susceptible to water ingress, waterproofing is essential for these locations to avoid compromising circumstances.
Water ingress makes the effected parts hollow and reduces strength of overall struction and ultimately effect the life span of structure.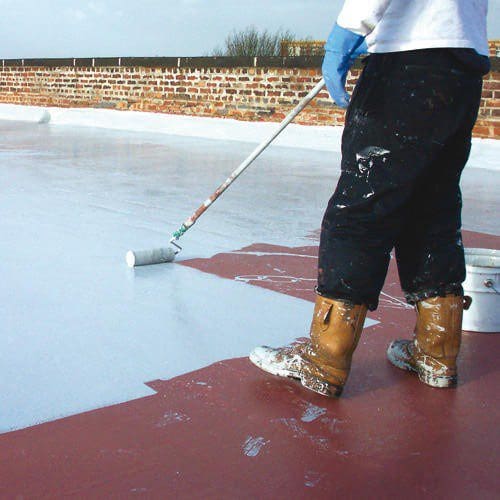 Types of Waterproofing in Construction Based on Materials used
1. Cementitious Waterproofing
Cementitious waterproofing is mostly used at the internal wet locations of structure. This type of waterproofing is rigid in nature, however, this doesn't affects as it is not exposed to ant sort of weathering. It is the easiest method of waterproofing as the mechanism involved is comparatively easier and the materials required for cementitious waterproofing are easily accessible. However, the coating lacks any joints and tolerates no crack movement. This type of waterproofing is suitable for:
Sewage and raw water treatment plant
Dams
Tunnels
Railway and subway systems
Concrete dykes
Parking structures, ports and docks
2. Liquid Waterproofing Membrane
In this type of waterproofing a thin membrane of a primer coat and two coats of top coats are applied by spray, trowel or roller. As this proofing provides more flexibility, it can be used for any type of roof, including domed, pitched or flat roofs. The durability is affected by type of polymer used by manufacturer and the membrane so formed possesses elongation property as high as 280%.
Liquid waterproofing involves application of a fully bonded, monolithic, liquid based coating to the surface. The coating forms a flexible rubber like elastomeric waterproof membrane. Generally, this coating or membrane is empowered with secondary materials such as glass reinforced plastic to give additional tensile strength. This coating provides an appreciable life span as long as 25 years. This coating can be applied over roofing materials such as:
Asphalt
Felt (comprised of wood cellulose and fibreglass)
Bitumen
Concrete
3. Bituminous Coating and Bituminous Membrane Waterproofing
Bituminous coating water proofing is mostly used on concrete surfaces and Bituminous membrane waterproofing is preferred for low-sloped roofs.
The surfaces which are exposed to direct sunlight should not be applied with bituminous coating, as the coating loses its strength and becomes vulnerable under the long exposure of sunlight. To overcome this drawback, Bituminous coating is applied in conjugation with other materials like acrylic based polymers.
Bituminous membrane waterproofing includes adhesive compounds such as polymers, asphalt and filler along with oils and resins, which improves adhesion characteristics. Exposed membrane possesses enough strength to withstand probable weathering actions, moreover, another protection is provided to avoid puncture of the membrane.
4. Polyurethane Liquid Membrane Waterproofing
Polyurethane liquid membrane waterproofing is preferred for flat roof area, which could be exposed to UV rays, fuel spillage, weathering.
This type of waterproofing is preferred due to ease in application as this method requires comparatively less skills and supervision. Moreover, the work-pace is fast and this could be used for post construction applications as well.
This waterproofing provides good aesthetically finish along with appreciable durability. However, it comes with a drawback that polyurethane is sensitive to moisture content due to which optimum precautions must be taken, otherwise peeling of membrane may occur much before design period.
Types of Waterproofing Based on Location thats Waterproofed
1. Foundation and Basement Waterproofing
The strength and life of structure is directly dependent on foundation. The moisture in soil around foundation or basement, if seeps inside provides ideal conditions for mold formation. Drains of required size are provided on sides of trench to collect the soil water and then pumped out. 
Many times, deep wells of around 50 cm diameter are construction in case of porous rock based soils. However, DPC(Damp Proof Course) , freezing process are also other prominent options. Another process of injection grouting of polymer or fibre reinforcement is used to fill cracks or voids between wall layers.
2. Kitchen or Bathroom or Terrace Waterproofing
These areas are most prone to all time wetness. Water seal tape during pipe laying is recommended. Elastic based acrylic sealant or waterproof sealant is applied on all the edges and corners of sinks and bathtub, extra layer of sealant is also applied to chajja of balcony.
3. Waterproofing concrete Joints
The most susceptible sites for water seepage are joints. To prevent the penetration of water through joints, a flexible tape like elements called waterstops are provided. For structural elements such as basements or retaining walls, waterstops are mostly mandatory.
4. Swimming Pools Waterproofing
Swimming pools are all time exposed to water along with chlorine and atmospheric agents. In case of swimming pools, mostly epoxy cements are used, as they provide dual benefits of resistant layer as well as acts as solid barrier against counter pressure.
Solvent free elastic waterproofing resins protects surface from aggressive actions of various impacting agents.