Vinyl flooring is a type of flooring fast becoming a popular option for residential usage. With its ability to imitate expensive flooring types without requiring the same amount of effort for its maintenance makes it a favourable flooring type.
Vinyl falls under the category of resilient flooring, which consists of artificial composite floors such as rubber, linoleum, plastic, PVC etc.
Vinyl is a synthetic substance, a type of plastic made from ethylene and chlorine, more commonly called Polyvinyl Chloride (PVC). It is known as resilient floor because of its ability to "bounce back" upon impact.
This quality makes these types of floors more comfortable to walk and stand on for longer periods of time.
Types and Availability of Vinyl Flooring
There are two types of vinyl flooring namely inlaid and printed.
This type imbeds color granules into the sheet that enter deeply in the material. It is more expensive and durable.
This type has the pattern printed atop the material. It is therefore less expensive but also less durable.
In popular usage, vinyl is known to be used in the form of sheets. However, its production is highly versatile and it is also available as tiles, planks etc. It can be advantageous to use it in form of tiles as these can be replaced easily in case of any wear and tear. Vinyl is available in a wide range of patterns and colors that can resemble expensive flooring types like marble, stone, wood ceramic or possibly any other flooring type.
The floor material is available in various thicknesses ranging from 1.5 – 4 mm, in the form of sheets it ranges in length from one to ten metres and tiles usually come in size of 12inch squares or can be altered as per requirement.
Suitable Places to Install vinyl Flooring
Since vinyl is moisture resistant it is suitable to be installed in any space including the main rooms and corridors. It is best used in drawing, dining and bedrooms and can also be used in bathrooms & kitchens, where water often ends up on the floor.
However, prolonged use in wet spaces can result in wear and tear. It is also widely used in commercial spaces due to resistance in wear due to traffic.
Advantages of Vinyl Flooring
Easy to install: Vinyl flooring is really easy to install as it is simply stuck to the floor. It can be fixed over concrete, wooden or any other base flooring with the help of rubber based adhesives and is also available in peel & stick types.


Versatile: Be it shape, size, pattern or print, vinyl is extremely versatile and can be personalised according to the design of your choice.


Cost effective: As versatile as vinyl is in the range of patterns and designs available, it is also very cheap as compared to other flooring types which is particularly advantageous if you want it to imitate expensive flooring materials.


Low maintenance: Vinyl floor is easy to maintain and regular sweeping and damp mopping are all that's required to keep a vinyl floor clean and in good condition.


Durable: Vinyl, once coated with liquid emulsion polish or laminated, is well protected and resistant to wear due to normal traffic or any chemicals like mild acids, alkalis, soaps, detergents etc.


Moisture Resistance: Vinyl flooring has a non-porous surface which makes it completely waterproof. For this reason it can be used virtually anywhere in the home.


Comfort: Its soft and resilient nature makes it a good working floor to stand and move about on. It also offers adequate friction which makes it accident free.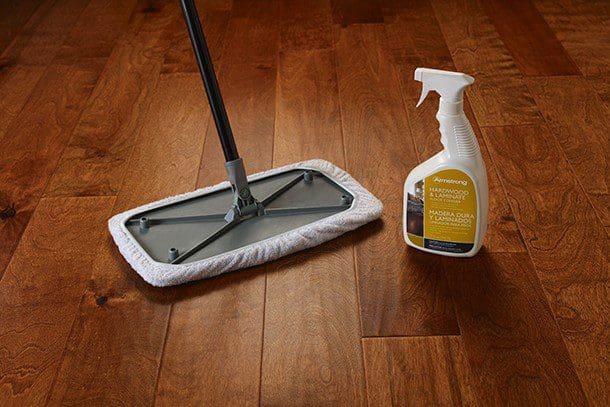 Disadvantages of Vinyl Flooring
Environmental Impact: Vinyl is made from petroleum which is a non-renewable source, and due to the chemicals and pollutants produced in its manufacturing it is not considered environment friendly.


Wears over time: While the flooring is greatly protected due to the laminate, overtime the signs of wear begin to show as folds in corners, faded color due to exposure to sunlight and scratches etc. Unlike wood, the vinyl floor can't have a new finish applied.


Difficulty in Repair: While vinyl is durable, if it does get damaged it's hard to fix as the entire sheet would have to be replaced. A vinyl tile or plank can be removed and a new one installed, but a sheet would have to be patched or replaced.