Wall panels are a recent trend in the design industry as they are cost-efficient, long-lasting, easy to maintain, and have a great aesthetical value as they are available in different colors, textures, materials, and sizes.
 They also absorb sound which helps your space stay away from unwanted noises and maintain a peaceful environment, not just these wall panels also help in concealing unwanted fixtures, electrical wires, and plugs, or anything that you would like to conceal in your space.
Wall panels are available in different types of materials you can choose one based on your budget and aesthetical expectation from the space.
Let us know the installation patterns and materials of wall panels in this article:-
Based on type and patterns:
1.Rack setting panel:
These are wooden or metal planks of height ranging from 2000-3000mm and width 150-300mm with a thickness of 8-12mm per plank. These are known to be perfect for small areas as you can buy and install the planks based on the size of the space. These panels can be installed by fixing them to the frame on the back with the help of screws in the grooves.
These are also available in hardwood, P.V.C, and M.D.F board.  
2.Tile-based wall panels
These are square or rectangular shaped panels each panel usually of the size ranging from 300/300 to 900/900 per panel.
These are very easy to work with as they can be easily installed by arranging them in different kinds of layouts.
They are fixed on the wall with the help of adhesive or capping and they are fixed to each other with the help of tongue and groove. These are also available in MDF, PVC, chipboard, and some other materials as well.
3.Sheet wall panels:
These are finished sheets of varying sizes with a thickness of 3-6mm which can be cut according to the space easily in any size.
These are highly finished made to get the look of any material like natural wood, natural stone, veneer, or any colored or textured laminate. These come in glossy as well as matte finishes just like laminates but are highly durable.
These can be glued on the panel and the sides can be hidden with moldings.
based on different materials
1.Natural wood panels 
As the name suggests these are panels made by cuddling natural wood mostly oak, cedar, maple, or even teak depending on the locality it is being made. These panels are made in varied sizes and they can be customized in whatever size one requires.
They can be finished with either natural wooden polish to maintain the natural look or even with wooden colors based on the desired interior look. Natural wood needs to be taken care of when used in high humid spaces like bathrooms and kitchens so a water repellent paint or a waxy coating can be done after the finishing.
These panels provide good acoustic and thermal insulation but are non-fire-resistant and also they are highly prone to termites if not treated properly.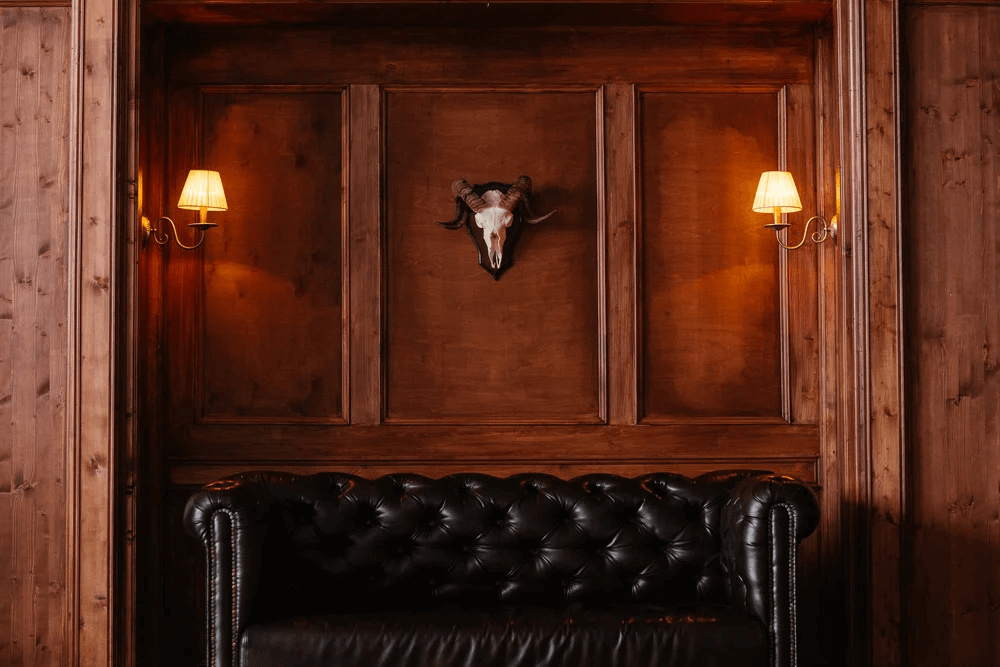 2.Hardboard wall panels:
These are made by pressing wood and other plant fibers at high temperatures. 
These give a finished wooden look generally available in light grey and yellow oak color, preferred for formal and minimalist looks.
Though veneer and laminates can be glued on the top of this to get a finished look. 
They are not as thick and durable as wood and also are highly prone to moisture, hence they should be preferred in dry areas.
3.MDF Panels:
 These are made by the particles of hard and softwood together under high heat pressure combined with resin. 
It can be easily finished with paints, laminates, veneers, and other finishing materials. 
It is eco-friendly and budget-friendly as well. 
Though MDF panels cannot take high loads so for the base it requires plywood sometimes.
These are also not resistant to water and heat. 
4.Chipboard panels:
 These are made by broken wooden chips and sawdust combining them together under high pressure.
These are available in a large variety of patterns and colors based on the types of wood chips used in making them.
They come in three types of densities normal, medium, and high, the price of each depends accordingly.
Again this is also not water-resistant hence needs to be taken care of while using in areas prone to moisture.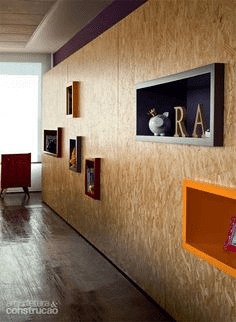 4.Fabric panels:
These are panels where different fabrics like jute, leather, polyester, or velvet are sandwiched in them.
They give a beautiful appearance hence can be combined easily with the space interior to give a smooth and soft look.
These provide good acoustic insulation hence are seen in theatre and auditoriums.
These can be used in small areas like on the door of the cupboard and other furniture.
These are expensive and are a little difficult to clean maintain.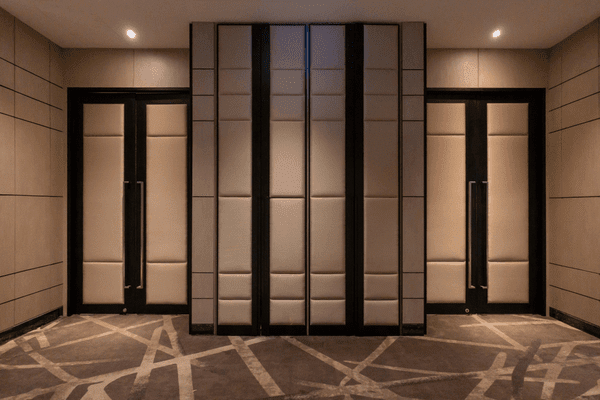 6.V.C Panels:
These are made out of plastic and the best part about them is being watered resistant so they can be used even in areas with moisture like bathrooms and kitchens.
Like laminates, they are available in different colors and textures.
They are lightweight and easy to install and work with.
They are also fire resistant and cheaper than fabric and wooden panels.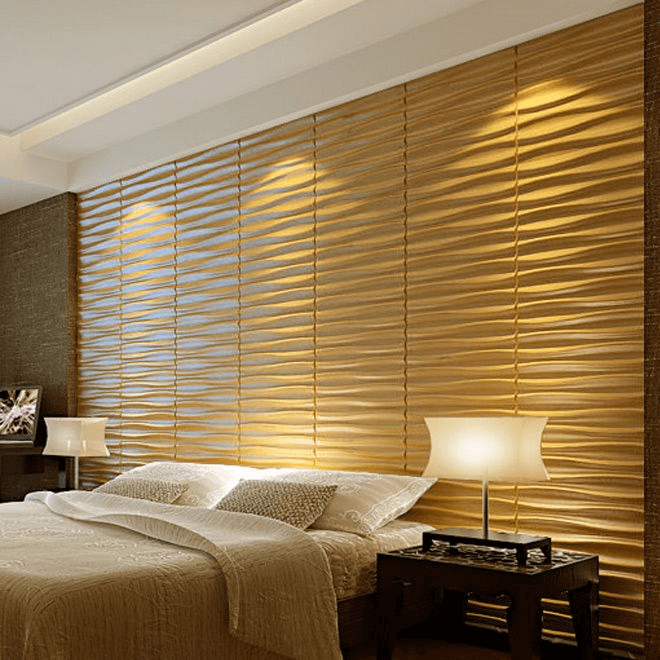 7.3D Panels:
 As the name suggests they give a beautiful 3d look to the wall that is why it is perfect for small areas or for creating an accent wall in the room.
These are versatile as the 3d wall panels can be made with wood, MDF, bamboo, stone, bricks, and even more, the list is endless.
They can be finished in matte or glossy.
These can be customized as well as these are already made designed panels available in the market.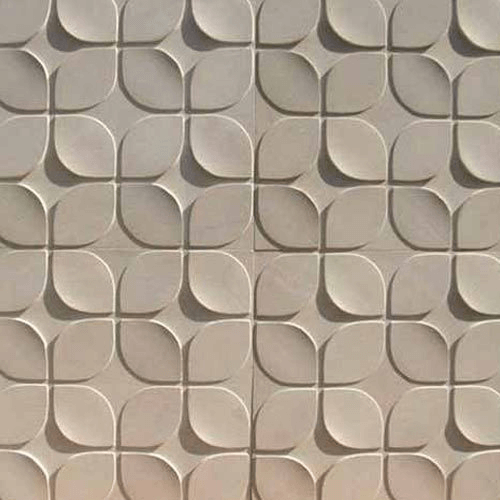 8.Glass wall panels:
 These are mostly seen in official areas as they are more commercially used and also expensive.
They need a strong base to be installed.
The glass panel can either be transparent, translucent, opaque, or even mirror-finished based on the aesthetics the space desires.
They can also be stained with different colors or even texture 3d glass panels can be used directly.
Even though they look beautiful but they need their maintenance requires time and effort.