When you have a small home a lot of storage constraints kick in, one of the most popular of them is storage. Indian families always need a lot of storage but often we have seen due to this the house becomes a clutter with a lot of furniture filled with storage. You must know that storage does not mean having bulky lofts all around the house, there are various smart ways in which you can not only add a lot of storage in a small house but also without making the home look bulky or unorganized.
Oftentimes it is seen that a lot of storage and personal stuff gets exposed in front of guests that is not only embarrassing but also looks messy. When you have kids at home then also you need hidden storage around the house so that they don't create a mess out of it. So, in this article, you will see some smart design hacks through which you can add hidden storage around the house without making it look dull and boring.
Multipurpose furniture is the best way to add hidden storage is to use your furniture in more than one way. Here are few ideas of how you can do it:-
Ways to include smart furniture in Compact Homes
In your living area, you will definitely have a good sofa set so make the best use out of this, use your sofa in such a way that it can open up double as a bed, here you can have a bed box and in this, you can store things like your linen, cushion, and other bedding. 
Nobody would know that the sofa they are sitting on has storage under it. Even if you have a small ottoman with your sofa set make sure they can also open up and you can have some stuff stored in it.
2. Storage below window Seating
Many times it happens that the apartment has some kind of sitting by the window, like a wooden bench attached from both sides to the wall. So make sure this bench can also open up and you can store some stuff here like books, cushions or children's toys. Refer to the pictures below and see how you can add storage to your small sitting spaces as well.
We always need something to put our stuff on like when we are in the bed we need a place to keep our spectacles, T.V A.C remotes, etc. So this kind of table you can customize in a smart way so that they also serve some kind of storage to you like hiding the T.V remote or charger or even a book.
These are brilliant storage options for kids' toys, small stuff of vanity, or even some crockery/dining items. These boxes can be of wood/metal/P.V.C or even jute, and after storing them with items you can keep them one upon the other this way they won't even occupy ground/on floor space as they rise vertically.
5. Vanity/Office inside the cupboard
Do you have an old cupboard that you want to throw away? You can recycle that into hidden storage. As you might not have enough space for a workstation or children's study table you can use this cupboard by giving it a little transformation like installing a pull-out table board for working and a footrest as per the sitting that's it. Everybody would think this is a cupboard but actually, you would know when opened this is a complete work setup for you.
A lot of us love showcasing our books around the house but a lot of times we do not the free space to do so. In this condition you can make a book covobox yes that's a real thing, this is made straight out of some paper mesh or cardboard box and its front is just like real books as the front is carved out some real book prints. Let us see what you can do with it and how:-
To make this covobox, you need some Paper Mache, cardboard for the base, and some cutouts of your favorite books or book tabs.
You can simply glue the book tabs to the base and trace and cut out the excess outer edge from where our books are peeking and you are done. You can also buy this covobox online or get it customized by some artist.
In this covobox, you can actually keep your real books one upon the other without any fear, or you can even store your cables, chargers, stationery, or office supplies.
You can have these in multiple ways at your homes like one in the living area and the other in your kid's room.
When in small space flexibility of furniture is much needed so always use tall and full height cupboards and shelves whether it is a kitchen or your bedroom. 
Make sure you utilize the bed box and under-bed storage pretty well.
In the kid's room make the bed at a height so that the height of say 3 feet is properly utilized as under-bed storage.
Storage under the stair is also a very clever option. This not only lets you use that space which will otherwise go wasted but also make the stair space look clear and modern.
Using stair as storage is also a good option. You can store only small and non-fragile items here.
8. Space Beside the fridge
We often have some kind of buffer space left on one side of the fridge so use this space as pantry or spice racks that have bottom wheels so that it can be slide in and out wherever required. Nobody would be able to see this hidden beside the shade of the fridge. 
9. Hide In fancy Materials
Do you have some items at home that you need to keep away from kids or guests or simply hide them. Then use this kind of jute covers for them or jute bags to store this kind of bulky and heavy items that don't really go with your home interior.
10. Hide Small Behind the Frame
If you want to make a clean, bold, and sleek entryway to your house make sure your house/car or other keys are not hanging on the face when someone enters. There are few steps to hide your small items like keys or bathroom items like toothbrushes behind the bars so that they don't give a messy look.
For hiding your keys behind a photo frame simply attach some small eyelet hooks through the nail into the wall, and then find a picture frame that is a frame attached to it at back or has a hollowed outback. Add hinges to this and hang the beautiful frame over the keys. Nobody would know there are actually keys hiding behind that beautiful picture.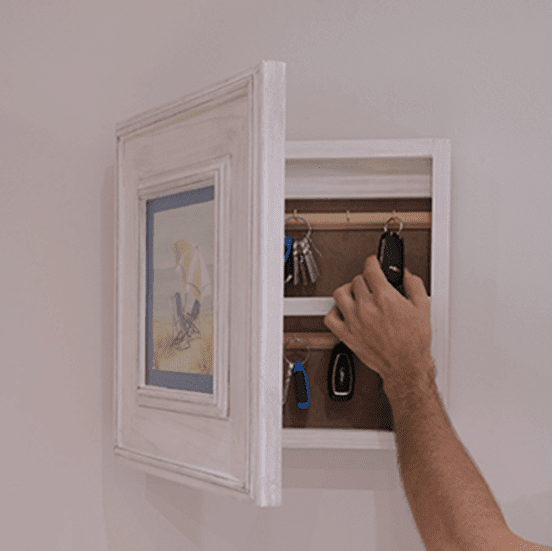 Similarly, we often see toothbrushes lying around in a pot in the bathroom, usually; they are exposed to air and dirt, so there is a need to hide them. First thing first you need to put the toothbrush inside a small cabinet.
You can get a P.V.C toothbrush store roll/pipe. This pipe can be cut into the desired length and hung on a cabinet through metal clips.
So, these were the smart solutions of having enormous amount of storage at home without making it look more small and messy. The best part is all these hacks were mostly inexpensive just creative and smart. So you can use them anywhere, anytime in your home whenever you feel the need of hiding some storage so that it is not exposed and also when you need extra and clean storage.