Home are brought as someone dreamt for long to have one, as one of the great investment instrument to have, home loan rates are low, price within budget, tried of renting a home etc. whatever may be the reason but it brings a lot of distress, as soon as you a get a feel that the builder is running sort of its deliverables; a set to question arise .what next ?, what options do I have to claim my legal rights.
Although Happho is a part of Home Builder community, we still strongly believe in the rights of the home owners and are against unfair practices of some the builders.
A Buyer who is the victim of the unfair practices of the builder and when all discussions with the developer have come to a dead end, the buyer can avail following set of Redressal legal Mechanism:
File a complaint under state RERA [Real Estate ( Regulation and Development) Act]
File a case before the Consumer Forum
File a civil suit in a Civil Court
File a Criminal Case
Represent a case before the Competition Commission of India
Maharastra State RERA [Real Estate ( Regulation and Development) Act]
The Government of Maharashtra established Maharashtra Real Estate Regulatory Authority (MahaRERA), for regulation of real estate sector in the State of Maharashtra , similarly other Indian states also have such regulatory authority to serve the same purpose. The authority has established an adjudicating mechanism for speedy dispute Redressal regarding registered real estate projects.
The oppressed buyer can file an application online on MahaRERA portal by registering themselves. The Complaint can be filed only against Real Estate Projects or Agents Registered under MahaRERA. To check if your concern project or agent is registered under MahaRERA, please visit https://maharerait.mahaonline.gov.in , click on "Search Project Details"
Complainant must have following details (documents) ready before filling up the complaint
Facts of the Case [giving a concise statement of facts and grounds for complaint]
Relief(s) sought In view of the facts mentioned in paragraph 2 above, the complainant prays for the following relief(s)[Specify the relief(s) claimed explaining the grounds of relief(s) and the legal provisions (if any) relied upon]
Interim order, if prayed for: Pending final decision on the complaint the complainant seeks issue of the following interim order: [giving the nature of the interim order prayed for with reasons}]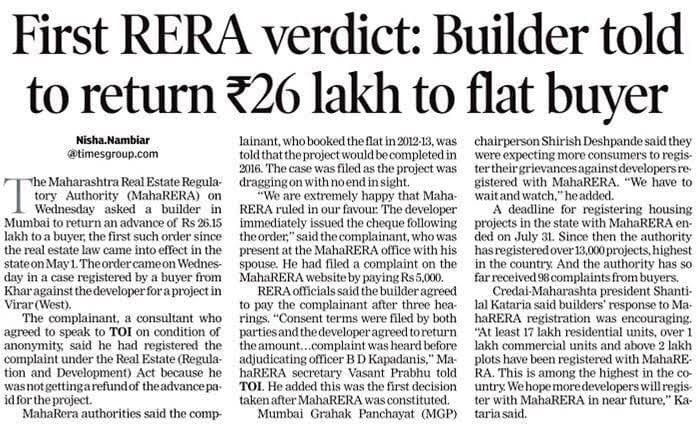 How Consumer Forum Helps?
Please note RERA does not bar homebuyers' complaint under Consumer Protection against Builder
The Consumer Protection Act, 1986 is the Act which tries to accommodate better insurance of the interests of consumer. Any individual who buys any product/service is a consumer under the Act.
It gives rightful solutions to a consumer against insufficient/part deliveries. When a land parcel is developed by a builder as a scheme of flats with certain set of amenities to be delivered within a given time frame, it qualifies as delivery of product/service by builder, the buyer being a customer.
When the possession of the property isn't delivered within the agreed timelines, the delay so caused qualifies as denial of service. Such disputes are named as inadequacy in rendering of delivery of particular set of standards, agreed quality terms and conditions.
Any individual disappointed by the delivery or postponed conveyance of possession of his/her flat can move toward the consumer court for his individual Redressal. The consumer is eligible for the Redressal, for inadequacy in delivery at various phases of house construction. The Consumer Protection Act gives insurance to a buyer against any such malpractices of the builders and developers and can expect necessary remedies/compensation against such practises.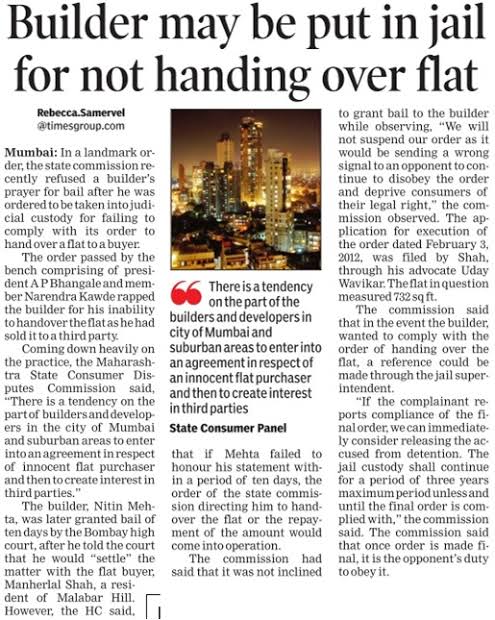 The Consumer Protection Act gives a three level mechanism to Redressal of consumer complaints (one or more consumers also, where there are numerous consumers having same interest) depending on the value of claim sought by the complainant. The complaint can be filed on plain paper (stamp paper not required for declaration) with or without a lawyer.
The District Consumer Disputes Redressal Forum (DCDRF) take up complain, if value of the claim is upto Rs.20 lakhs. The DCDRFs are set up in each District ,comprising of three members (one lady member necessarily.


The State Consumer Disputes Redressal Forum (SCDRF) take up complain, if value of the claim is above Rs.20 lakhs to 01 crores. The SCDRFs are set up in each State ,comprising of three members ,it consists of a President (Who is or has been judge of a High Court), one of whom should be a women.

Appeals against District Consumer Disputes Redressal Forum (DCDRF) can be filed in State Commission.
The National Consumer Disputes Redressal Forum (NCDRF) take up complain, if value of the claim exceeds 01 crores. The NCDRF is located in Delhi, comprising of Four or members, it consists of a President (Who is or has been judge of a Supreme Court), one of whom should be a women.Appeals against State Consumer Disputes Redressal Forum (SCDRF) can be filed in National Commission.The order of NCDRF can only be challenged in Supreme Court.
A consumer can file a complaint within two years from the date on which the cause of action/deficiency in services or defect in product arises. The complaint can also be filed after two years, if the complainant can convince the DCDRF the reasons for delay in filing
In a recent judgement (Mid 2019), by The National Consumer Disputes Redressal Forum (NCDRF), homebuyers could seek full refund with 10% interest if possession of flats got deferred beyond a year.
In two separate judgement by The National Consumer Disputes Redressal Forum (NCDRF),asked jaypee and lodha group to pay 12% and 18% interest respectively to buyers for delaying projects in Noida and Mumbai.
When to File a Civil Suit?
The Supreme Court has notified that a consumer has the option to move toward the Civil Court or the Forums under the Consumer Protection Act for compensation in the cases where the builder fails to honour its deliverables/commitments.
There are legal provisions, for example, the Maharashtra Ownership Flats Act or the Development Control Rules under which the case can be recorded, before a Civil Court for refund and interest, against a defaulting real estate developer.
The Supreme Court has held that advertisements welcoming applications for buying plots/real-estate without having rights registered with a builder amounts to bad business practises by the builder, qualifies to getting trailed in a civil court.
A supreme court bench have made a landmarked judgment ,empowering home buyers (considering them as " Financial creditors")  to initiate bankruptcy proceeding against defaulting builders, as many builders are failing to complete projects ,way beyond the agreed timelines.
When to File a Criminal Case?
In situations where a homebuyer is duped by a builder, any fraud is criminal in nature, a criminal case can be filed in the court after buyer lodges a police complaint against the builder. The actions intended to cheat its customers qualifies as a criminal case in court of law against a builder.
Defaults in deliverables like not completing projects in time and denying payment towards compensation, errant builders are liable for criminal case trials.
When to go for Competition Commission of India?
The Competition Act, 2002 was enacted to prevent anti-competitive practices (penalisation of such acts) and to promote positive competition in Indian market.
Builders engaged in unfair trade practice like one-sided contracts (buyers expected to pay 18% interest on default of instalments however builder paying 2% in case of delay in delivery) and inadequate disclosures in sale agreement, can be a perfect case for reporting to CCI.
All relevant documents supporting claims of anti-competitive, unfair and exploitative practices of a builder can be reported to Competition Commission of India to avail consumer rights.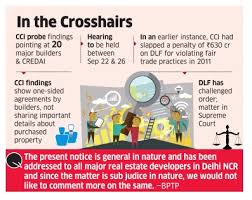 In one of its landmark orders the Competition Commission of India imposed a penality of Rs. 630 crore on DLF as they found as many as 16 abusive clause in agreement of their DLS's Belaire Project, few of them were a. Unilateral changes by them without buyers consent b.Right to change project layout without buyers consent c. A buyers share on total land is decided by builder d.In many situation the builder forfeits the amount already paid by buyer. etc.
As a consumer of real estate product, an aggravated buyer can appeal against exploitation in the hand of errant builders, with above set of options to get rightful remedy at the earliest.