Architects use drawings as a medium of communicating the design to the client or any related individual involved in constructing a project. For a project to be constructed, a final building contract, detailed specifications, and a certain set of working drawings is required, and this set of drawings is referred to as blueprints also. These documents are vital for building construction processes.
The set of drawings in a working set is provided in a manner such that it corresponds to the building execution phases and procedure.
List of Drawings that are usually included in a working drawing set are as follows:
Working Drawing required:
Title and Legend Sheet
ARCHITECTURAL DRAWINGS

Setting out Plan
Centreline Plans
Floor Plans (Detailed with grid Dimensions i.e. Centreline Markings)
Sections and Details
Elevations and Finish Details
Opening Schedules

STRUCTURAL DRAWINGS

Trench Plan or Excavation Plan (according to Centreline Markings on Site)
Foundation Plan
Column Layouts
Plinth Beam Layouts
Roof Beam and Slab Layouts

Consultant DRAWINGS

Mechanical Drawing
Electrical Drawings
Plumbing Drawings
Fire Safety Drawings
All of the above are essential for the completion of a project according to the designed concept idea with a scheduled project budget and estimations.
A brief description of each of the mentioned drawing is as follows:
1. Title and Legend Sheet
It is required for the Introduction of the Project
It includes a Design Proposal Title with a Schematic View or Elevation depicting the design by the architect
It accommodates an index of all included drawings with the Designated Serial Number
2. Architectural Drawings
Set of Drawings prepared by Architects for conveying the Design idea of a Project.
These Plans include site layout proposal with built structure and its positioning according to references of markings or grid layout marked on the Site.
It is used for marking the position and orientation of the structure according to the description provided by the architect.
Reference point to initiate the construction are inferred from Setting out plan, Surface level markings are depicted on it (Mostly, Ground level being ±00 level for reference)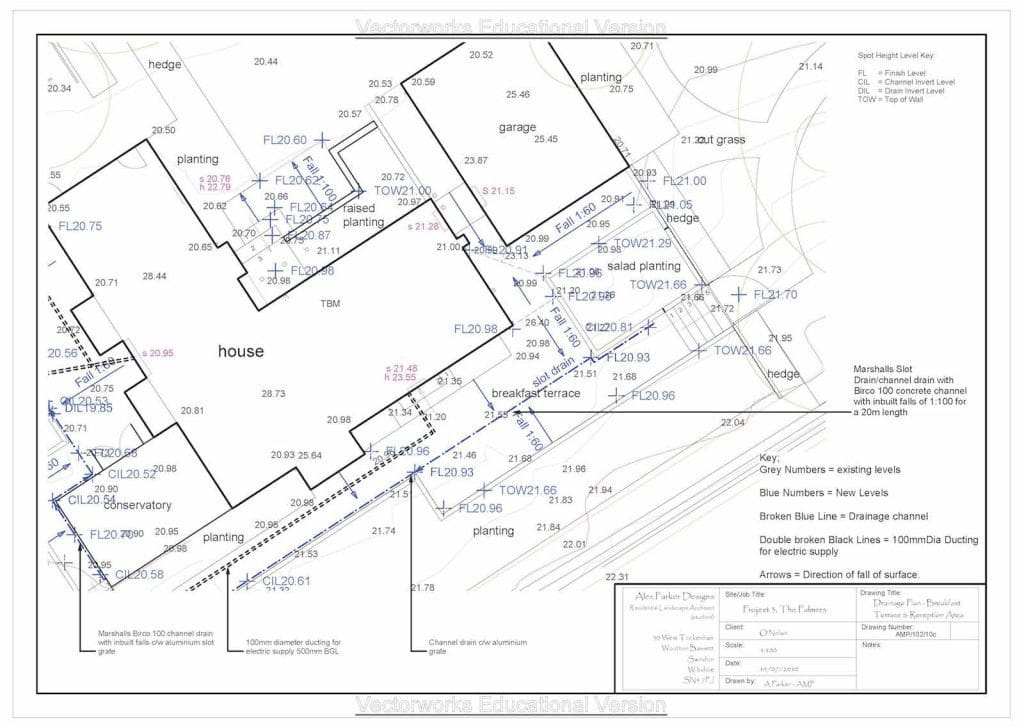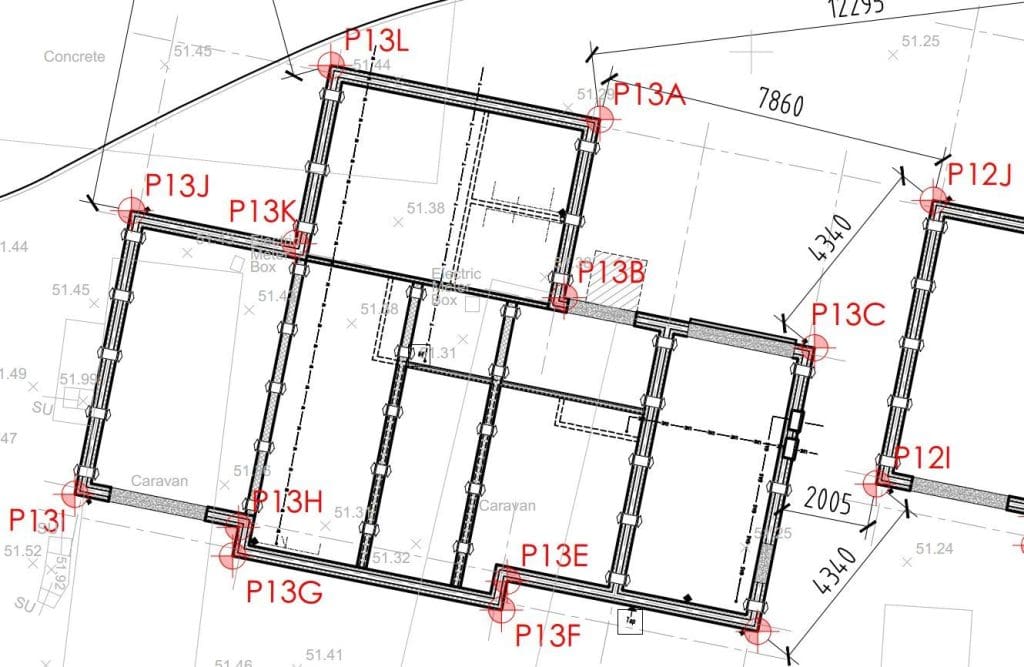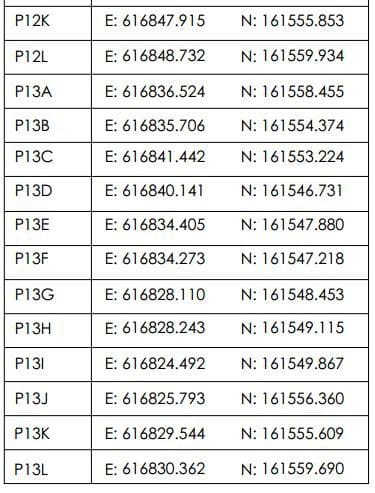 Centrelines are grids that mark the positioning of any structural or non-structural element on-site about a coordinate on the grid.
(As shown in image, Vertical Axes are depicted through Alphabet Notations and Horizontal Axes are depicted through Number Notations, plotting both of these together forms a Grid.)   
Centrelines are depicted as Dash-Short Dashed line-type in drawings.
It passes through the center or in the alignment of a column, or wall, or any demarked element to reference its position according to the grid as shown.
Centreline Plans are used to generalise a common grid reference for all type of related construction works.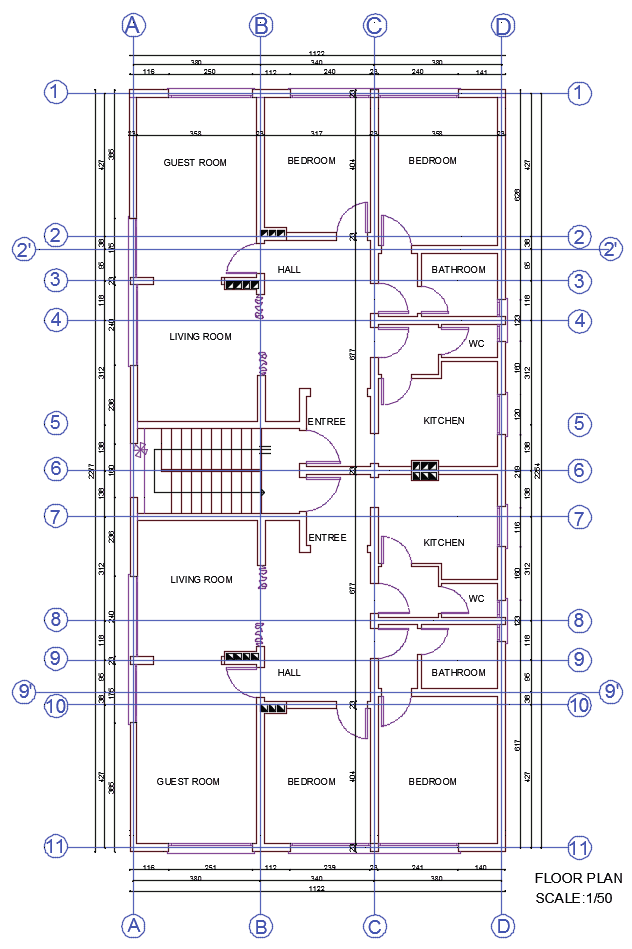 These blueprints depict the architect's design as a scaled drawing showing a view from above through an imaginary horizontal sectional plane.
Architectural floor plans are provided for construction of elements (walls, columns, trenches, etc) through markings and detailed dimensional distance from them concerning the Centreline grid as shown in image.
These plans also include reference markings of any detail that requires any certain specification according to design. These specific details are separately shown for better readability and emphasis.
Sections are drawings depicting vertical sectional plane projections of the building showing its Interior and Exterior profiles and vertical dimensions of elements.
Various forms of depiction of material, techniques, heights and openings are emphasized through lines and graphic conventions in Sections.
Smaller yet Important Details are scheduled as Part-Section Details or Blow-up Details as shown in image (Wall Section Detail and Eave Detail).
2.5 Elevation and Finish Details
Design Resultant of a building in architectural drawings is depicted through Elevations.
Elevations are referential for the contractor or building to keep a check on how the building should shape after completion.
These include Details like Finishes, Material Depiction through Graphical Notations, and Spot Elevation markings i.e. Level of Depth in a plane where the farthest plane is marked as ±00 level.
Door-Window Schedules are a way of presenting complicated details of different doors and windows.
It tabulates individual sizes, dimensions, and typologies of fenestration covering specified as per design.
Details like Number, Material, Color and finish, Hinges and accessories, Fire Rating, Acoustic Rating and other remarks are supposed to be added in an Opening Schedule.
Set of Drawings created to construct the Structural Components of the building and  representing the interconnectivity of beams, columns, stairs, slabs and thus alike.
3.1 Excavation Plan or Trench Plan
On-site excavations or execution of Trenches for Sub-Structure of the building requires a plan where all the trenches are marked according to Grid of centreline markings and the offsets of dimensions respectively.
Trench Plan highlights the dimensions (Length, Breadth, Depth) of trenches to be to excavated with reference to Centreline Grid.
It is required at an early stage, immediately after marking Centreline on-Site.
Structural drawing which has foundation notations with the dimensions (Length, Breadth, Thickness) of the column pad concerning the column placement according to the Centreline Grid markings.
It also suggests the typology of the foundation to be used with any discreet specifications.
Foundations are identified individually according to the coordinate on centreline grid as shown.
Column Layouts are used for erecting columns on site as per project design
These are referred onto the site for marking column placement, size and specifications of details of the column design.
Any column on the layout has a certain Grid Coordinate on Centreline Grid that is used as its Column Nomenclature.
It is used for marking the Tie beam (Primary element for 'Earthquake Resistant Structure') which is used for connecting the columns emerging from the Sub-Structure (structure beneath the ground level) of the building.
This layout gives the orientation of the Tie Beam to the column and also the Cross-section sizes with specifications of the design.
3.5 Roof, beam and Slab Layout
It includes the layout of roof slabs concerning the corresponding beam by the Centreline Grid Markings of Columns-Beams.
This involves the orientation of the roof slab and Reinforcement Bar Details to be incorporated according to Structural Design.
Details like diameter and number of reinforcement bars in a defined length are mentioned in roof slab layout for structural stability.
These drawings are referential blueprints for the consultant's advice for the allocation of the services to be incorporated. A general term of M.E.P.F. (Mechanical, Electrical, Plumbing, and Fire Safety) Drawings is used for consultant drawings.
Usually Consultant drawings are prepared for Builder projects and not for Individual houses.
It includes H.V.A.C. (Heating, Ventilation and Air Conditioning) layouts, Equipment Schedules and Installation Details suggested by a consultant.
Location of Shafts/ Mechanical Ducts for Air-conditioning purposes, Equipments and connections are traced over each floor plan.
It also marks the notations of Supply Inlets, Exchanging Outlets, and Extraction Shafts sizes and dimensions with rate of flow of exchange of Air Flow.
General Symbols, notations and details are mentioned as a separate legend for reference.
Major inclusions are Electrical Legend, Lighting Plans, Wiring Plans and Details, Equivalency Chart, Switch-Equipment Legend.
These Drawings represent equipment/appliance positions, Switch-Board locations through referential grid and detailed dimensions in the layout of the building.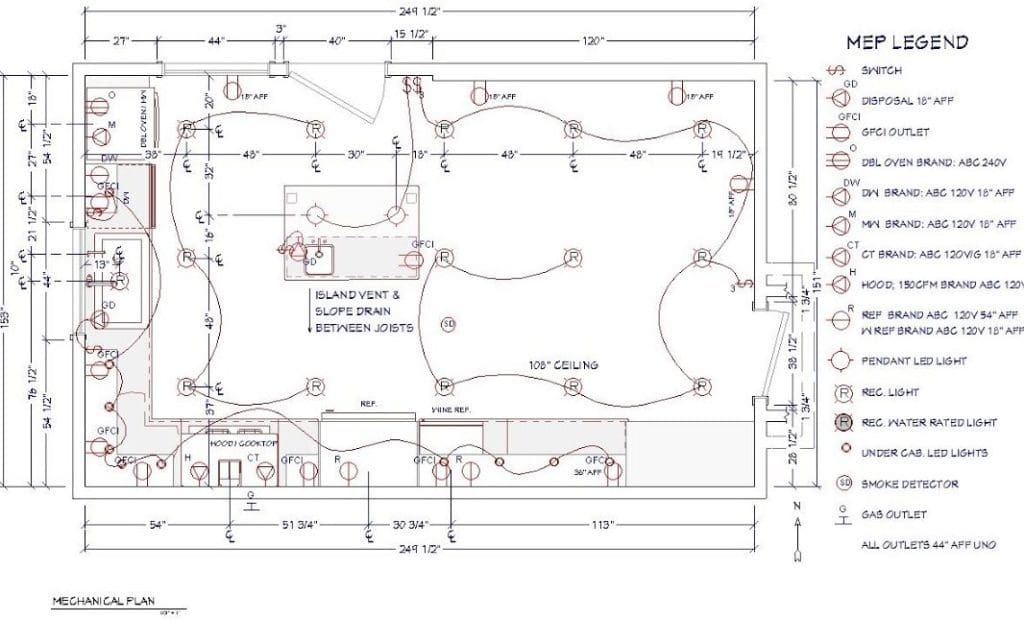 Plumbing Plans include the following:
Plumbing Schedule: List of Plumbing Fixtures with sizes, number, Brand, Typology etc.
Constructional Details depicting fixing positions with dimensions with reference to wall planes.
Water Supply Layout: Inlet and Outlet pipes of various fixtures depicting water flow and slopes.
Manhole Schedule and Layout: Manhole position with nomenclature and sizes.
Sewerage Management Plan: Plans depicting pipelines for discharge management with sizes and slope of inclination of pipes.
Rainwater Layout Plan: drawings depicting rainwater discharge management/harvesting from roof planes to underground level.
Plans for fire Safety Schedule include Fire fighting Layout Plans for each floor.
Installation Spots for Sprinklers, Fire Hoses, Fire Exits, and Signage are marked within the limit of Fire Safety Code.
Evacuation routes with direction Signage Locations are added into corresponding floor plans.