Houses are dreams enclosed within walls. You have piles of ideas to design your new home but you don't know where to look it up for & suddenly the existing rules & principles start killing your imagination. To help you find the right inspiration below are the rules to break & go ahead with your unique ideas
Rule-1: paint the House in One Color
Use of different colours & textures takes the space from OK to Engaging! Of course, light & white tone colour provides a sense of infinity but you surely need a point to rest your eye & achieve a sense of calmness.
Here, white represents infinity but pink & red gives life to space. The wall paints matter as well as the colour of your furniture. In that case, decide your furniture first & then go with the paint job. Choosing the right colour is very essential but remember you can use as much colour as you want. Remove the restriction & go ahead with the anti-rule!
Rule-02: Treat it Before It gets rustic
Ever looked at decay & wondered how beautiful it is? Rust kills your steel slowly with a beautiful death. Usually, you treat it to make it stronger, but why not use it on walls where it will just look fascinating. Probably now you can just add a metal surface and watch rust paint its own watercolour wash. Rustic wall clubbed with a vertical garden, a coffee, table & you.
Rule-03: Hide the Services
People hide their mistakes. Why hide perfection! Pipes & services run on all sides of the house & can be used as a design element with a vintage & clean look. Different sizes, colours, lengths, patterns, & yet hidden. They ornament the walls & at the same time enhance the space. Not only in the bathroom area but it can also be implemented on the living room walls, corridors & ceilings. Using soothing colours or the property of the material itself, One can go with copper pipes. A bit costly, beautiful & anti-corrosive. The beauty of the ornamentation stands out in such a way that there is no need of painting the walls. However, one must be careful in deciding the pattern which will add to the beauty. With pipes exposed, you should carefully make the choice of material.
Rule-4: symmetry in Furniture
Symmetry is good to a certain limit. Even a person sits straight for just a few minutes, later they dissolve in a unique form. It all starts with angles. A straight path is boring, whereas placing random chairs around your bed makes it an interactive zone within itself. The interaction between people, between spaces. Everywhere you can't fit in the discipline. Here, the sketches don't show the before after scenes. They talk about how interactive & happening space can be. Every space has its own beauty. You cannot club classroom layout with home layouts & talk about rules. This rule is surely meant to be broken. Symmetry is beautiful but with a touch of asymmetry. There is always a lot to consider before handling asymmetry. You just can't go random and play with spaces. So, go with opinions and realise your home with care.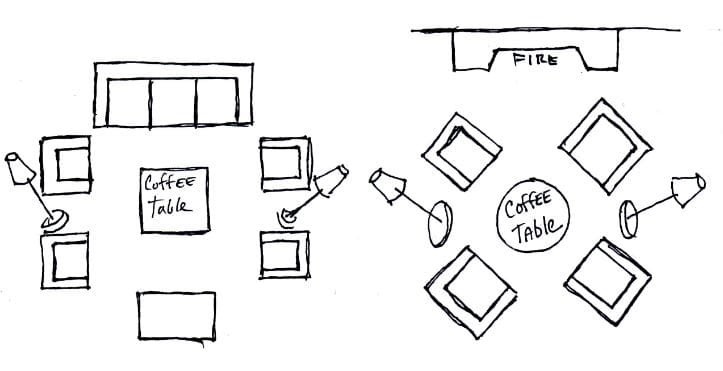 Ever got bored with same space, same size, and same ambience? So, surely you need to explore the partitions that are transformable & give new meaning to space. You have different events, different functions, why shift outside the house! Just hold one wall merge it with the other & make your own DIY space. Useful for small spaces. Today even the smallest space is flexible & way better designed compared to bigger spaces with various innovations & ideas. Purely breaking the rules & existing mindset.
Don't think for a second after breaking the above rules, you won't feel something is empty! There are many rules & principles to bring you down but anytime, anywhere just go with what your heart says. In the end, the house should be your dreams turned into reality. A Reality where spaces talk with you. Where you feel alive. Where you can feel free. A home where your heartbeats!