Bathroom is another essential part of any house, so keeping it dull and boring would not be a good idea. Often we assume that some kind of tiles would go in the bathroom we match it with the color of our room and choose the tiles and install them that's it. We do not think about properly planning and designing our bathrooms , we do not consider them much as a part of beautiful interiors and often these ignorance towards bathrooms cause problems in future usage.
So in this article we will know about different ways in which we can plan and design our bathrooms, what are some of the mistakes we generally do. Be it a small or a large bathroom space we have plenty of options for designing it and making it as aesthetically pleasing as other spaces of the home.
Dividing areas – The very first thing you must do at the planning level of your bathroom is dividing the areas properly. A bathroom has a wet area and a dry area wet area is mainly the shower area and the rest is dry area. Dry areas should be at first and then the wet area so that the bathroom will remain dry for the normal use. There are many ways to divide these two areas , like if you have a small bathroom or an average sized you can use a clear glass to divide the shower area or a clear curtain this way visually the bathroom will look bigger , or you can even divide it with the help of some beautiful patterned curtains .

For the larger bathrooms you can play with the space like you can divide the levels and create a walk in shower area with a large bathtub, play with different colors and flooring in both the areas.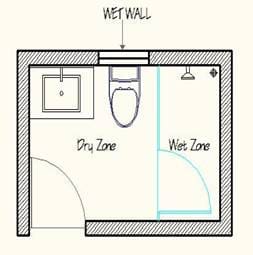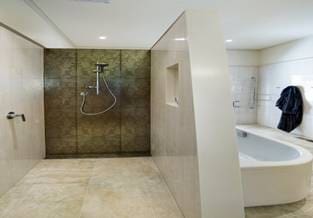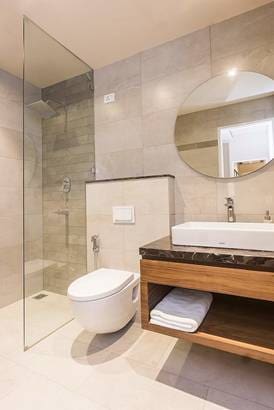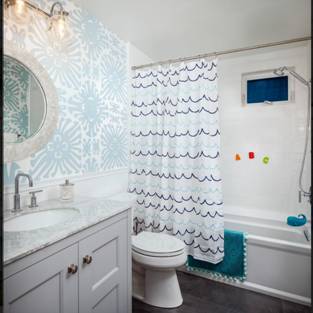 Smart cabinets/shelves – When having a limited area of bathroom placing larger shelves for storage is not an option , however you can place mini shelving units that nicely fit under the sink or next to the dry area or you can play with some height like placing tall units. For creating some smart and beautiful bathroom storage here are few options:-
Storage ladder – You can install these ladders when floor space is limited you can simply install them supported to one end on the wall and use it for keeping storage baskets , towels, accessories and even plants . Isn't it a smart solution?
Over sink shelves – We have often seen under sink shelves in the bathroom but we can even install these racks over the sink or sink to it and fix it to the wall. These can wooden or metal. This also enables you to safely place your items like extra toilet papers rolls, air fresheners and some other products which require easy reach.
Narrow tall shelving units – These are available in many different sizes this not only provides you a great solution for your storage but also keep everything organized and clutter free. These can be installed at any corner of the bathroom and they do not require any additional support as they are easily movable.
Must have Bathroom Trends
Let us now talk about some modern bathroom trends that are must haves if you want to make your bathroom look clean, sleek and modern.
Matte finishes – Gone are the days when we used to use typical glossy tile sin the bathroom which brought nothing new and elegant, though glossy finishes have their own pros but matte finishes are extremely in trend .Matte finishes are elegant and contemporary which means matte finishes have better traction or grip that is why they are ideal choice for flooring. They are perfect if you want to create a natural and rustic look in your bathroom. They come in huge variety and colors like cement, stone, wooden effect. In bathroom using neutral colored matte finish tiles are recommended or flooring you can go with little darker colors like brown, deep crème but walls should be neutral.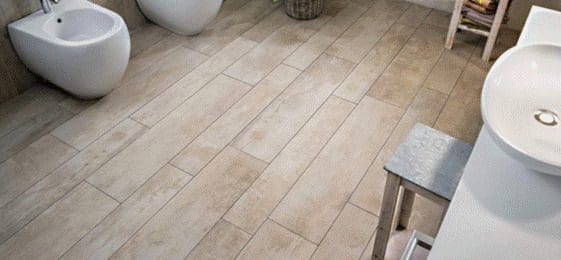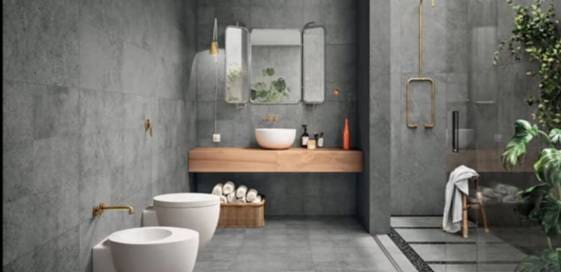 Bold fixtures – Bathroom fixtures are no longer just essentials in the bathrooms they are now bold and stylish artistic piece. It is a perfect way to add a chic element in your bathroom space and make your bathroom stand out than the usually used fixtures. If you already have them installed in your bathroom you can change it anytime you want. These little details give the space the look it deserves. Let us see how we can do it.
If you have an all white bathroom than try to create these fixtures in black color which will accentuate those elements.
If you have a combo of wooden and concrete tiles in your bathroom you can add golden matte fixtures and details to make it rustic and contemporary.
Round mirrors – Circle or round mirrors are so in trend these days. The rectangular large and small mirrors in the bathroom are a old school fashion now. Be it frame or without frame. Round mirrors break the rigidity of the space and it adds a very sleek and contemporary look to your bathroom without you even realizing. The best part is you can even add color striped lights around them which will make your bathroom look beautiful.
Plants and landscape – As we know landscaping is now not just limited to outside but in interiors too, and bathroom is also one such space which you can decorate with beautiful plants at the corners or on the top of the basin and even on the shelves, make sure you use interior plants which does not require much sunlight, also you can create a flooring in the shower area with sand and pebbles to give a traditional and stylish landscape look. You can even create your bathroom on a forest theme like in the second picture below.
Mistakes to be avoided in Bathroom Design
Some of the mistakes we do while designing our bathrooms is:-
Planning – As mentioned earlier planning a bathroom is as important as other rooms of the house if they are not planned properly they can give some major issues in the future .
Organization – Often it happens that to store a lot of stuff in our bathrooms we blindingly install furnitures, choose shelves which are not in accordance to the size of the bathroom, all of this ultimately makes it look cluttered and unorganized.
Color choice – Maintaining a color theme in the bathroom is also very important like choosing dark colored wall tiles for a small bathroom will make it look dull and dominating, or going just neutral with colors will also make it look boring so you have to experiment with bathroom accessories, storage and functionality altogether in order to achieve that sleek and complete and modern look.