A parking space is one of the basic requirements of a house. Yet, it is one of those parts which we overlook in terms of design. We agree, the garage is not as important as other parts of your house, it's a part of your home, however, and deserves all the attention and creativity too. Here's how to go about doing that.
Location Ideas for Car parking in homes
The car could be garaged within a space separate from the rest of the house. The garage could be placed anywhere around the house – front yard, side yards or at the rear – whichever is more spacious to allow for it.
To beautify things a bit, go for white paint all over, and then opt for decorating your garage entry with climbers, flowers and, if you please, a pergola. Get a few pots of different types of plants to surround the garage on either side, and even on the middle, in case you have shutters for two cars.
The interiors can be worked upon to serve a multitude of functions – store for your kid's play gear, your bicycles, gym equipments and so on.
As an alternative you could choose to paint the door of your garage in neutral shades and complement it with creepers and shrubs on either side.
The idea is to camouflage the garage with nature, so that such a structure doesn't seem to be a misfit with the rest of your outdoor space.
And by the way, who says who can't add an element of quirk to the garage? Go for something unique and spill some creativity on that door, we say! You'd love the consequences.
There are times when users do not go for garages in their homes, and would prefer their automobiles parked in a semi-open space. The solution lies in carports – which can either be attached or separate. The carport could have a rustic look or be very modern in appearance.
You could opt for a concrete roof over the carport, painted in harmony with that of your house. Or, you could go for a wooden finish to complement the greenery around. With a carport, you might choose going wall-less on two or more sides.
You could even choose to go for an underground parking system for your vehicles, if the plot surrounding your house doesn't permit one, or simply because you wish to have one! This option provides as much safety to your car as does a garage, and in fact, might have much more room within. Hence, it could be used as a multi-purpose space. It is a befitting choice for you if you are going to get a new house built. With technological advancements there can be several twists and turns to this feature of underground parking- like this!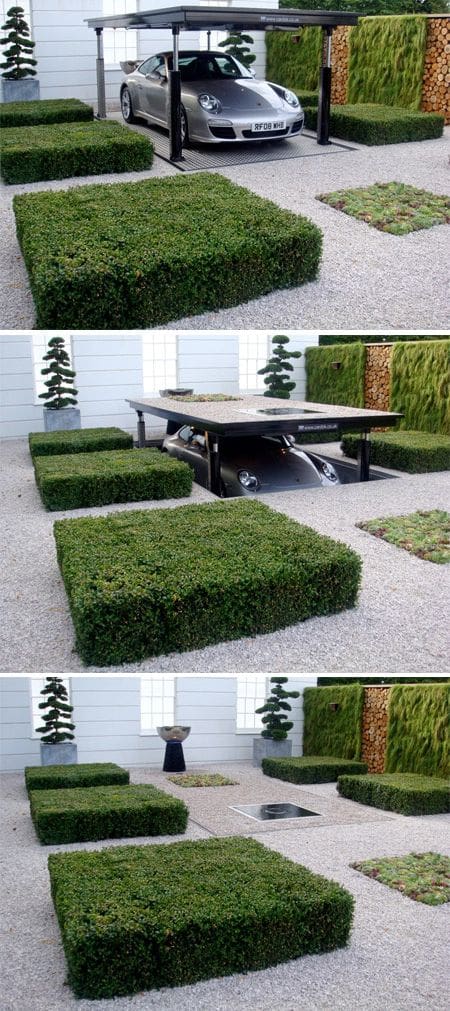 The entry to your house could have a porch wherein the car can stand, without any doors or shutter. Though not as secure as the garage or the underground parking, the car porch has a show and grandeur of its own. You could choose to go very classical in the architecture of the porch, replete with ornate pillars and a beautiful roof, which acts as an extension of the front facade of your house. Use arches instead of rectangular gateways to add to the magic; and go for pastel shades in a combination with white.