Industrial Design refers to an ethereal combination of bare steel and pastoral wood interiors, which can be combined creatively to create attractive, out-of-the-ordinary, yet affordable designs. Highly flexible in terms of personalization, the Industrial decor can be mixed and matched with other styles too.
Very organic and engineered, Industrial style interiors are bold and refined. Designing a living space in industrial style can be done to create retro vibes – and the effects are simply overwhelming! The design is simple to create too.
A combination of exposed brick walls, wooden or concrete floors, chic retro or modern furniture and unique colours will leave you with the desired feel and look. Here are a few pro-tips.
With Industrial decor, it is possible to create an effective space with modern designs and modern furniture too. Still, we recommend going for boho-inspired or retro vibes for creating the ultimate haven of aesthetic richness.
You could even break conventions by intermingling different disciplines of design to craft something that is out of the way in appearance and style. You could prefer to keep things chic and tidy in their overall look, or you could even go for the jagged feel by deliberately messing the look a bit.
The colour scheme of the interiors goes a great deal in deciding the look of the space. For a living room, you would wish to go for colours that make the space look bright and welcoming. The furniture and the accessories, the lighting and the fabrics – all elements should follow a colour palette.
The scheme could be very rustic – comprising rich earth colours and wood, a lot of beiges and browns that is. Or, it could be a palette of mixed colours, each subtle and not overpowering any other colour – a balanced look, so to say.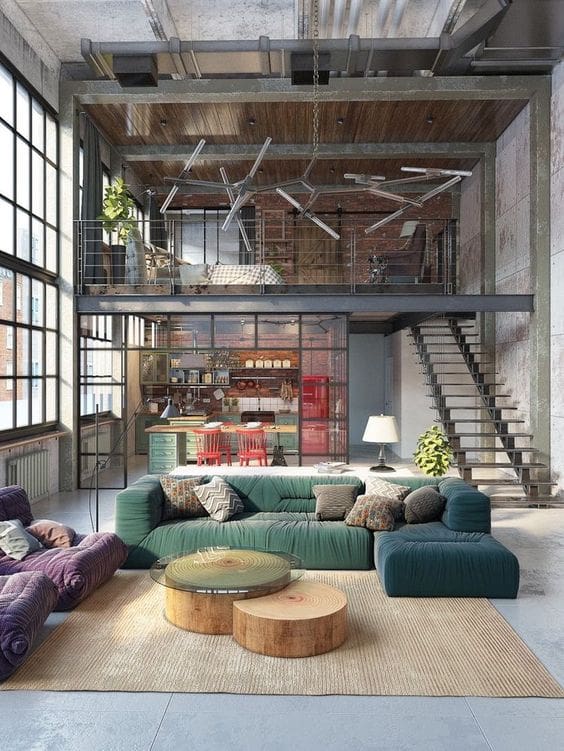 Wood is an important element of design for an industrial style of decor. Be it the dining or the coffee table, one that is designed in unfinished wood lends a more rugged rustic aura. The same goes for exposed steel furniture – the ruggedness adds to the industrial decor quotient.
Also gaining high in terms of popularity are reinforced concrete tables prepped up with beautiful decor. Industrial decor is also a lot about leather – on sofa, lounges and chairs.
Leather sofas come in a wide variety of designs and profiles. Another great option is linen upholstery. The overall look is very traditional and is an amazing combination with steel and clumped seats.
Fabrics for living room generally comprise of rugs for the floors, carpets and covers. The key is avoiding bright pop colours and loud prints. You want to create a rustic setting – bold geometric patterns in vibrant hues are a big no-no. The fabric should be preferably textured or bear a faded look.
Stick to the colour scheme – greys, browns and blacks are a befitting option. Jute is a great option for industrial decor, with all its rough textured appearance and dull colour. You could also go about layering the fabrics for an added effect.
Accessories and Furnishing
Accent products for industrial style decor come in a wide array of varieties. Again, go for textured items and those which are suited to the colour scheme. Be wise when it comes to avoiding pop. Also, try using complimentary colours when it comes to cushions and curtains, compared with floor rugs.
The furniture, the walls and the floor shall all bear earthy neutral tones. Hence, picking up accessories becomes an easy job, for almost everything seems to go well with it.
There could be two ways to light up your living space. You could opt to go for vintage lighting – intricate in its features and having a very old-world country feel to it. These lights would come in tinted variations of grainy steel and are perfect for a living room decorated in wood and exposed brick.
A second option would be going for modern geometric design for lighting. Ceiling lights – whether classic or modern – are a great catch too.