Gone are the days when our kitchens had open shelves decked up with different containers everything properly visible and that was a mess because it required regular amount of cleaning , made the kitchen look cluttered and disorganized . Modular kitchen is the solution to all these problems as not only it makes your kitchen look modern and minimalistic but also highly functional. It is due to some modern kitchen accessories only that makes it efficient.
Modular kitchen can be directly installed by a good brand after giving them the shape and size or you can obviously make it by your carpenter but in that case you need to be very selective about your accessories. These accessories can be customized according to your requirements so that it can make your daily kitchen activities simpler and organized.
Kitchen Accessories That Can Ease Your Life
Needless to say this is one of the most common and efficient piece of accessory in modular kitchen earlier we need to bend down and move our heads into the depth of the deep and narrow drawers to take out stuff which made it confusing.
Pull out drawers can easily be pulled out to take out stuff it comes with various vertical and horizontal aluminum or wooden rust free baskets and the hydraulic system makes it even more efficient as the motion becomes very smooth.
These can be pulled out to their full depth so that everything is easily visible and accessible. Always remember to choose these baskets according to their capacity as these comes in different sizes and depth.

These are an important element in the accessories as we want our different shapes, size and material of cutlery to be in placed in, otherwise they would just get mixed up with each other and it can be a mess.
So cutlery organizers come in different material like stainless steel to rust free aluminum and even wooden and high polished metal.
They have inbuilt different sections or compartments for your different sized spoons, knives, forks and tongs etc. So according to the kind of cutlery you tend to have in your kitchen you can choose that shape and size.
Often we have seen that the corners in the kitchen becomes highly inaccessible because they are hard to reach and maintain.
So usually we put some stuff their which are least needed on the regular basis but swing corners eliminate this problem as they can be easily slide in and out.
You can install vertical racks on the shutters of corners and horizontal too with this intelligent function our kitchen corners are no more under estimated. These can be used to keep our grocery stuffs to even kitchen utensils.
One of the best ways to save space in your kitchen is to go vertical that means utilize the vertical storage. Tall units are a system in which you can adjust 4 – 6 numbers of baskets depending on the size.
These are also called as pantry units as these are generally used to keep all the daily use snack items to groceries. These are installed separately mostly on the opposite of the longest kitchen counter though you can mix it up with the normal kitchen storage too.
The best part about tall units is that they have storage on their shutter as well so you have the best space savior all at one place.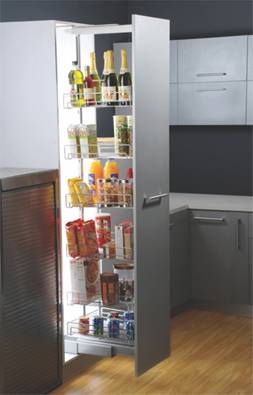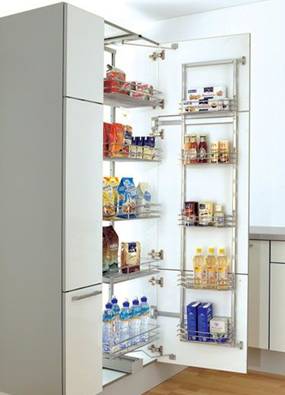 In the modular kitchen under sink storage is generally ignored just shutters are put to maintain the whole look.
It is mostly not utilized because under the sink there are plumbing fittings and it is believed that if something is kept there it would get destroyed but one need to work intelligently.
Here we can leave the back space for plumbing utilities and utilize the front part ( 9 – 12 inches ) for things like bottle pull outs which is used to keep bottles or we can even built some shelves one upon the other which can be used to keep cleaning stuffs like detergents , brushes etc. on the other side you can keep a dustbin as well.
You can even leave a centre space for the plumbing pipes and keep the stuff on the edges like in the picture below.
A good kitchen design needs to be both stylish and functional and bi fold shutters are one such accessory. You need to pull it upwards and it will automatically go up and give you the complete look of the shelve. 
These even comes in sensor touch and press options these days, you need to just touch the panel and it will open itself and press a button on the side and it will get closed itself too isn't it amazing?
Though these can be much expensive than the normal shutters but if you have the budget then you should definitely go for this as it not only saves your time but looks stylish and elegant. These can be made in a lot of material from wooden to stainless steel.