Black is a color that most people love when it comes to outfits, gadgets, etc. But the same cannot be said when it comes to home décor.
In interior design, black is a very controversial color since it can make your room look dark and gloomy if not used correctly. That is why; most designers and home decorators avoid using a lot of black in a room.
Instead, they use bright and cheerful colors such as beige, white, yellow, etc.
Black in-home interiors can give a dramatic effect, and fill a space with sophistication and elegance. You can include this color in almost any room of the house.
However, since black absorbs light rather than reflecting it, the color can be thoughtfully included in combination with other colors. Here, we will discuss how to incorporate black in home décor.
For spacious living rooms, black can be a good option to create a focal point. Whereas, for smaller spaces, black can be used to create a warm and welcoming space.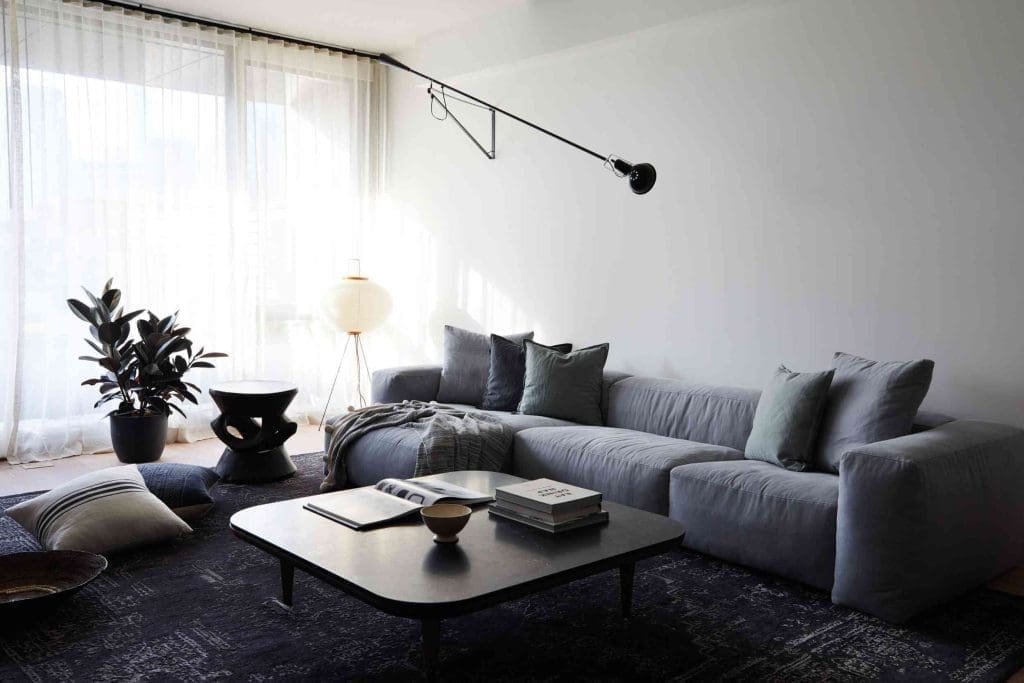 Black Upholstery:
Black sofa upholstery is classic and timeless. It can go with any décor style. You can elevate the look by adding a textural rug and a bright wall in the back to create a heavy contrast.
Accent Wall:
You can add a plain black wall and decorate it with wall sconces and white decorative pieces. But, if you are not looking for something dark, then attach wallpapers with black and white patterns like geometric shapes, floral, etc.
TV Cabinet:
The entertainment corner of your living room automatically becomes a focal point. So, it should be designed thoughtfully. Incorporate black with brown wood and black electronic devices to create a statement in your living room.
Floor:
Sometimes, having a black floor isn't necessarily a bad option when paired with bright walls and accent furniture pieces. It creates an elegant, vintage look and provides a sophisticated backdrop for blocks of bold color.
Your bedroom should be a cozy and relaxing space for you. Adding a dark element in your bedroom can make your space feel brighter if you incorporate the contrasting colors properly.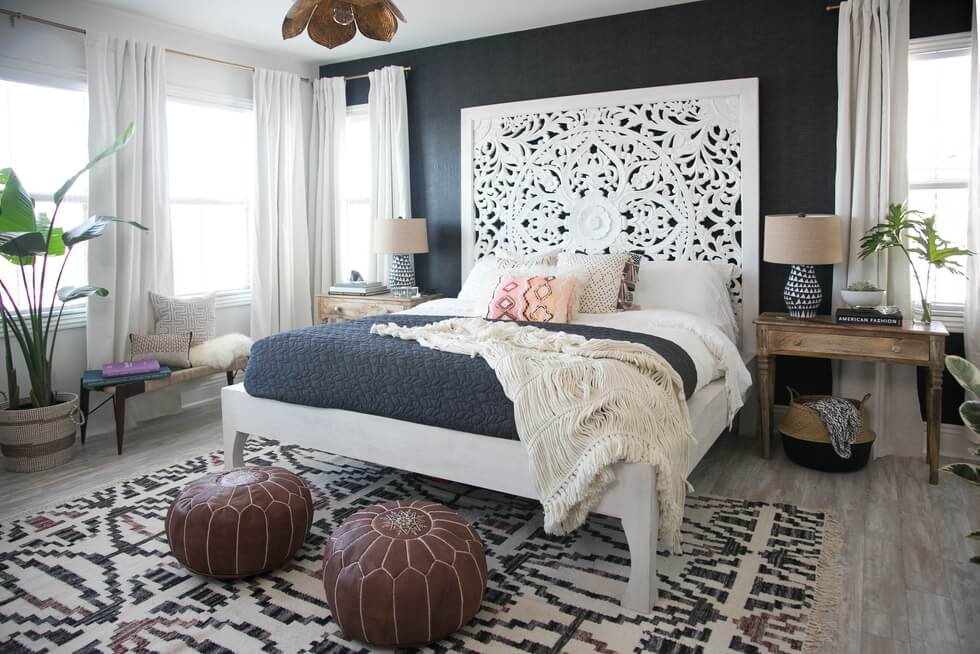 Walls:
Balance dark and light by having one wall extremely dark while the others are completely white. Prefer creating your accent wall at the back of your bed to have the best possible result.
Bed:
If you incorporate a black accent wall, then your bed should be contrasting to that. You can have brighter bed sheets and blankets as well.
Curtains:
Consider white curtainsagainst black walls, for example, or any type of light colors that set the window and the curtains apart from the rest of the room. Any light-colored or contrasting curtain helps create the visual "pulling" effect.
A bathroom is one of the most overlooked spaces when it comes to home decorating. However, adding a certain aesthetic appeal to it can help create a rather relaxing environment than you would have in a normal bathroom.
Black bathrooms are dramatic and luxurious, but you don't want to use too much in one space that can make the space look smaller.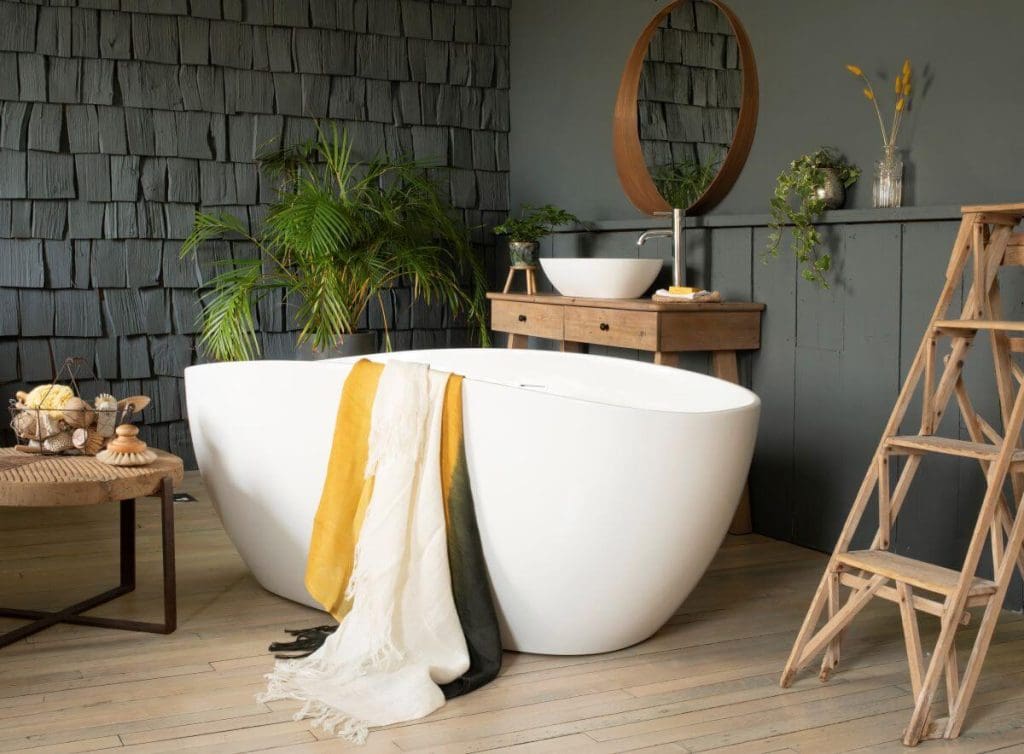 Fixtures:
Using black fixtures can provide a good color contrast if you have white walls. Black countertops, cabinets, and any other fixture can create a dramatic statement without using anything too extravagant.
Walls:
Same with any other space, avoid using black in all the walls. Instead, add in a statement wall where your bathtub or vanity area is. You can add textured black and white walls, a white chalk paint design over a black wall, and even incorporate interesting wallpaper.
Bathtub:
If you decide to go have a dark wall behind your bathtub, then your bathtub should be plain white creating a level of sophistication with a modern twist. Although black bathtubs are all the trend in the market, they shouldn't be used if the wall behind them is dark.
Black kitchens are bold and beautiful on top of being easy to pair with lighter color palettes around the home and whatever your design style is.
However, instead of going all black, consider two-tone kitchen ideas that combine black with a paler contrast color if you are wary of using too much black. Better yet, think of a rustic design that uses materials such as stone, timber, etc.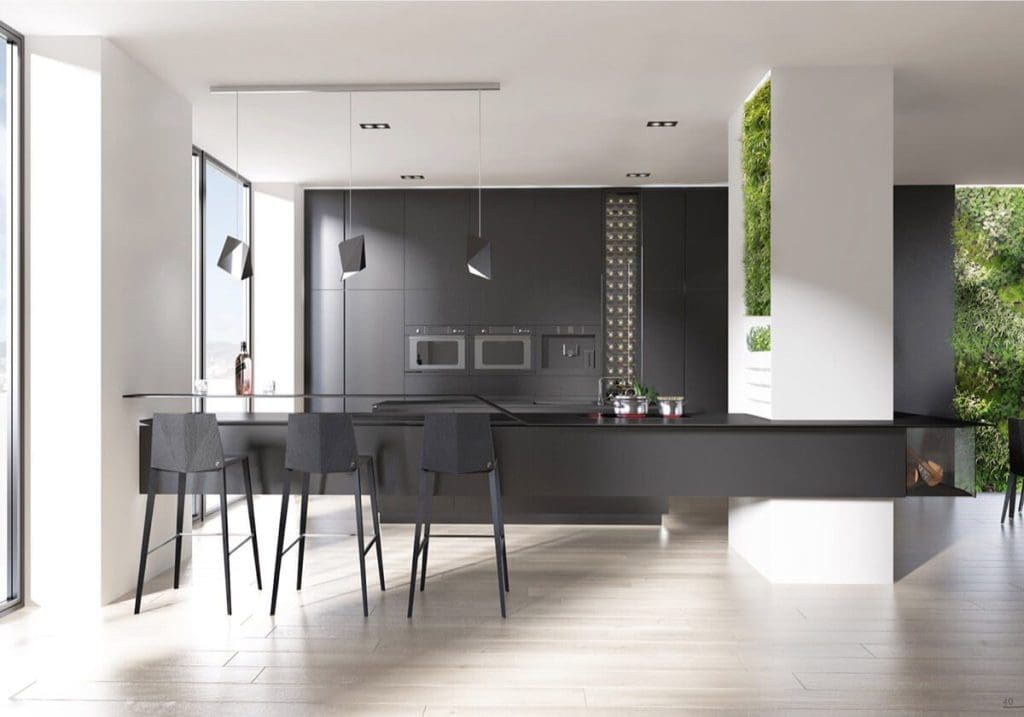 Countertops and Cabinets:
This can be designed in two ways. Either has a light countertop and dark cabinets or vice-versa. While using dark colors, the key is to balance it by using just the right amount of light colors.
Walls:
Keep the walls light-colored this time. Cabinets, shelves, etc. are placed on your wall, hiding away most part of the wall. So, focus more on other elements such as fixtures, floors, etc. to have darker colors.
Patterned Floor Tiles:
Using black on its own can look a little one-dimensional, so adding different patterns is key to its success. Make your flooring a focal point by combining different patterns with black and light colors.
Black Appliances:
Using black appliances is the easiest way to incorporate black in your kitchen. Your fridge, microwave, stove, etc. play a huge role in creating the overall aesthetic of the kitchen.
If you are using black and white spaces, then use a combination of patterns of all sizes and scales, having solid blocks of both colors to create visual interest and depth.
Prefer using a bright accent color such as orange, light blue, pink, etc. to keep your room from being too plain. Lastly, always remember to avoid overusing black in home décor as it can make the space look suffocating unless complemented with other elements.