Choosing a wise and a perfect paint colours for your home is one thing that almost everyone is concerned or confused about while doing their interiors , because there are so many options and varieties available in the market , and then you have to match it with your home theme and interior so it is kind of a task , there are neutral colours , neon colours to even dark , warm and cool colours . But it is important to match these colours with your wooden furniture or wherever you have used wood in the interiors because any highly contrasting colour with wood would look odd and mismatched.
So here in this blog we will some ideas and tips and options of choosing the right paint colours while matching it with the wooden usage in the interiors.
So the very first and the most basic colour tone you can use is warmer tones, warmer doesn't mean darker like dark brown, red, or deep green. NO, warmer means which makes your home feel warm and cozy. As wood is a warm material, or even if the modern mechanised wood is used that also gives us somewhere a warmer feeling, and if you are using the wooden flooring then the room would definitely look warmer. So, the idea is to choose colours which does not even make your pace look boring, dull or small and at the same time it maintains that warmer feeling. Let us see some options: –
This is the perfect choice to go with when you just cannot decide anything, or any other colours because a beige with wood can never go wrong. Beige perfectly compliments light and dark tone of natural wood like timber and walnut wood. With dark it works as a slight contrast but with the same colour family and with light wood it goes along.
Beige and crème looks similar but they do have a difference of colour family, crème is a mix of ochre yellow and white while beige is a mix of brown and white, from far it might look similar but they have a visible difference when seen closely. Crème can go along with wood like maple, mahogany or basswood.
This is the second go to option for complimenting wall colour with wood, neutral tones like greens, greys and mixes of white goes well with any type of natural wood depending on their different colours you can mix and match. For e.g.
Olive green colours will look very classic and rich look with wood like cedar, cherry teak etc.
Grey would look good with woods like mountain pine, white pine or different colours of pine that are found in different regions.
There is a new colour called GREIGE which is a mixture of grey and beige this works best with darker toned woods, similarly you can make many more different combinations.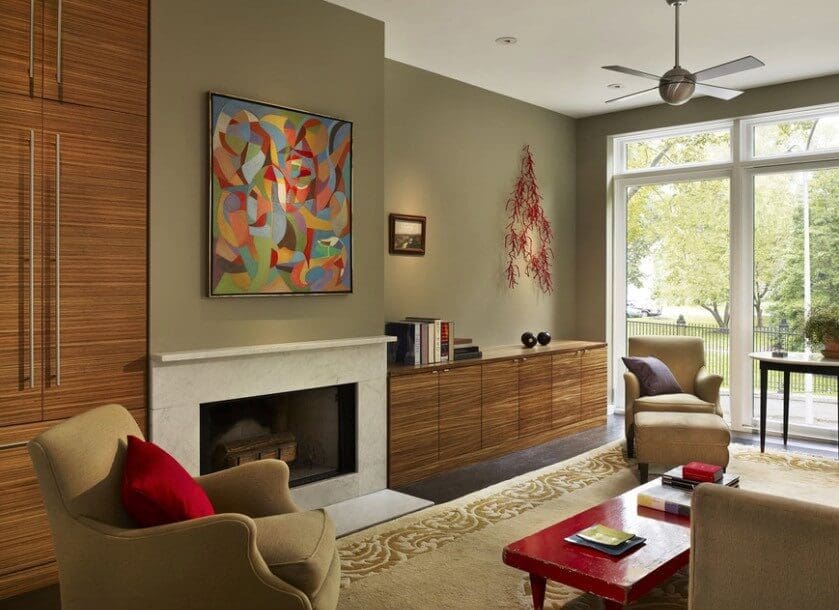 Contrast when chosen smartly can add a lot of attention and character to the room , try to create contrasts within the same colour family and use objects of furniture's and different use of wood to create wall colour contrasts around them , like a dark colours wood like walnut , cherry or cedar can be matched with light colours like grey or white , you can even add a hint of colour of your choice , like a very light blue , or a light pink , light yellow…
 Try and fix the contrast smartly so that it doesn't look odd. This will also make your space look bigger and the wood will gain a lot of attention. You can even place a fine piece of wood or any furniture that you want to create focus on. Also, Golden or yellow woods like oak, yellow pine or maple wood look good with earthy toned colours like light brown, beige or light green. One more thing that you need to keep in your mind is if you have a wooden flooring then do not use darker tones of colour on the wall because this way neither your flooring nor the wall colour would pop out the space might look dull and boring. So always add a theme or character to the space if you want to keep it in the long run.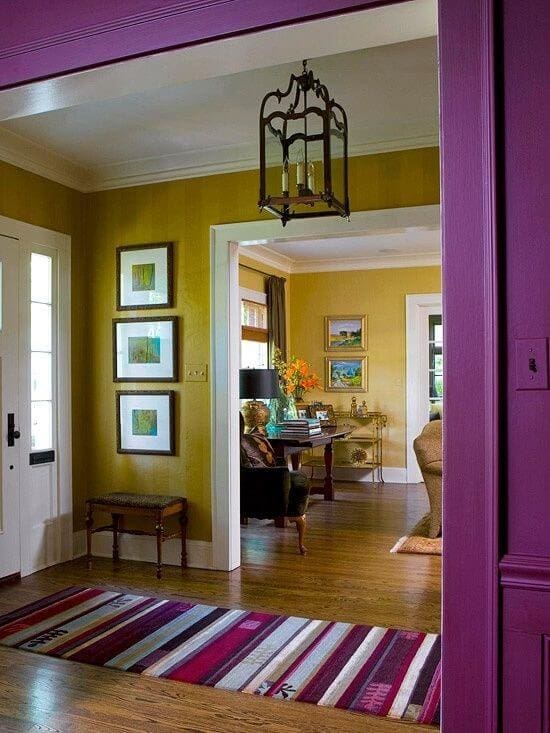 4. Choose the furniture wisely
When talking about the use of natural wood in your space keep it natural only , choose the colour of the wood according to your atmospheric conditions , and before choosing the wood colours also make it match with your choice of colour you would want to do on the wall later . Like if you live in dry and extremely hot areas which has extreme whether do not use dark coloured natural woods here like cedar, cherry instead use oak, timber or any lighter and local tones.
Similarly, your can does if you live in the colder regions, choose the woods which are locally sourced. In the end you can always go with the finishes like laminates and veneer if you want to change anything with the wall colour.
So the idea is to always decide your vibe and the aesthetics you would like to maintain in the end , if you would like to highlight your wooden pieces then go with the lighter tones in the wall , if you do not wish to do so then you can compliment the wall with the same colours , or high contrasted colours like a sky blue on the wall with a dark wood like cedar around . But do try to keep the aesthetics of your space natural only when you are using natural wood otherwise you can use the stained woods too for creating an experimental interior.