Every dream house do consist a lot of special and designed spaces. However, the most important thing is to fulfill the basic requirements. The basic requirement of an enclosed space is to accommodate the standard size of furniture and end-user circulation to make it functional.
This differs from room to room. Keep on reading to know about how the minimum dimensions and standard sizes play a crucial part in the designing and execution process of different rooms.
The size of a room is determined by the function of the room and by the furnishings that go into the room. The list of typical room sizes is shown below.
1. Standard Size of Living Room
Living room is always the first and welcoming place for sitting of family members and to receive friends and guests. Most of the activities and special occasion happen in the living room. Living room should be located in the middle that acts as a connecting space between other rooms and should consist of a front vestibule. It should be well-lighted and ventilated.
Generally, Living rooms are the biggest room of the house so that it can be utilized for some ceremonial function in the house as well. Size of the living room should be determined by type of furniture to be used and the site situation.
Standard size of living room may range from:
4200mm X 4800 mm (14ft X 16ft) to 5400mm X 7200mm (18ft X 24ft)
2. Standard Size of a Bedroom
Bedrooms are the most important as it should be located in such a way that they are well ventilated and at the same time provide privacy. One of the wall of bedroom is always external, as to provide ventilation and locate the window. The bedroom should be located on the side of the direction of prevailing wind so that the warm air is not collected.
Bedroom consists of a bed, wardrobe, and a study table. For a standard bedroom a bed and wardrobe is enough to accommodate.
Standard size of bedrooms may range from:
3000mm X 3600mm (10ft X 12ft) to 4200mm X 4800mm (14ft X 16ft)
Bedrooms are most of the time connected with an attach bedroom.
3. Standard Sizes of Kitchen and Dining
Kitchen is the most functional space in an Indian house. Kitchen should also be proper ventilated and proper chimneys for smoke escape should be provided. Kitchen are mostly merged with the dining area and most of the times kitchen and dining is merged with the living room. Making it look more spacious and lavish.
However, kitchen has its own floor plate area.
Kitchen consists of a,
Platform: min 600 mm wide and 900 mm in height
Standard size of kitchen room may range from: 2500mm X 3050mm (8ft X 10ft) to 3000mm X 3600mm (10ft X 12ft)
It is not necessary to enclose dining area within four walls. Dining area is placed with kitchen.
Size of Dining Room (goes both with enclose and without enclose): 4000mm X 3000mm
No matter what your table size is, to make the dining area space functional leave at least 30 inches (76cm) between the edge of the table and the wall or partition whichever is provided, allow people to take their seats. 30 inches is still minimum.
The ideal distance for dining table clearance is 48 inches (122cm). This allows people to come and go from the table comfortably and the proportions of the room will look more elegant.
To make sure the table isn't too small for the room, make sure that there isn't more than about 6ft (183cm) from the edge of the table to the nearest wall, window or piece of furniture on at least one side of the table
4. Standard Size of Store Room
Store rooms should be located near the kitchen and should have sufficient number of storage units.
Standard size of store room may range from: 2500mm X 2500mm (8ft X 8ft) to 3000mm X 3000mm (10ft X 10ft)
5. Standard Sizes of Toilets and Bathrooms
Nowadays it has become common practice to provide attached bathroom and water closets with each bedroom and even bathroom and toilet are provided together in a single space with proper segregation of dry area, wet area, and semi dry area.
Water closet should me located on the external wall for proper drainage and should be min 350 mm away from the side walls
Usually two windows are provided one for the ventilator at a height of 2000 mm and another at 1500 which is a covered with a frosted glass to maintain privacy and admit light.
Sometimes ceiling height is kept low (2100mm or 7ft) and upper space is used for a loft tank.
Common sizes of bathroom and toilet are:
Bath and WC (combined): Min 1200mm X 2100mm (4ft X 7 ft)
Bathroom (separate): 1200mm X 1800mm
Toilet (separate): 1200mm X 1200mm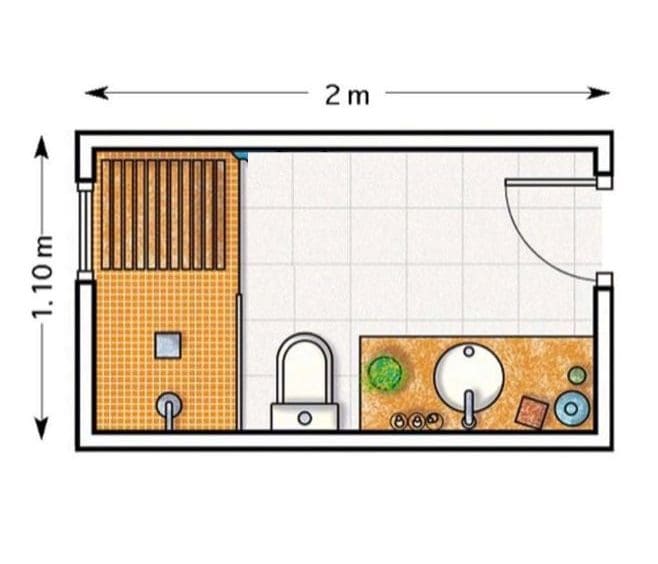 The following are the standard and minimum sizes that make a space functional. It may differ from place to place and site situations. Every design is possible in the most minimum space and can be used to its optimum level by creativity and different design approach.